I've mentioned in the past how I have this out of control craft/activity closet. Every time I pick up a new item for a fun kids activity, I just throw it in there and I usually end up forgetting about it. Once in a while, I get a bee in my bonnet and clean the whole thing out. Then it's like Christmas morning as I discover all these cool supplies. One of my best finds in my closet were these golf tees and balls that I bought at Walmart. I don't recall the exact price, but if
I
bought them, they were plenty cheap. My plan was to use them with some Styrofoam I already had, for some fine motor practice. I did this
Fine Motor Work with Golf Tees
activity when my kids were little and it is so much fun for toddlers. Just be sure to supervise kids at all times when doing this activity. Don't forget to check out the rest of our
fine motor skills activities
.
This post contains affiliate links. This post contains affiliate links. For more information please read my disclosure.
Fine Motor Work with Golf Tees
Supplies you need:
I started out just giving the kids their foam and some golf tees and showed them how they could push them into the foam. They all took this quite seriously as you can tell.
I love how hard they had to work in some cases to push the golf tee in. Those small hand muscles are really working!
The kids were doing a great job with the golf tees, so I added some golf balls. I showed them how they could balance the golf balls on the tees. This required more dexterity and skill, but the twins were able to do it. I was surprised with how long the girls played with the golf tees and balls – pushing, pulling and balancing.
The kids even experimented to see how many golf balls they could balance.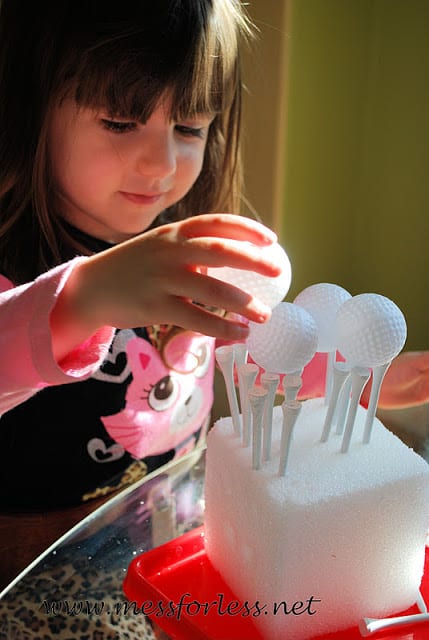 We made some great memories that day with a fun and inexpensive activity for strengthening hand muscles.
If you enjoyed this fine motor work with golf tees, you'll love: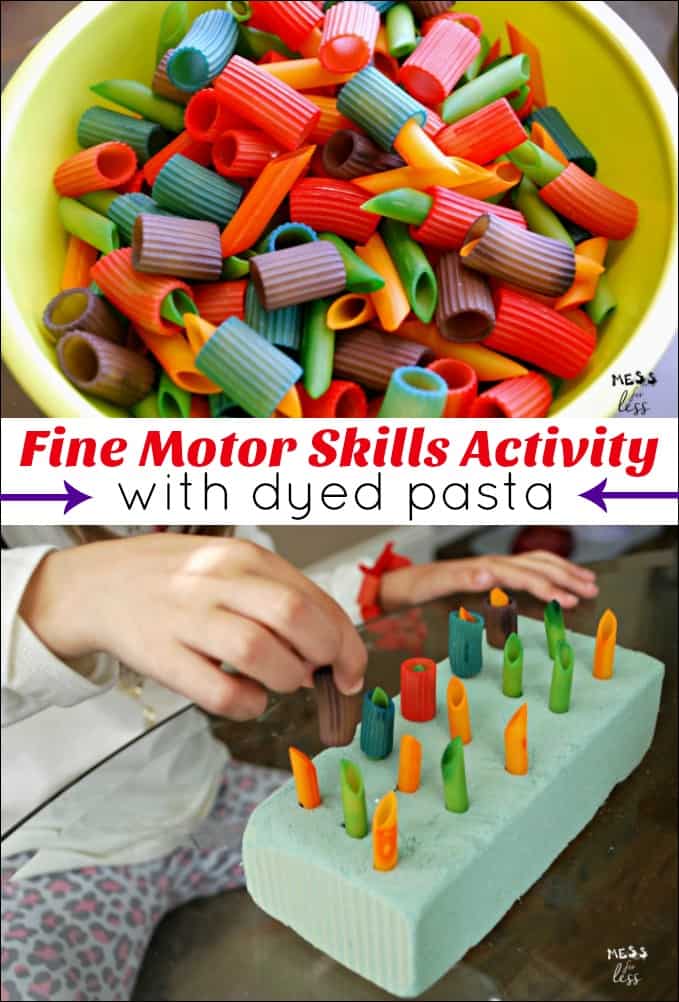 If you are looking for a fun way to engage your kids, I highly recommend Kiwi Crates. As a former teacher, I was really impressed with the quality of materials found in Kiwi Crate. Some moms have told me that they want to do activities like I do on Mess For Less with their kids, but they just don't have to the time to go buy all the supplies and prepare them for the activity. Kiwi Crate is the perfect solution.
Every month your Kiwi Crate will focus on a particular theme like Colors, Dinosaurs or Gardening. Kiwi Crates offer a variety of projects ranging from crafts, imaginative play, science experiments and more.
Want more Mess?