My daughters have a lot of hair. When we are out and about people always stop to comment on their hair. Often those same people will ask me how I deal with hair tangles or just give me tips on what works for them. A typical comment will be: "Your daughters have beautiful hair. Do you have problems with tangled hair? I found a great product…" I had gotten pretty desperate in this department so I would usually run out and buy whatever was suggested.
I counted 7 items under our sink that I bought in the hopes of solving our hair tangling problem. I only use a few on these on a daily basis and the rest collect dust. Some of these products might work great for you but we did not have success with all of them. So here is my guide to getting rid of tangled hair for good.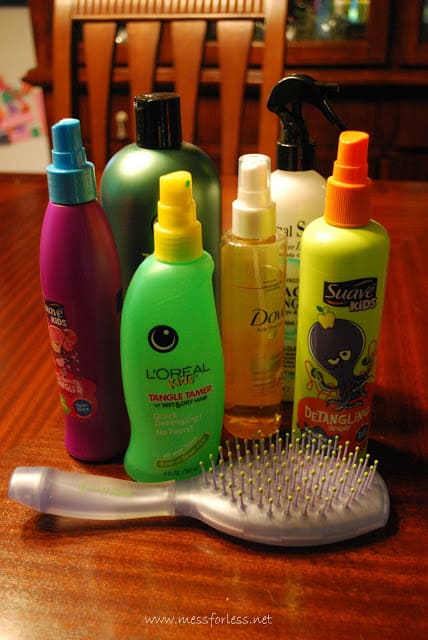 The
Zerran Equalizer Conditioner
(large green bottle above) is my first line of defense. It is a leave in conditioner and detangler that I use in my girls' hair before they get out of the bath. A woman at the gym told me about this when she saw me with my girls. She said that she also put some in her daughter's dry hair each day to help more with tangles. I tried that and just felt like the hair was getting weighed down with too much product. So I just use it after I wash their hair. What a difference it makes! We had just been using normal conditioner that you wash out, but it didn't make a difference. Zerran Equalizer can be pricey, but it lasts a long time. You don't need a lot at all.
In my experience, certain hair types are more prone to serious tangles. I happen to have girls who all have different hair types.
Thick & Straight
My youngest has thick, straight hair which tends to resist much tangling. She does get a few small tangles each morning so I use Suave Detangler Spray for Kids which you can find at any super market or drug store for under $3. This or the homemade detangler I will mention later and a good brush are all you really need to tame those tangles. Lucky you!
Thick & Curly
This kind of hair looks overwhelming but if properly managed, it can be easy to maintain. I use the same super market or homemade dentangler and it works fine. If you still have had a hard time with your child's curly hair, follow my advice for Fine and Wavy hair.
In my experience, this is the type of hair that tangles most. Surprised? I was. It used to seem that even after I just combed it, my daughter could shake her head and it would be all tangled again. It was like it had a mind of it's own. I was at my wits end and spending tons of time each morning brushing through this kind of hair.