If your kids are anything like mine, they love making a mess and getting messy. Messy play has many benefits such as new sensory experiences and the chance to explore creativity. Summer is just around the corner and since the kids will be home from school, it's a great time to explore play that is messy. So get out those play clothes and have some fun with these 10 ways to enjoy messy play this summer!
If you are interested in purchasing supplies for this activity, affiliate links are provided at the end of this post.

Oobleck Recipe
What can be more fun than playing with oobleck, which has the properties of both a liquid and solid. Kids can pound and push it or pick it up and watch it run through their fingers.
Some water and soil creates a frugal and messy play experience for kids. They can experiment with the amount of water to mix in, scoop and dig and even make mud pies.
Next time you get a package, save the bubble wrap for this messy activity. Add some paint and paper to create works of art!


Painting with Squirt Bottles
Clean out the condiment bottles you used at your last BBQ and fill them with paint for this messy art activity.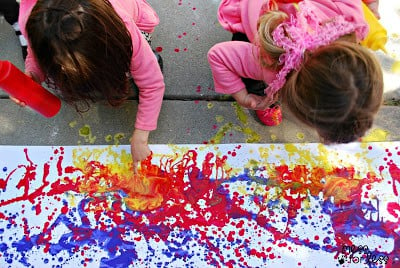 Line a slide with some paper and give kids paint to pour. They will love this messy drip painting.
This messy activity is a great sensory play experience and is made using ordinary bar soap. This is one messy activity that cleans up pretty easily!
All you need is a window and some paint. Oh, and some little artists willing to make a mess. Don't worry, this washes off easily with a hose.
Painting with Golf Balls
You can do this activity with various sizes of boxes and balls. Squirt some paint in a box covered with paper and drop in some balls to create some messy art work.
Making Shaving Cream Cards and Wrapping Paper
More fun with shaving cream. This time we played with this awesome sensory tool and made cards and gift wrap. Perfect for those summer birthday parties you are sure to be invited to.
What are your favorite ideas for messy fun? I hope you enjoyed these 10 ways to enjoy messy play this summer.