How do you raise a child in today's world who is not consumed with material goods and technology? This is a tough question that many parents face as our culture becomes more about what you have, can have, or should have. One way that we have tried to combat against this mentality is by teaching our children to look for the joy in simple things. I am talking about things that are free or don't require a lot of money, but are fun, engaging and the stuff of memories. Let's be honest, your child probably will not remember the latest toy you bought them, but they will remember those simple experiences that they shared with you. Check out these Ways to Teach Children to Enjoy Simple Pleasures. For more parenting posts check out Letting Kids Work It Out.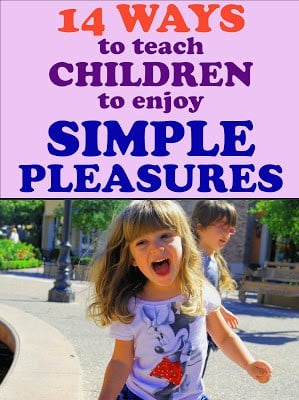 Recently, we took a trip to a local shopping center although we had no plans for shopping. This particular shopping center has lots of water and ducks that love to be fed. For my girls, just seeing the ducks was exciting enough. There were squeals of glee and jumping up and down. I brought along some duck food and they had a blast feeding the ducks. The above photo is actually of my youngest as we were feeding the ducks. Could she be any happier?
Looking for more ideas for simple pleasures you can share with your kids? I hope you'll be as inspired as I am by the following 14 ways to teach children to enjoy simple pleasures from some of my favorite bloggers.
NurtureStore shares how to Make a Sailing Boat.
3 Dinosaurs shares how a visit to a pond made her daughter's day in A Simple Request.
Creative Playhouse tells how she built a den using pillows and blankets.
Life at the Zoo talks about spending One on One Time with her kids.
The Golden Gleam has a wonderful idea for enjoying nature by Playing in the Rain.
Little Moments finds the joy in Puddle Hunting
The Pleasantest Thing explores a Sensory Nature Walk
I am encouraged reading about these wonderful ways to enjoy the simple things in life. The fact that the children involved are having so much fun is really good news for us parents. Next time you think you have to spend a lot to have a great time, stop and look around you for the simple pleasures money can't buy.
What are your favorite simple pleasures to share with your children? Leave a comment below.
If you liked these 14 ways to teach children to enjoy simple pleasures, you'll love: