I'm not sure if an actual monkey would eat monkey bread. I do know that my kids can't get enough of it. The sticky and sweet treat can be enjoyed for breakfast, dessert or a snack. We often make traditional monkey bread and I was excited to discover there are lots of ways to enjoy monkey bread that I hadn't thought of. I cannot wait to try each of these ways to make monkey bread. For more fun baking ideas check out our Cupcake Recipes to Make with Kids.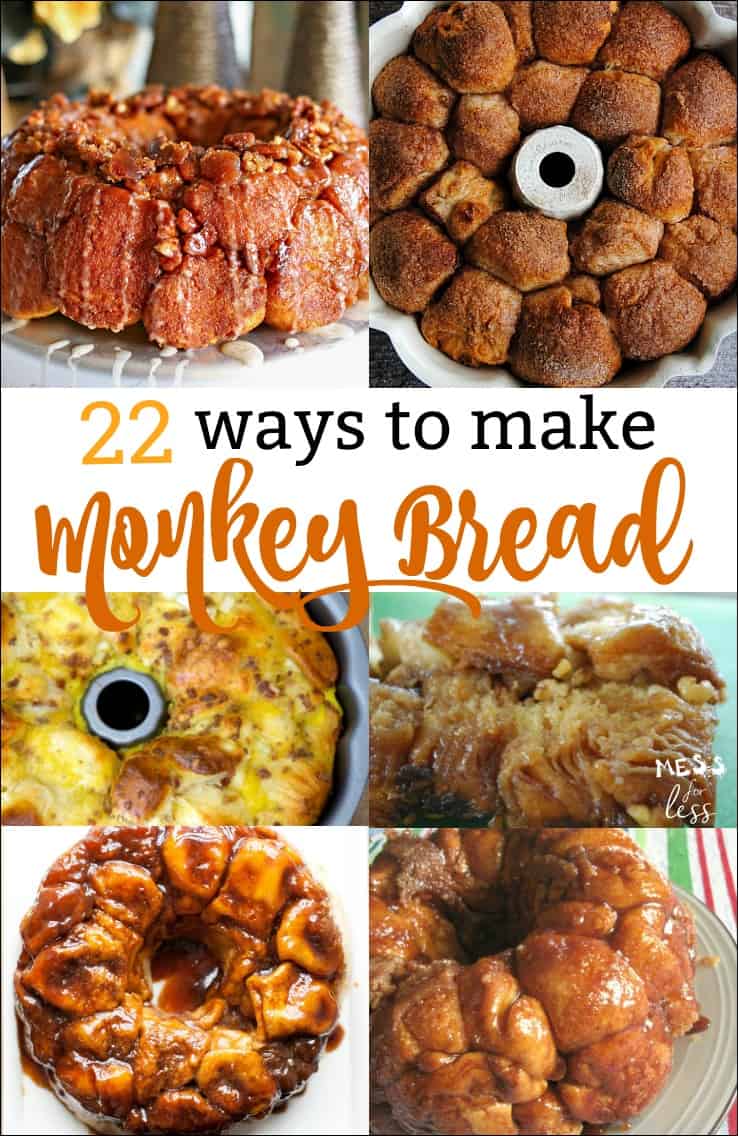 22 Ways to Make Monkey Bread
Monkey Bread Recipe from Mess for Less - make monkey bread easily with refrigerated biscuit dough. So gooey and delicious!
Apple Pie Monkey Bread from Slap Dash Mom- If you enjoy a slight twist on monkey bread, you will love this apple bread recipe with caramel chips.
Monkey Bread Recipe from A Turtle's Life for Me-This monkey bread recipe is super simple and easy to follow but the outcome looks so delicious!
Cream Cheese Stuffed Monkey Bread Bites from Shaken Together Life-If your family enjoys cream cheese then these stuffed monkey bread bites are for you!
Overnight Monkey Bread from Julie Blanner-This quick and easy "leave and forget it" monkey bread recipe looks absolutely delicious and doesn't involve cutting up the dough first.
Holiday Spice Monkey Bread from Kleinworth & Co.- A treat fit for Christmas breakfast! Start a new family tradition with this holiday spice monkey bread.
Monkey Bread French Toast from Mess for Less - This may be the best breakfast I have ever eaten. It's THAT good!
Pull Apart Peanut Butter and Jelly Monkey Bread from The Thrifty Couple-If your kids love peanut butter & jelly sandwiches, chances are they will love this unique peanut butter and jelly monkey bread!
Pepperoni and Mozzarella Monkey Bread from Walking on Sunshine-When thinking of monkey bread, a sweet treat usually comes to mind, but this pepperoni-mozzarella monkey bread sounds absolutely amazing! Might add a nice addition to family movie night.
Pumpkin Monkey Bread from All Things with Purpose-It's always great when a recipe can have a fall flavored twist and that recipe is just that-the pumpkin, cinnamon & nutmeg spell FALL.
Cranberry Caramel Apple Pull Apart Bread from Homemakers Habitat-Cranberries and apples make such a nice taste combination, but add them to monkey bread and it's just down right yummy!
Mini Cream Cheese Monkey Bread from Gym Craft Laundry-These individual monkey breads are adorable!
Maple Bacon Monkey Muffins from It Is a Keeper-Another recipe that gives each person their own personal monkey bread goodness. This one adds bacon & real maple syrup-which kicks it up a notch...or 2 or 3!
Parmesan Garlic Pull Apart Bread from The Mom Maven-This savory monkey bread recipe will be a crowd pleaser with your next Italian dinner!
Caramel Pumpkin Monkey Bread from The Typical Mom-This caramel pumpkin monkey bread is the perfect fall treat, but can also be enjoyed through the whole year by omitting the pumpkin, if so desired.
Monkey Bread from Kids Activities Blog-If you've never made monkey bread before, this recipe is a good place to start with simple instructions and helpful pictures.
Cherry Cheesecake Monkey Bread from The Typical Mom-If you enjoy making monkey bread but are looking for some variety, you've found it in this recipe with cherries, cream cheese and marshmallow cream. It's quite a treat!
Banana Nut Monkey Bread from Twodaloo-This is more of a traditional monkey bread recipe with the bananas and nuts but also has the strong cinnamon flavor from the cinnamon chips. This recipe also offers an alternative pan for baking the bread, if you don't have a bundt pan.
Breakfast Bundt Cake from The Typical Mom-This savory breakfast monkey bread would be a delicious addition to any brunch. Full of flavor and crunch!
Fluffernutter Monkey Bread from DIY Candy-If your family loves peanut butter, then this fluffernutter monkey bread recipe is a must! The browned marshmallows just put it over the top!
Monkey Bread with Hidden Valley Ranch Dressing Mix from Cupcakes and Crinoline-A perfect savory bread to go with any meal. This recipe does not use the canned biscuits but could possibly be substituted to make the prep time a little faster.
Unicorn Monkey Bread from Mess for Less - perfect for the unicorn lover in your life. Monkey bread is even more fun when it is decorated in a fun unicorn style.