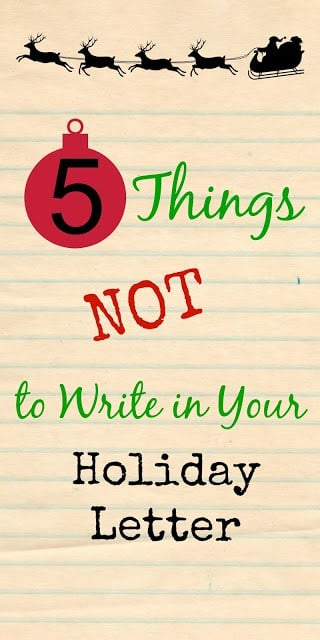 I was stressing about the upcoming holidays, so I took a laugh break and headed over to
NickMom
. It's like the folks at Nickelodeon live at my house and know that instead of holiday standards like freshly baked cookies and carolers at the door, there are burned cookies and ungrateful kids yelling "THAT'S not the toy I wanted!" So Nickelodeon has provided a dose of
humor
guaranteed to make you feel better about any holiday mayhem going on at your place. We have had our share of mayhem and hilarity in Christmases past, but nothing brings more laughter to me during this season than the well meaning holiday letter.
Now don't get me wrong, I love holiday letters. They provide a chance to get caught up and learn about what friends and family have been up to over the past year. I send a holiday letter to friends and family every year because I imagine people are actually interested in my inane ramblings. Over my lifetime, I have received hundreds of holiday letters, so I think I am qualified to judge what makes a bad one. And even the very worst letters provide hours of amusement for me. I will share some examples below that are scarily similar to letters I have received over the years. The names have been changed to protect the annoying. Before you put pen to paper, here are 5 Things NOT to Write in Your Holiday Letter.
1- Hey, look how much money we have!
Lloyd and I sailed our yacht to the South of France this Spring. If you are going to sail to the South of France in your yacht, Spring is the time to do it! Simply divine! We built a new summer home in the mountains. At 17,000 square feet, there is plenty of room for our family of three. The taxes however are outrageous! Lloyd surprised me with a Lamborghini for my birthday. Now I have to learn how to drive a stick. It's always something isn't it?
There is a fine line between sharing and bragging. If you write the above and only send your letter to your billionaire friends then I'll give you a pass. But consider your audience.
2-Bragging about the kids
Little Timmy turned 3 this year. He loves playing Mozart on the piano. He just picks up music so fast! When he is not busy practicing soccer, swimming, lacrosse, riding, baseball, golf, skiing or skating (what can I say, the boy is natural athlete!) he can be found mastering languages. Little Timmy now speaks 5 languages. I have to say Aramaic was the hardest to learn by far. He has also started a charity and volunteers in the community.
Let me just get this right out there. I know your kid is a genius. No need to bombard us with every wonderful thing Little Timmy has said and done over the past year. Some of us just have regular kids and we were feeling pretty good about them and the fact that they remembered to wash their hands after using the toilet until we read about Timmy. So ease up.
3-Gory health details and TMI
In health related news, Grandma Jones had a festering boil removed from her neck. It was quite painful for some time, but she is rocking a v-neck sweater once again! Lloyd and I decided the baby factory was closed so he had a vasectomy. There was a glitch during the procedure and Lloyd ended up off his feet for two months. He is feeling a lot better now except for the stabbing sensation he feels "down there" whenever he walks.
Some health updates are necessary. People want to hear about how you've overcome an illness or if you or a family member is having health issues. However, this much detail is NOT necessary. I like to read your holiday letter curled up on the sofa with a cookie and a cup of hot cocoa. Please don't mention puss or open sores.
4- Do NOT rely on auto correct.
We ran in our first 5k this year! Even Little Timmy was able to complete the race and faster than many adult racers. I was exhausted but it was a for a good cause. We just love supporting the pubic schools in our city.
Did you catch it? Spell check and auto correct are wonderful things. They have saved me many times. However they have no idea what you meant to say in a letter. Save yourself a public embarrassment by proof reading your letter and having someone else do so.
5- Do NOT write in the voice of your pet.
Here's a message from our cat, Mr. Pudding: Meowy Christmas friends! I am keeping busy eating kibble, chasing tail and sniffing on the occasional ball of catnip. This year I got fleas – what a CAT-astrophe!
This is weird. Please don't drag your poor pet into your holiday letter in such an embarrassing manner. You can write about them, but no one is buying the fact that Mr. Pudding took the keyboard to hammer out a message with his grubby paws.
Now that you know what NOT to write in your holiday letter, what should you include? I have always injected humor into my holiday letters. I find the self deprecating kind works best. People like to know that your family is real and human. The following Christmas anecdotes are the kinds of things I have included in previous Christmas letters:
A story about my daughters in their Christmas Eve pajamas. Why do they all have sour expressions on their faces? They just realized that the one gift they got to open on Christmas Eve were these pajamas.
Or the tale of how we killed our Christmas tree in 2011. We bought our tree the day after Thanksgiving and it started dying well before Christmas. There was no way the tree would last until December 25th and frankly, it looked like a fire hazard. So we decided to buy another tree. This involved un-decorating the original tree. Since our sanitation department wasn't picking up Christmas trees until the first week in January, the only way to dispose of the tree was to cut it up and place pieces of it in our green recycle bin.
So we launched operation "kill the Christmas tree." This was accompanied by much crying from the kids as Daddy hacked at the tree.
I know you have had similar hilarious holiday moments. Include them in your holiday letter instead of talking about Uncle Henry's bout with gout. Your friends will thank you. For more hilarity, you can follow NickMom on
Facebook
to get your daily dose of #Motherfunny moments.