We all know how important good self esteem is to a child's development. Kids who have a healthy sense of self esteem have better relationships, perform better at school and behave better at home. You want your child to have confidence and feel good about themselves, but sometimes you don't know how to nurture that. Help is here! These 5 Ways to Build Your Kid's Self-Esteem, won't take a lot of time, but they will certainly make a difference for your child. You might also enjoy 14 Ways to Teach Children to Enjoy Simple Pleasures.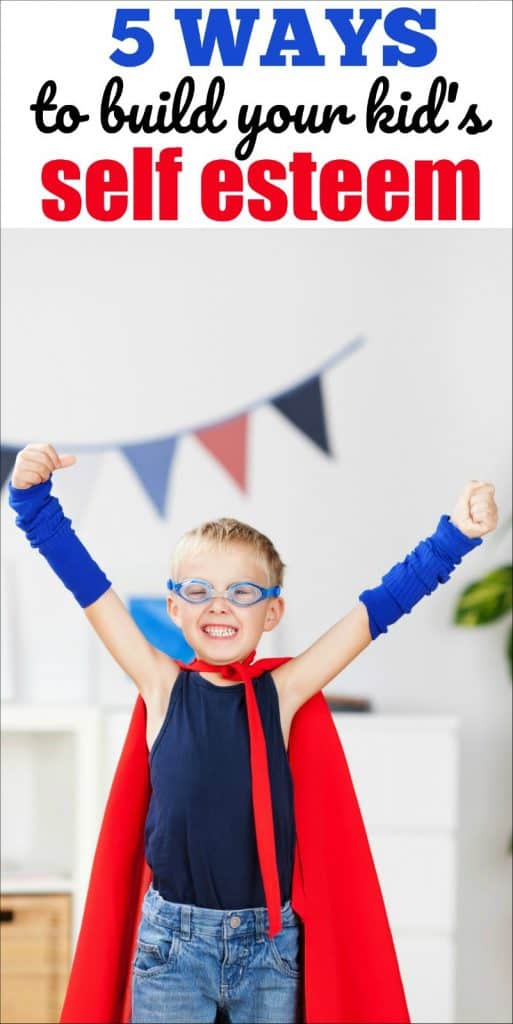 Jump to:
Boosting a child's self esteem seems simple enough - just compliment kids a bunch and tell them how great they are and this whole self esteem thing should just take care of itself, right?
However, a child sees comments such as "you are so smart" or "great job" as empty praise. As a result, they don't internalize the comments and they do little to raise their self esteem. So how can you help your child with their self esteem? It's easier than you might think.
How to boost your child's self esteem
Give them responsibility

- Your kids may complain at first when they are asked to do chores around the house, but this is a simple way to help their self esteem. When kids have small jobs such as dusting or sweeping, they feel like a valuable member of the household. As a bonus, they are learning new skills. Each time they do the chore they will be getting better and better at it and develop more pride in their work.

Undivided Attention

- So many things that compete for our attention these days. Between phones ringing, texts coming in at a frantic pace or notifications from social media, it can be hard to give something your undivided attention. We have become a generation of multi-taskers and often we try and multi-task our parenting. I ask my child about their day while I'm replying to a work email. You may not think kids notice these habits, but they do. Being present and giving kids your undivided attention when they are talking to you goes a long way toward boosting self esteem. At times you will be treated to a long rambling story about something that makes no sense to you, but the story is not what matters. When you fully focus on your child, they get the message that they are important and what they have to say matters.

Leave notes

- Simple gestures can go a long way. Leaving a note for your child with words of love or encouragement can have an effect your child's self esteem. You don't need to do this every day as that makes it normal and takes some of the magic away. What should you write on your notes? Words of encouragement or affirmation are great - as long as they are true. Some examples you can use: I love your smile, You made me laugh today, You work hard at math, You make good choices...
Let your child get frustrated without stepping in- This one is tough for me because I want to make things easier for my child when I see them frustrated. But what message does this send to a child? When you do something for your child that they can do themselves, your child gets the message that they are not capable, that you don't think they can do it. If your child is learning to tie their shoes but getting frustrated, try to keep yourself from jumping in and helping them if they are not asking for help. We have to be okay with seeing our kids frustrated. Often they will stick with something and feel the pride of accomplishment.
Be aware of how you speak to yourself - Kids hear everything. Especially things you don't want them to hear. So it stands to reason that they hear what we say to ourselves. You may not realize that you are even engaging in self talk, but most of us do it every day. If you are often too hard on yourself, you really need to watch the negative self talk. When you make a mistake, don't say something like "I'm so dumb. I can't believe I did that!" Instead replace it with a statement such as "I made a mistake but I am trying my best."
As moms, we have a big impact on our child's self esteem. A big impact doesn't necessarily involve big actions. A big impact can be made by simple behaviors that are repeated over time. They may not seem like much on their own, but these self esteem building tips add up and help make your child feel important and valued.
Make a healthy lifestyle easy
If you are looking for ways to create and sustain a healthy, beautiful home you must try Grove Collaborative. Grove Collaborative is a scheduled delivery service that ships natural home, beauty, and personal care products directly to your door!
Every product sold is nontoxic, effective, sustainable, and cruelty free. Everything you buy from Grove is good for you, your family, your home, and the planet.
To help you maintain healthy choices, Grove recommends monthly shipments and product refills that you can edit or move at any time. No monthly fees or commitments are required.
Click here to learn more and get your FREE Mrs. Meyer's Set which ships free and includes a free trial of Grove's VIP shopping option.
Related posts
Stop Sibling Conflict Before it Starts