Despite my best efforts to keep my kids grounded and grateful, at times selfishness and materialism creep in. I can totally relate because the same thing happens to me. In order to try and refocus my kids (and myself) on gratitude and giving, we have implemented some simple ideas into our day to day life. I was inspired to write this post after working with the
PURELL® Lend a Hand Program
and giving back to our community. Here are 5 Ways to
Teach Kids to Give Back.
1. Keep it simple
Trying to teach kids to give back can seem like an overwhelming concept. I used to feel like I needed to take my kids to a soup kitchen or build a home with them to really make a difference. That ended up keeping me paralyzed and not doing anything. Now I realize that kids don't need these big measures of giving to learn to have a giving heart. Something as simple as giving extra change at a cash register, dropping off food at a food bank or donating used books at the library can help a child to become a giver.
2. Give, Spend, Save
My twins recently celebrated a birthday and got some cash presents. We gave the girls each 3 envelopes marked Give, Spend and Save. The kids put a percentage of their money in each envelope. This gets them in the giving mindset right away and sets up the expectation that when we receive money (in the future from a paycheck) we spend some, save some and give some. We got this idea from financial expert Dave Ramsey and found that it really works great with kids because it's so hands on.
3. Work together as a family
More than anything my kids love spending time with me and my husband. At the end of the day, kids want time and attention. We give our kids these things in many ways, but we have learned to tie in charity with time and attention. How do we do this? One way is to perform a simple service project together. Recently, we had the chance to participate in the PURELL® Lend a Hand Program where PURELL® Hand Sanitizer, Champions for Kids and WalMart are working together to ensure that all students have much needed school supplies.
We shopped together as a family for supplies that we could use to fill a backpack for school kids in need. You'd be surprised how much you can fit in a backpack!
PURELL® Advanced Hand Sanitizer is great to include in a classroom supply pack. Hand sanitizer was actually on my daughter's supply list for first grade. Lots of teachers request that kids bring it in because, according to the Centers for Disease Control and Prevention, and other leading health organizations, proper hand hygiene is one of the most important preventative measures you can take to reduce your risk of illness and infection. Less illness means more kids in school learning.
My kids could really relate to this service project because they are starting school this month. Shopping for school supplies was very exciting for them. We talked about how some children would not be starting school with a backpack or basic supplies. It was simple to pick up extra supplies when they were shopping for their own.
They felt good as they filled the backpack with supplies.
It was a little tricky to zip because it was filled to the tippy top.
Our Bay Area church has a community outreach van that delivers items to underprivileged families and public schools in need of supplies. We will often make donations to the the community outreach van because it is open every weekend and it is an easy place to donate.
The backpack was heavy so the kids needed to work together to get it in the van. Yay teamwork!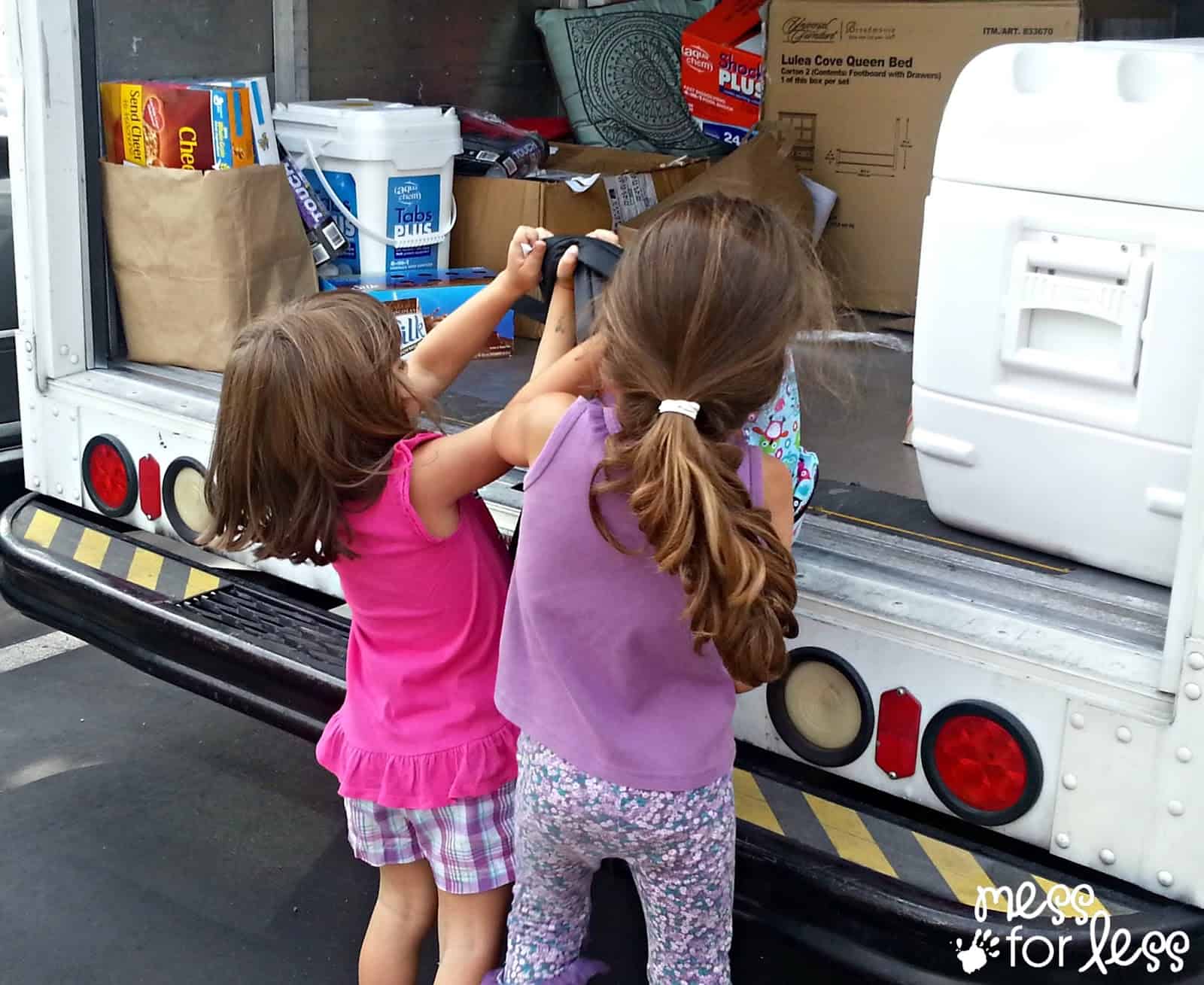 4. Make giving a part of every day life
Rather than making giving a big event, I always try and look for ways that we can give. One simple way to do this with kids involves their toys and clothes. Kids grow out of toys and clothes so fast that parents are often left with a garage full of stuff that their children never use. A few times a week I ask the kids if there are any toys that they are not using anymore that we can donate. You would think kids would not want to give anything up even if they haven't played with it in a while, but I have found the opposite to be true. My kids are excited to find toys that they no longer play with to give away. We do the same thing with clothes that they have out grown. When I have a decent amount accumulated, the kids help me bring the items to a local charity.
5.Focus on gratitude
I have found that my kids are more open to giving when they really appreciate what they have. Each night during prayers we talk about something we are thankful for. If prayers aren't part of your routine or beliefs, you can incorporate this practice into dinner conversation. My kids have found that even when they have a bad day, there are things to be grateful for. We have a home, food, clothing, family and countless other things.
If you would like to give back with your kids and participate in the #PURELLLendAHand program, all you need to do is:
1. GATHER your family, friends, and neighbors for a Lend a Hand Project! Ask guests to bring items kids need in the classroom: pencils, paper, crayons, folders, hand sanitizer, wipes, and tissues. You could even assemble kits for classrooms or individual students!
2. LEARN about the needs of children in your community and ways you can help. How can you share your time or resources?
3. GIVE the items you collect to a teacher, school, food bank, or children's shelter.
How do you teach kids to give back? Share your tips in the comment section.