Valentine's Day is fast approaching and I wanted to share with you some of our favorite easy and budget friendly Valentine's Day Activities for Kids. These are sure to get your little ones feeling the love!
Valentine's Day Activities for Kids
1. Kid Made Heart Votives The perfect easy-to-make gift for teachers and grandparents.
2.
Bubble
Wr
ap
Hearts
Don't throw out the bubble wrap that came with that package. Just use it in a new way!
4. Valentine's Banner using Kids Artwork The doilies were purchased at the Dollar Store and the inside hearts created by my kids.
5. Making Heart Crayons Wouldn't these be great to make for you child's classmates?
6. Heart Banner If you are looking for some ideas for Valentine's Day crafts for kids look no further. Kids will love making these beautiful art prints which they can turn into a festive banner.
7. Valentine's Day Activities for Toddlers Fun activities that your toddler can do to prepare for Valentine's Day.
8. Preserving Valentine's Flowers Here's what to do with all those flowers you got from your loved ones on Valentine's Day. Or the flowers you bought for yourself while making loved ones feel guilty.
If you are looking for more fun ways to engage your kids, I highly recommend
KiwiCo
. As a former teacher, I was really impressed with the quality of materials found in KiwiCo. Some moms have told me that they want to do activities like I do on Mess For Less with their kids, but they just don't have to the time to go buy all the supplies and prepare them for the activity. KiwiCo is the perfect solution. Every month your
KiwiCo
will focus on a particular theme like Colors, Dinosaurs or Gardening. KiwiCo offer a variety of projects ranging from crafts, imaginative play, science experiments and more.
If you liked these Valentine's Day Activities for Kids, you'll love:
Valentine's Day Sensory Activities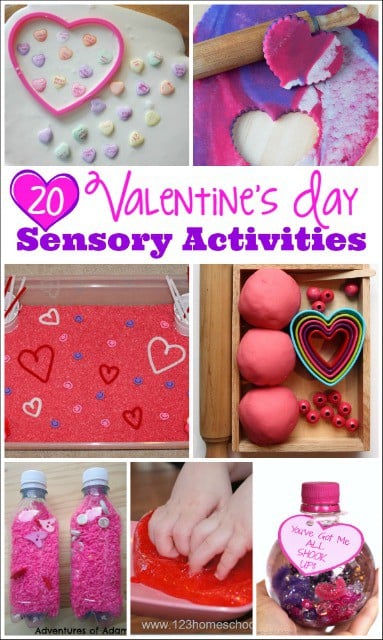 Want more Mess?