I am blessed to have my parents living nearby. Whenever my kids go over to grandma and grandpa's house, they get spoiled and catered to. Certainly different than what they experience at our house! Sometimes my husband and I will drop the kids off at their grandparents' house and sneak away for a lunch date. While the kids always have fun at grandpa and grandma's house, they can get bored if they are there too long. So to keep the kids having fun and grandma and grandpa sane, we usually bring along some fun activities. Today I'll be sharing with you 8 Ways to Keep Kids Entertained at their Grandparents' House. This is a sponsored post.
The important thing about these items and activities is that they all encourage cooperative play and conversation between kids and their grandparents. We don't bring any electronic devices so that the kids can interact with grandma and grandpa in meaningful way. I also aim to only bring items that are easy to transport. I don't want to be carrying large, bulky items back and forth. I know my parents are grateful to have some structured activities to do with the kids.
Books Books fit easily in a tote bag and promote bonding. Reading can certainly be a solitary activity, but we encourage our kids to take turn reading with their grandparents. Pre-readers will love hearing a story while sitting in grandmas lap.
Coloring books and crayons Whenever we get a new box of crayons, we take our old ones and put them in a zip top bag to bring to grandma and grandpa's house. My kids love having coloring contests with grandpa where they each color a picture and then I have to judge if I like theirs or grandpa's better. Guess who always wins?
Playing cards In addition to playing fun cards games like War, kids can try to build card houses with their grandparents. I did that all the time as a kid with my grandpa.
Play dough You don't need any other accessories. Kids can use cookie cutters to cut out shapes along with forks and other tools from grandma's kitchen to make patterns in the dough.
Pipe cleaners and buttons These fit well in a large zip top bag. There are so many creative ways to play with these!
Mazes and puzzle books My kids love word searches but they often need help finding all the words. I find grandparents are really good at this. Kids and grandparents get to work together to solve a puzzle.
Watercolor paint set and paper Most watercolor sets I have seen include a brush so all you need to supply is paper. If the grandparents have a backyard they can set up an outdoor painting session with the kids.
LEGO® JUNIORS these come in a suitcase so they are perfect to take on-the-go.
My daughter never forgets to bring hers along!
LEGO JUNIORS Suitcases
provide kids with opportunity to engage in open ended play. Plus, I find that grandparents just love LEGO JUNIORS as well. Many grandparents have great memories of playing with LEGO with their kids.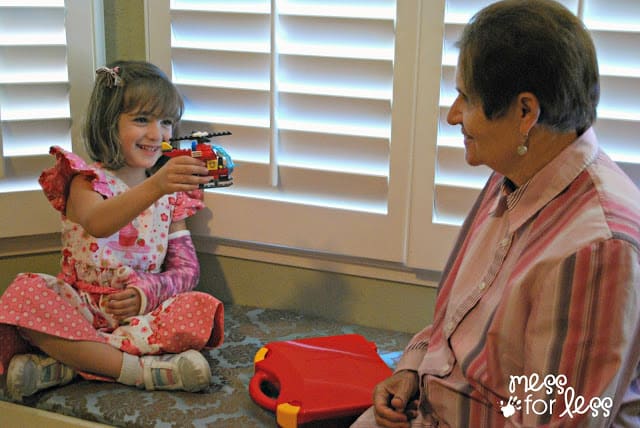 When children engage in construction play, they are building self confidence and creative thinking skills both of which are super important in every area of life.
Obviously, LEGO JUNIORS are perfect to bring to grandpa and grandma's house, but kids can enjoy them at home as well.
LEGO® JUNIORS
are designed to give children age 4-7 a great first building experience with the LEGO brick through iconic, fun and easy to build models.
The LEGO® JUNIORS Suitcase makes the perfect travel companion and will keep your child entertained all summer.
Besides grandma and grandpa's house, you can take them to restaurants, picnics, hotels and countless other places. Kids will have hours of fun with the assortment of LEGO bricks and role play components contained in the suitcase.
I have so many wonderful memories of spending every weekend at my grandparents' house. Hopefully we've given you some fun ideas for future visits with grandpa and/or grandma!
I was selected for this opportunity as a member of Clever Girls and the content and opinions expressed here are all my own.
Want more Mess?