Welcome to the second installment of Fall into Sensory PLAY, a series I am doing with Crystal from Growing a Jeweled Rose! This week and next week on Mondays and Thursdays, we are sharing fun ideas for Fall themed sensory play. On Monday, we each shared a pumpkin themed activity - Scented Shaving Cream Pumpkin Pie here and Pumpkin Slime Play Recipe over at Growing a Jeweled Rose. Today we will be sharing some apple sensory play ideas. We used apples and paint to create Apple Bowling Art while Crystal made some Apple Volcanoes and Eruptions.
We have an apple tree in our yard and had a big harvest this year. Some apples were dented and had various holes in them. I decided to use a few of those apples to create Apple Bowling Art.
You will need:
10 plastic water bottles
Red paint
Yellow paint
White butcher paper
4 apples
Set up 5-6 feet of butcher paper in the backyard. It was slightly windy when we made our Apple Bowling Art, so I had to hold down the ends of the paper with some heavy objects. I also noticed as I was setting up the empty water bottles, that a strong wind kept blowing them over. I knew this would drive my kids crazy, so I added a tiny bit of water to each bottle. Just enough to fill the bottom. If you add too much, then the bottles will be too heavy to knock over. Set up the bottles on one end of the butcher paper in a bowling formation.
Add stripes of paint on various parts of the butcher paper. I used stripes of red and yellow paint, thinking that maybe the rolling apples would create orange.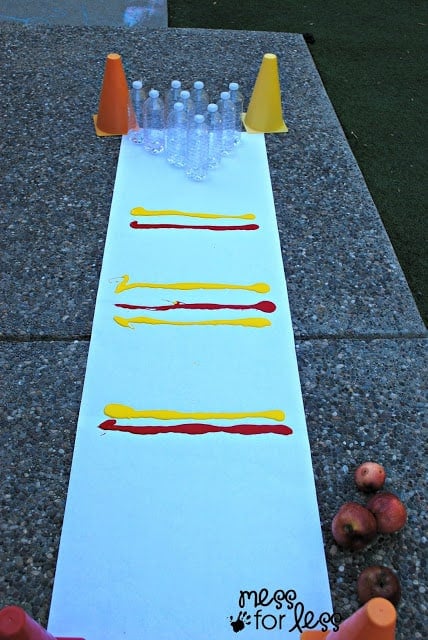 Have your child try to knock down the "pins" by rolling the apples through the paint. They will need to experiment with this step. How hard to roll the apple? Should you roll while standing or sitting?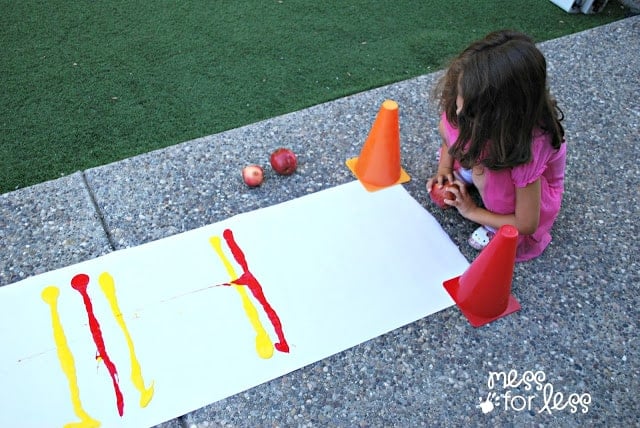 Since I had three kids playing Apple Bowling, I let each child have four apples per turn to knock down all the pins.
After the first roll, all of the apples were covered in paint and every subsequent turn resulted in painted hands.
Not to worry, all came out with soap and water.
As we bowled we watched the paint splatter and mix.
Even the bottles got messy!
My youngest knocked down the most pins. She had the hardest rolls and was able to knock down nine of her pins at once!
When we were done we didn't see any orange. I think if we kept at it longer, the red and yellow may have combined to make orange, but on this day it did not. It did however make for some fabulous apple art!
And some MESSY hands!
More Fall into Sensory PLAY:
Scented Shaving Cream Pumpkin Pie