If you live a busy life, then you are always looking for ways to make dinner prep easier. Sometimes that involves eating out, sometimes that involves fast food, but let's face it, that can get pricey and isn't the healthiest option. A crockpot is my favorite solution for busy days. Crockpots are a busy moms best friend since they allow you to prep your meal in the morning and enjoy it at dinner time. I get a lot of requests for slow cooker recipes and most of them involve chicken. So here are the Best Crockpot Chicken Recipes around to simplify dinnertime. Be sure to also check out our Crockpot Hawaiian BBQ Chicken.
Jump to:
Why these are the best chicken slow cooker recipes ever
They take the boredom out of the standard chicken dishes
Easy to make thanks to the slow cooker
Full of flavor recipes that the whole family will love
Best Slow Cooker Chicken Recipes
Crack Chicken in the Crock Pot from Mess for Less - The whole family will become addicted to this creamy, cheesy chicken dish!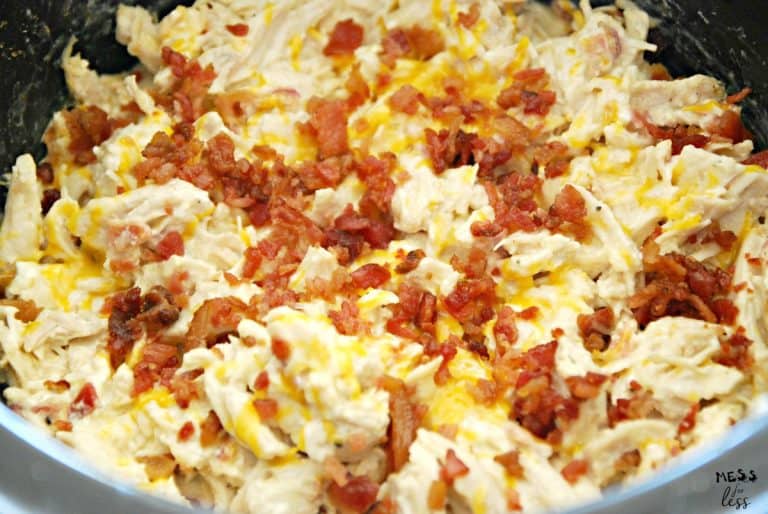 Crock Pot Cheesy Chicken and Yellow Rice from Scattered Thoughts from a Crafty Mom-This recipe has it all-comfort food, flavor and cheese!
Crock Pot Chicken Fajitas from My Crazy Good Life - Perfect for taco Tuesday, or any weekday dinner. The added bonus to this recipe is that it's healthy and can be modified for most any diet.
Crockpot Chicken Soup from Mess for Less - This soup is so comforting, especially when you are under the weather. The soup is easy to make thanks to the slow cooker and a supermarket shortcut.
Super Easy Chicken Chili from The Pinning Mama- What a great, simple recipe to make for entertaining or for dinner with leftovers. Put it on in the morning and dinner is ready right on time.
Applesauce BBQ Chicken from Who Needs a Cape- If you're looking for a little sweeter chicken recipe, look no further than this recipe that includes the sweet flavor of applesauce.
Crock Pot Chicken and Dumplings from Amanda's Cookin'- Possibly the most popular of comfort food is chicken and dumplings and now your family can enjoy it with help from your slow cooker.
Pulled Buffalo Chicken Recipe from Dizzy, Busy and Hungry- No need to head out to the restaurant for a special sandwich when you can make this chicken in the crock pot for your sandwiches at home. Yummy!!
Chicken with Pesto and Sundried Tomatoes from Mess for Less - This easy slow cooker meal features all of your favorite Italian flavors.
Chicken Soup from The Typical Mom- Chicken soup can be an excellent meal for family members who are feeling a little under the weather. Now you can make it even easier by putting it all in the slow cooker.
Pesto Chicken Alfredo Casserole from The Typical Mom- If your family enjoys pesto, they are going to love this casserole! Creamy goodness!
Crockpot Chicken from Crystal and Co. - Add a little extra delicious protein to your spaghetti night with this Italian chicken.
Mexican Crockpot Chicken from Mess for Less - Take the stress out of dinner with this versatile chicken dish that can be served alone, over white rice on in a burrito.
Chicken Santa Fe Soup from Flour on My Face - If you are looking for a chicken soup recipe with some spice, this is the recipe for you. So full of flavor!
Balsamic Peach Crock Pot Chicken from Sublime Reflection- Create a delicious meal for your family AND make your house smell awesome with this tasty chicken dish.
Orange Chicken from The Typical Mom - Another spin on a sweet chicken recipe is this orange chicken. Pair it with some rice and voila! a tasty meal!
Italian Slow Cooker Whole Chicken from Recipes from a Pantry -Maybe cooking a whole chicken seems too hard, but with this recipe you'll feel prepared to cook a whole chicken in your slow cooker and serve your family a mouth-watering dinner. (Plus you'll get to save money because whole chickens are cheaper than buying boneless, skinless chicken breast!)
Easy Crockpot Chicken from Mess for Less - Just a few ingredients to make this simple slow cooker dinner sure to become a family favorite. You get your chicken and stuffing all in one!
I hope you enjoyed these best crockpot chicken recipes. Another favorite are these Crockpot Chicken and Noodles. There are enough here to keep your family fed for quite a while!
Eat At Home Meal Plans
Have you heard about Eat At Home Meal Plans? If the cost of eating out or the decision of what to make for dinner each night is stressing you out, then you must try these. When you sign up, you get access to four separate meal plans each month (Traditional, Wholesome Traditional, Slow Cooker, and No Flour/No Sugar). All you do is print the plans, color-coded grocery lists, and recipes you want for that month. Don't worry, there are lots of options, so even picky eaters will find something they like.
Then when it is time for dinner, make that night's recipe (choices include make-ahead, freezer meals, slow-cooker recipes, and other time-saving strategies).
That's it! Dinner is on the table and you can enjoy a home cooked meal with the family – without the stress!
We all have more important things to do than meal planning. Let someone else do it for you with Eat At Home Meal Plans. Monthly, quarterly and annual plans are available.
Related posts