When we moved to Northern California, we decided to make it a point to head to Disneyland at least once a year. We have been taking our three girls ever since they were toddlers. Many people thought we were crazy bringing three toddlers to Disneyland, but we have always found plenty for them to do. We recently returned from yet another Disneyland trip and I started to think about the Best Disneyland Rides for Toddlers.
For the purposes of this post, I will only be focusing on Disneyland and not Disney's California Adventure. I tried to only include rides that have no drops, loud or startling noises or scary images. Is it possible your toddler may still find some of these rides scary? Sure. I cannot predict what will frighten every child. For instance, my toddlers were fine in all of the Fantasy Land attractions, even The Scary Adventures of Snow White, but they freaked out in the Tiki Room. You know your child best so use your judgement.
Best Disneyland Rides for Toddlers
Casey Jr. Circus Train
This ride, which is exclusive to Disneyland and one of the original park attractions, is a favorite with toddlers. They will love riding in the animal cages like a real zoo animal. As they ride they will get to enjoy miniature sets and villages from Disney movies.
Disneyland Railroad
Kids love trains and if you have a train lover at home, there is no better train to enjoy that the Disneyland Railroad. The full ride takes just under 20 minutes and you can also use the railroad to get to various lands in the park which is a plus when you have a toddler with you.
Dumbo
For many this is a classic Disneyland attraction. In Disney World Dumbo is so popular that they added a second one. The lines at Disneyland are a lot shorter so take advantage of this to enjoy the ride. Seat toddlers on the inside and go as high or low as they wish.
It's a Small World
Love it or hate it there is no denying this ride is a kid favorite. Toddlers love the boat ride and music. If it's hot out, you'll love the air conditioning. The Disneyland version features favorite Disney characters as well. This is a must do on any trip with a toddler. Be sure to stick around for the show outside as every 15 minutes the doors on the tower open and there is processional of the Small World figures. If you go in November or December, the entire attraction is decorated for the holidays.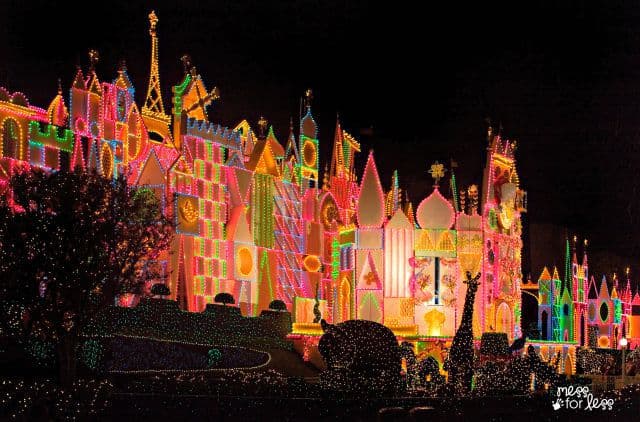 Jungle Cruise
You'll love it for the corny jokes, your toddler will love it for the audio-animatronic animals and the boat ride.
King Arthur Carousel
My kids have enjoyed this merry go round since they were babies. They have either ridden with me or on their own horse with me or my husband standing next to them.
The Many Adventures of Winnie the Pooh
Who wouldn't want to ride in a honey filled beehive into the enchanting world of Pooh and friends? Toddlers get so excited when they see Pooh and Tigger. This slow, relaxing ride is perfect for toddlers.
Peter Pan's Flight
A magically flying ship? Your toddler will want to ride it. My best word of advice here is to make this your first ride of the day if you plan to do it. There are no fastpasses for Peter Pan's Flight at Disneyland so you will be waiting on a LONG line which toddlers are not known for tolerating well. So head to Peter Pan when the park opens. You won't regret it.
Storybook Land Canal Books
This is another Disneyland exclusive attraction. There is one potentially frightening part for toddlers, when the boats go into the mouth of Monstro the whale. It is just a tunnel however and not very dark inside at all. He does have large teeth which may scare some toddlers. My toddlers never had an issue with it, but use your judgement. We always see lots of real ducks on this boat ride so keep an eye out.
Buzz Lightyear Astro Blasters
While this ride does take place in a dark space, you can always see what is going on. It can be noisy but not overly loud. Toddlers love playing with the space cannons even if they don't hit any of the targets. You control the amount of spinning that occurs in your car. If you are a germaphobe like me, be sure to wash your kids' hand after the ride. Lots of touching of the space cannon goes on all day.
As you can see, there is plenty to do at Disneyland with toddlers. If you are going to head to Disneyland with toddlers for the first time, a wealth of information can be found in these guidebooks:
The Unofficial Guide to Disneyland
I received complementary tickets to Disneyland Resort, but all opinions are my own.
For more Disney ideas check out:
Disney World Countdown Calendar Kids Activities to Prepare for a Disney World Trip
Want more Mess?