My three kids are obsessed with Minecraft. Are yours too? Minecraft is a virtual open world video game where players can create their own worlds as they build and create. In addition to being fun, Minecraft can be educational. Problem solving skills, teamwork, and creativity are just a few of the things kids can learn while playing. If your child is a Minecraft fan, they are not alone. With the holidays coming up, I have been researching some fun Minecraft gifts to give to my kids. I thought I would share a list of the Best Gifts for Minecraft Lovers I have found. Next time you need to get a gift for a Minecraft lover, you'll know exactly what to get.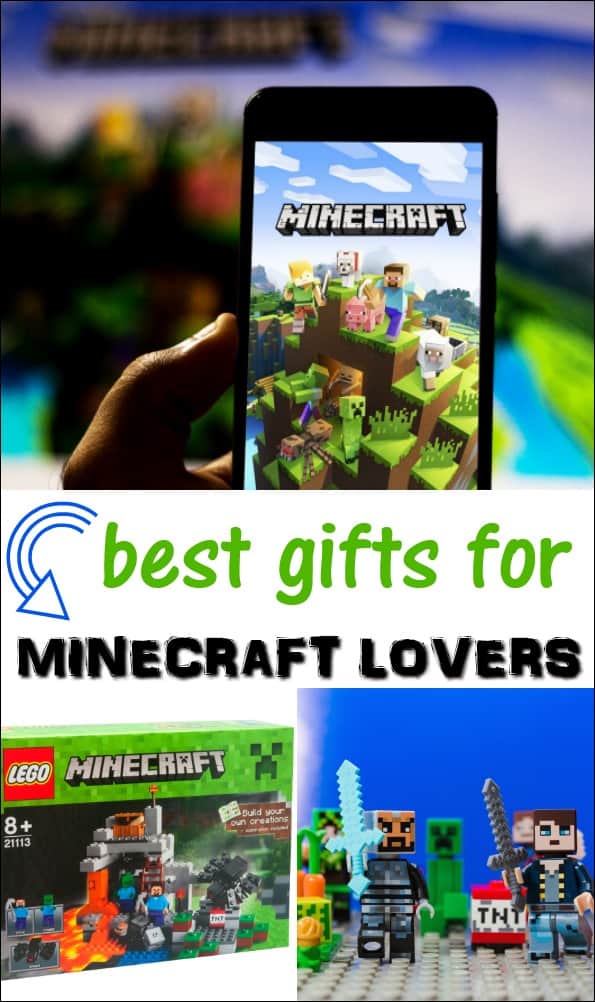 BEST GIFTS FOR MINECRAFT LOVERS
Zak Designs Minecraft Creeper - Your Minecraft gamer will enjoy having food served on these dishes while taking a break from the game!
Lego Minecraft The Zombie Cave Set- The only thing better than playing Minecraft is building Minecraft worlds out of Legos! This will keep kids busy for hours!
Minecraft Uno - Uno is an old classic to pull out for family game night. If your gamer is hesitant to play a game that doesn't involve a screen, the Minecraft theme might just convince him.
Minecraft backpack - How cool will your Minecraft lover be carrying all the things in this Minecraft backpack. Whether it's for school or a sleepover, this bag will hold it all!
Minecraft stickers - Whether it's creating Minecraft scenes or decorating a notebook, these stickers are the perfect stocking stuffer for your favorite Minecraft player!
Minecraft Water Bottle - It might be easier to get them to drink their daily water with this Minecraft themed water bottle!

Minecraft Towel - Bath time will be loads of fun when your gamer has this Minecraft towel to dry off with!
Minecraft Switch Controller - Minecraft is available on many different platforms, but if your favorite gamer plays on the Nintendo Switch, this would be the perfect gift!
Minecraft Magnetic Travel Logic Game - If you can't play Minecraft, why not practice your logic skills on this Minecraft magnetic travel game? The perfect companion for holiday travel!
Minecraft Bi-Fold Nylon Wallet - Every Minecraft lover would be excited to keep their money in this awesome wallet! This makes a great stocking stuffer.
Minecraft Boxer Underwear - You can get away with giving your player some of the essentials for Christmas when they are Minecraft themed.
Minecraft Socks - Your kids will love to show off their fun socks and mismatch them so they can wear more than one character at a time.
Minecraft Beanie - This beanie will keep the Minecraft fan warm while they show off their love of the game!
Minecraft Pajamas - Your player will be sure to sleep great in these super comfy Minecraft pjs!
Minecraft Glow in the Dark Shirt - Glow in the dark shirts are so fun! This Minecraft Creeper shirt is sure to be a winner with your game lover!
If you found these Best Gifts for Minecraft Lovers helpful, you'll also enjoy:
Best Christmas Gifts for Kids Who Love Slime