The back to school season is upon us which means it is time to shop for school supplies. Probably the most important school supply is the backpack. It is something kids use everyday and if it is uncomfortable or not functional, you will hear about it. So you want to be sure to get a good one. But how do you decide when there are so many options out there? An easy way to narrow it down is by interest. If your child is very into something, chances are there is a backpack based on it. My kids (and lots others) are into unicorns right now. Everything is all about these sparkly, mythical creatures. I've done lots of research and come across some awesome Unicorn Backpacks sure to delight any unicorn lover. When you are done here, be sure to check out these Unicorn Crafts for Preschoolers.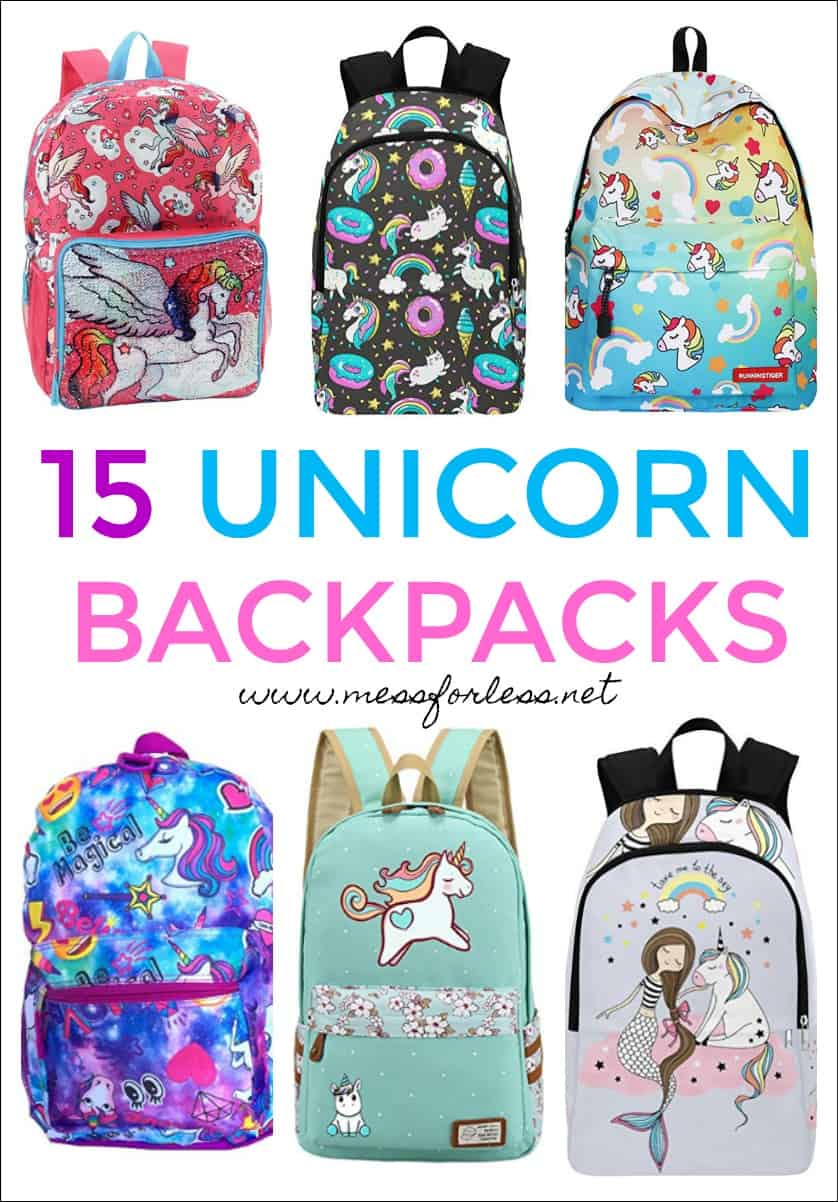 Unicorn Backpacks
This adorable unicorn backpack works best for toddlers or preschoolers who don't have to carry large folders or books. I would not recommend this for an elementary aged child because of it's size, but it is perfect for a smaller child.

This backpack comes with a matching lunchbox and pencil case. Your unicorn lover will be all set for the new school year.

I like how this backpack includes unicorns and some sneaky cats posing as unicorns. Perfect for a cat or unicorn lover.

This colorful backpack works best for early elementary grades as it won't hold a variety of larger binders. It is super bright and cheerful and comes with headphones.
Have a fan of unicorns and mermaids? This is the backpack for them! Such a whimsical backpack, sure to put a smile on your child's face.
This large and roomy backpack is great for a child that has a lot to bring to school each day.
This unicorn backpack is super cool because it comes with a front flippy pocket. Kids will love it!
Combining rainbows and unicorns is always a good idea, and this fun backpack is as functional as it is cute!
This is perfect is you have a kid who loves unicorns and space. You can also separately purchase a matching lunchbox and water bottle.
If your child is not into cartoon-type unicorns, this one appears to have a more realistic look. Well, as realistic as a unicorn can appear.
Unicorns, hearts, diamonds and ice cream - oh my! All of my favorite things!
Something for the understated unicorn lover in your life.
Is your kid too cool for school? This is the unicorn backpack for them. What a stylish and trendy way to go to school.
How pretty is this unicorn in the clouds backpack? I love the pastel colors, and kids will love the glittery unicorn horn.
This unicorn backpack would work well for a teenager since it is more elegant than the the other options I've shared.
GOT A CRAFTY KID?
The folks at Annie's know crafting, so you know they have put together some amazing kits for your kids.
For girls:
The Creative Girls Club subscription box will get your girl's creative juices flowing. Girls get two kits each month full of crafting fun. Best of all, the crafting can be done with minimal adult supervision. While she is creating, she will be learning valuable skills such as painting, beading, stitching, paper crafting, and much more!
For boys and girls:
These Young Woodworkers Kits have everything your little builder needs to create crafts and toys they can enjoy, while learning important woodworking skills along the way. Your child's first three kits will include 5 kid-sized, high-quality tools they'll use again and again. A new woodworking project is delivered every four weeks, with a new and exciting skill to master. Each project teaches a real world skill that kids will use for years to come.
If you enjoyed these unicorn backpacks, you'll love:
How to Make a Unicorn Gift Bag
Printable Unicorn Craft for Kids