We love creating art outdoors! There is something about being out in the fresh air that really gets those creative juices flowing. We have done Slide Painting and Squirt Bottle Painting. Today we are sharing a fun art and science activity we did outdoors - creating with Bubbling Glitter Paint. Because paint is cool, glitter paint is even better and bubbling glitter paint is awesome! Don't believe me? Check it out for yourself!
You will need:
Baking soda
Powdered tempera paint
Vinegar
Container for paint
Pour some baking soda into a plastic container. How much you use will depend on how much paint you wish to make. We filled our plastic containers until the bottoms were completely covered in baking soda. I then added a tablespoon of powdered tempera paint and mixed until the baking soda had changed color. I added some water and stirred until I got a paint like consistency.
Fill a squirt bottle with vinegar and take your paint, vinegar and some glitter outside.
Paint some shapes on the pavement. Since it is close to Easter, we decided to paint eggs, but you can paint whatever shape you like.
When we finished painting, we sprinkled on some glitter because glitter makes everything better!
I love how the blue glitter shows up on the yellow paint. With just a few colors of paint and glitter you can create all sorts of colorful combinations.
After we painted and glittered our eggs it was time to squirt on some vinegar. This is when the magic happened!
All of the paint started to bubble and something curious started to occur to the glitter...
Glitter bubbles started popping up in our erupting paint!
The kids poured more and more vinegar onto their painting so it would fizz and create more glitter bubbles.
The more vinegar they added, the bigger the bubbles became.
I have to say this activity turned out different than I expected. I knew adding the vinegar would cause a reaction, but I had no idea that we would create these beautiful glitter bubbles. Try it yourself - I bet your kids will love bubbling glitter paint as much as mine did. In case you were wondering, the paint and glitter wash right away with a hose.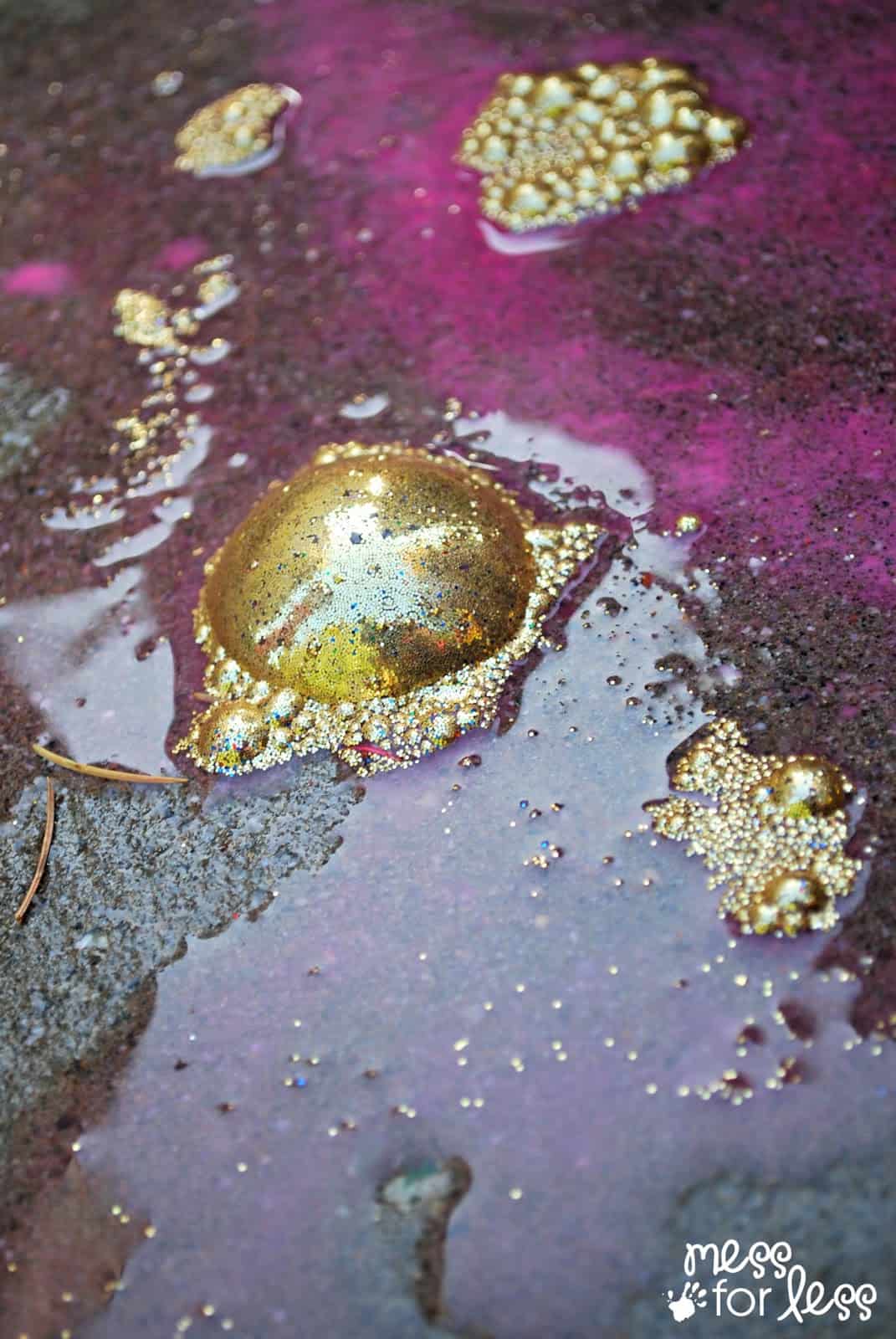 For more fun baking soda activities check out: