This low carb soup is great when you are trying to watch your carb intake. If you like noodles in your soup as well, add them in. But the great thing about this recipe is that you will not miss the noodles. Honestly! There are so many veggies in this soup that it is very filling. If you are looking for more soup recipes check out this Chicken Noodle Soup, Pumpkin Soup and the rest of our family friendly recipes.
There is a lot of chopping involved in this recipe, so it is a great one to get some help with. If you have a spouse or significant other, put him to work! I like to have all the veggies chopped beforehand so I can just throw everything in a pot before it is time to make it.
With all these veggies, you won't miss the noodles!
Since this recipe will cook for an hour, you can use thawed chopped chicken. I would not recommend frozen chicken.
Throw everything in a large stockpot and you are good to go.
You will have leftover soup, which makes a great lunch the next day. I like to send the leftovers to work with hubby.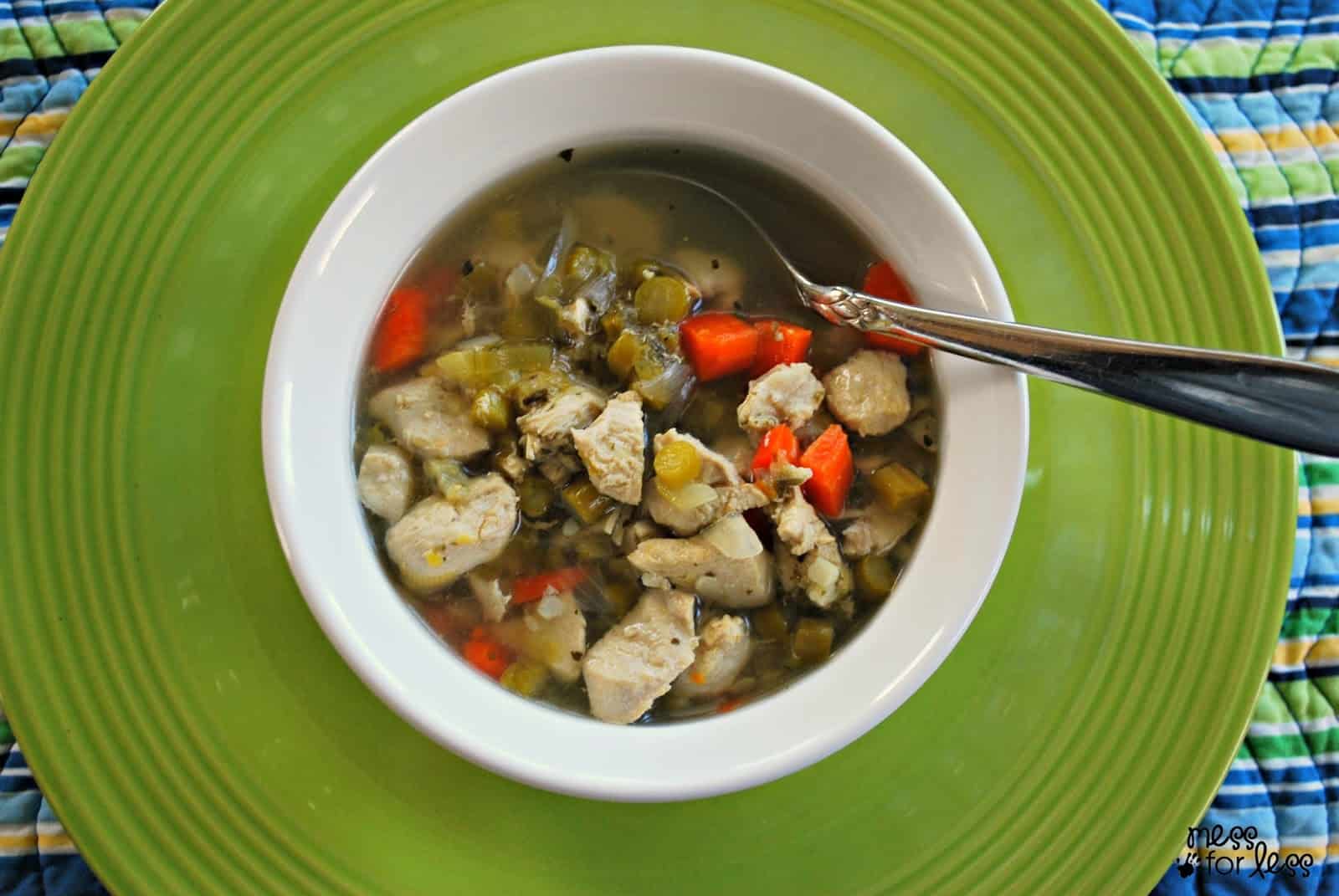 This soup is also great to make when a cold or illness hits your household. What is more comforting than chicken soup?
Chicken Vegetable Soup
makes 8 one cup servings
Ingredients:
8 cups of chicken broth
1 ½ pounds of thawed, chopped chicken
1 ½ cups finely chopped zucchini
1 ½ cups finely chopped asparagus
1 cup chopped carrots
1 cup finely chopped white onion
1 cup finely chopped celery
4 garlic cloves, minced
¼ cup green onion
1 tablespoon cilantro
½ teaspoon thyme
1 teaspoon Italian seasoning
2 bay leaves
1 teaspoon rosemary
Salt and pepper
Directions:
1. Boil 8 cups of chicken broth.
2. Add chopped, thawed chicken to the broth.
3. Add chopped vegetables and herbs to the broth and give a stir.
4. Bring to a boil, cover, and then simmer for 1 hour.
5. Add salt and pepper to taste.
If you are looking to feed a family and save money with make ahead meals, then one of the best resources I have found is MyFreezEasy. You will be able to create your own meal plans so you can make 10 to 12 meals for your freezer in less than one hour. You can choose from gluten free, slow cooker and clean eating options. You'll be able to get 10 meals into your freezer without spending all afternoon in the kitchen.
For more soup recipes check out: