Have you ever needed just a few minutes to take a phone call or get dinner ready? It always seems at these times, kids are the neediest. If you have been searching for something to buy you a few minutes, then you will love file folder games! File folder games are learning activities that are self contained in a file folder. I first started creating my own file folder games when I was teaching preschool and kindergarten. File folder games were great for letting kids work independently during center time or other times. When I became a mom and my kids got old enough, I remembered how much my students enjoyed file folder games. This Christmas File Folder Game is fun for kids and they can work on it independently while practicing their counting skills. This means you will have a little time to do what you need to do. If you are looking for more free kids worksheets check out our Free Preschool and Kindergarten Worksheets for Kindergarten and Firefighter Kindergarten Worksheets.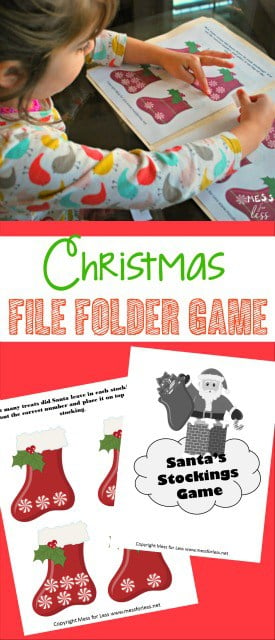 You will need:
White printer paper
Scissors
Zip top bag
Tape
This Christmas file folder game is easy to assemble. Simply print out the pages and glue them to a file folder.
To keep the pieces handy after the game has been played, I tape a zip top bag to the back of the file folder. This works well especially for a classroom setting.
The object of the game is to count the number of treats Santa has left in various stockings and place the correct number on the stocking. For added cutting practice, I let my daughter cut out all the numbers before starting the game.
Then it was a matter of counting the treats in each stocking and finding the correct number.
Our printer was running out of ink, hence the green lines that run through some of the print outs. When you print your copies, they will look normal. Assuming you have enough ink.
Terms of use
These free worksheets may not be copied and sold or reproduced in any way. They cannot be changed or altered by you in any way and then sold as your own. If you are sharing these printables, you must direct people to my website and not to a link for the PDF. Do not store these on your website, on a file sharing website or on Facebook or Dropbox. These free worksheets are copyright Mess for Less.
You can get the free Christmas File Folder Game by clicking here.
For more Christmas themed learning games check out Christmas Tree Math Game.