My twins, who are three and a half, have recently become interested in counting by 10s. Before I put away the plastic Easter eggs for the season, I made them a math game where they could practice counting by 10s. This Counting Caterpillar game is a great way to re-use some of those eggs you still have littering your house.
This post contains affiliate links. For more information please read my disclosure.
Supplies you will need:
11 plastic Easter eggs
Permanent marker
I used similar sized eggs for this game. I picked the sides that were more flat since it would be easier to write the numbers on them. I managed to find an egg that had a side with two holes in it, which were perfect for some cute antennae.
Simply cut your pipe cleaner so that you can thread it through the holes and the bend it.
Next, the Counting Caterpillar needs a face. After I drew mine with a permanent marker, I realized maybe orange wasn't the best color egg to use as it looked a bit like a jack o'lantern. Oh well, the kids never noticed.
Write the numbers, counting by 10s, up to one hundred on the remaining eggs.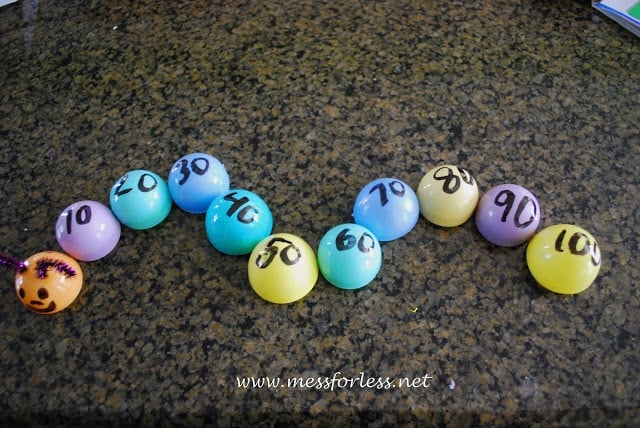 I didn't want all the pieces getting lost, so I just labeled a small bag.
I was happy to see the girls taking turns with the game.
Lil C isn't counting by 10s yet, but she always loves being part of the action. Her sisters helped point to the number that was coming next and C added it to the caterpillar.
When they were done they checked their work.
If you still have any plastic eggs lying around, this is a great way to use them and create a fun counting by 10s game at the same time.
For more Math activities check out: