This is the season for plastic Easter eggs. By the end of the weekend you will probably be finding them all over your house. But you can still use these eggs in lots of ways even after Easter such as this Easter Egg Letter Matching Game. One way we have enjoyed plastic eggs in the past is with a fun Counting by 10's math game. This Counting Caterpillar game will use up some of those eggs while entertaining the kids at the same time.
Counting by 10's
Supplies you will need:
I used similar sized eggs for this game. I picked the sides that were more flat since it would be easier to write the numbers on them. I managed to find an egg that had a side with two holes in it, which were perfect for some cute antennae.
Simply cut your pipe cleaner so that you can thread it through the holes and the bend it.
Next, the Counting Caterpillar needs a face. After I drew mine with a permanent marker, I realized maybe orange wasn't the best color egg to use as it looked a bit like a jack o'lantern. Oh well, the kids never noticed.
Write the numbers, counting by 10s, up to one hundred on the remaining eggs.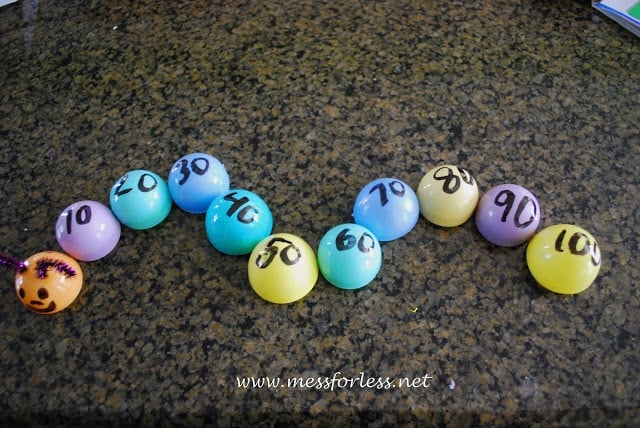 I didn't want all the pieces getting lost, so I just labeled a small bag.
I was happy to see the girls taking turns with the game.
When they were done they checked their work.
If you still have any plastic eggs lying around, this is a great way to use them and create a fun counting by 10s game at the same time.
ENVIORNMENTALLY FRIENDLY KIDS CRAFTS?
If you are looking for more fun activities for kids, check out Green Kid Crafts, an earth friendly monthly craft subscription box for kids that sparks creativity while teaching kids a respect and love for the environment. These boxes are themed and each month will be filled with fun projects and creative activities that can be enjoyed by kids from ages 3-10.
Since Green Kid Crafts is an earth friendly company, they use sustainable, safe materials in all of their products. They also give a portion from each sale to environmental non-profits. Learn more about a monthly subscription of fun!
If you liked this Counting by 10's game, check out: