This post has been sponsored by Magnaflex from WowWee, but all opinions are my own. My kids love games. They especially enjoy the competition and challenge that games provide. I like to find toys for them that are open ended, since they provide creative play opportunities and allow me to create simple games for my kids. Recently, we had the chance to try MagnaflexTM from WowWee, a toy that inspires my kids to build almost anything. Magnaflex also inspired me to flex my imagination by creating games for kids. Find out how easy it is to take some favorite toys, think about them in a new way, and extend the fun.
Magnaflex are construction kits that inspire kids to use their creativity to build ANYTHING they can imagine! Though I will admit, Magnaflex are great fun for adults too. I've played with them when my kids weren't around. I just can't help it! Usually, I'll find some pieces that my kids haven't put away, and instead of putting them away, I'll start building something.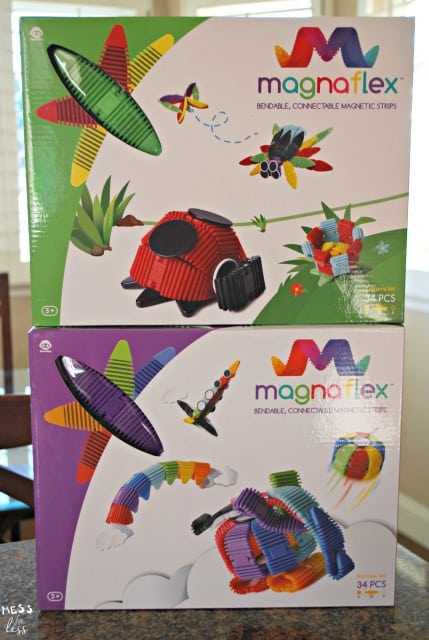 Magnaflex building kits include colorful magnetic strips and connector pieces. They have a unique shape and material that makes it easy for kids to bend, zip and connect the magnetic strips. Each kit includes an easy-to-follow instruction guide with project ideas for making animals, vehicles, wearable accessories and more. It is super fun to create the projects suggested in the instruction guide, but to me, the real fun starts when you think outside the box with your Magnaflex creations.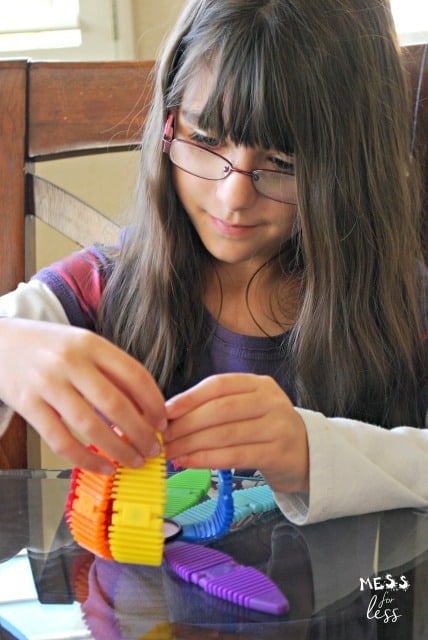 Creating Games for Kids
One way you can think outside the box with a toy is to use it for creating games for kids. Magnaflex really lends itself well to this since it is so open ended. There are a variety of games you can make using the pieces. One of our favorites was a game we call "Create It!" To play Create It, you will need a box of Magnaflex, index cards and a marker. Write down the names of objects on different cards. These will be objects that the kids will be challenged to create.
I placed all our Magnaflex and connector pieces in the center of the table. I then turned over an index card that had an object written on it. The object of the game was to be the first one to make the object named on the card.
When you completed the item on the card you needed to raise your hand up. For some of the cards, the results were super close and came down to a split second.
My daughter created this very cool looking ball in the game. Unfortunetly, she was not done first as her sister was quicker by making a ball using fewer pieces.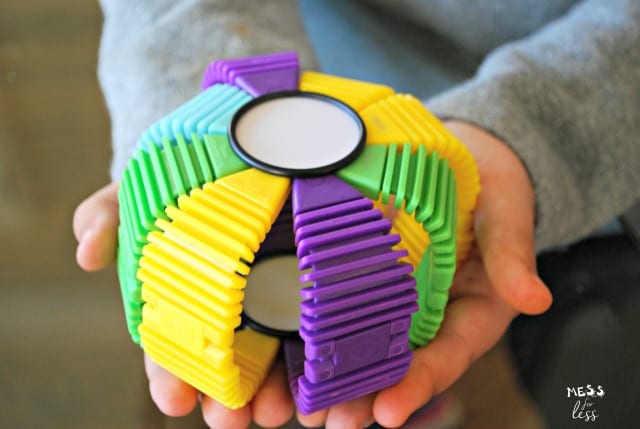 One of the cards challenged the kids to make a necklace. I liked checking out the different designs they came up with.
Once the kids got good at creating some basic items, the game got more challenging. The cards were now asking them to create more complicated things like a bee on a flower. You can imagine that trying to be the first one to do this was difficult. First, the kids had to think about how they would make a bee and then how they would make a flower. The results were quite different!
Perhaps the most challenging task on the game cards was to create glasses. It was really interesting to see how the kids tackled this. This one took a bit longer than the other challenged as they measured how big they had to be and figured out a way to make them wearable.
In addition to the building game we made with the cards, we have made other games such as a storytelling challenge. We sat in a circle with Magnaflex pieces in the middle and someone would start a story and create a prop using their Magnaflex. They then finish their part of the story and the next person would take over, adding their story details and creating a new prop using Magnaflex. This game really opened up story telling for us. Sometimes a child was stumped about how to continue a story, but when they would create something, it would spark their imagination.
You can also create games where kids have to make shapes, practice their spelling and math, or even learn about science concepts by experimenting with the magnetic ends. As you can see, Magnaflex as a fun and educational toy that will be a treasured addition to your child's toy chest. It can also be easily taken on the go. Kids can play with them in the car, a plane, restaurant or doctors office.
You can purchase Magnaflex at most major retailers and start creating games for kids yourself!