Are you as addicted to Pinterest as I am? I have been using it for years and have pinned over 21,000 things! One of the things I have seen pop up on Pinterest over and over, is a recipe for Ritz Crackers with melted Rolo candies. I have no idea where this idea originated as I have seen it pinned and made on so many blogs and websites. Since I love the sweet and salty combo, I decided to give them a try. Of course I had to add my own spin to it. If one Rolo candy sandwiched between two Ritz crackers is good, then stuffing Ritz crackers with TWO Rolos must be even better! My hunch was right! My daughter loved Double Stuffed Rolo Ritz Crackers and had fun helping with many of the steps. For more tasty snacks, try our Hand Dipped Fall Pretzels and other family friendly recipes.
Ingredients:
Preheat the oven to 350 degrees. If you have a little helper like me, they can start by peeling the Rolo candy. The number of crackers and candy you use depends on how many snacks you want to make. Each snack requires 3 Ritz crackers and 2 Rolos. The great thing about this tasty treat is that you can just make one or two whenever you have a craving. They just take a few minutes to prepare and this recipe would work great in a toaster oven as well.
This next step is also great for little hands. After the candy is peeled, your child can place one Rolo in the center of each Ritz cracker on a cookie sheet.
Place in a 350 degree oven until the chocolate has started to melt. Keep an eye on them during this process.
When they are ready to come out of the oven, they will look like this. Remove them from the oven and take them off the cookie sheet so they can cool.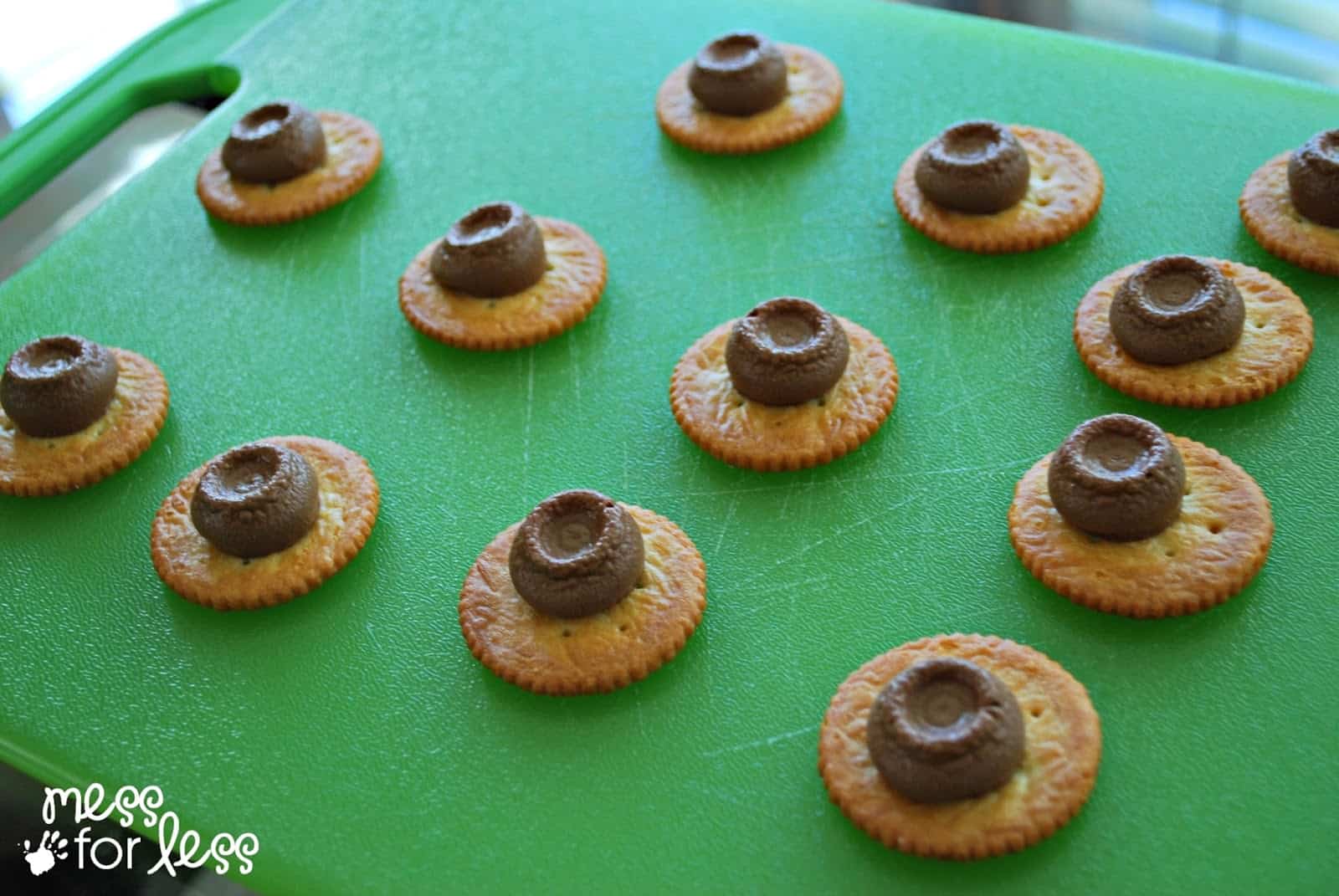 The next step needs to be done by an adult. Pick up one Ritz cracker with a melted Rolo and stack it on top of another one, pushing down so the Rolo is smashed.
I let me daughter help with the next step, which was to place a final Ritz cracker on top and push it down. She really enjoyed this step. You will want to make sure the chocolate is not too hot before you let your child do this.
Now, you will be tempted to eat this right away, but hold off for about five minutes until the chocolate and caramel cool off and harden.
These Rolo Stuffed Ritz crackers are held together by the melted chocolate and caramel. You will flip over this combo of sweet and salty! These crackers come together so easily you can make them the next your sweet tooth starts calling.
For more fun kids snacks check out: