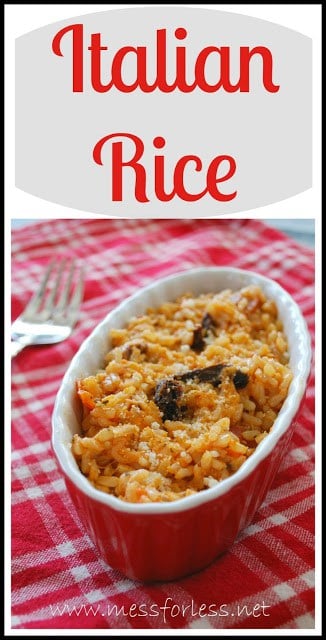 This is a sponsored post written by me on behalf of Minute® Ready to Serve Rice. As a busy mom of three, I am always on the lookout for quick and easy lunch ideas that I can eat while the kids are napping. I typically don't have a lot of time to prepare something, so fast is key. But just because I need something fast, doesn't mean that I want to compromise on health and taste. Thanks to Minute® Ready to Serve Rice, I don't have to. I can't wait to show you how quickly you can make Easy Italian Rice and transform a cup of brown rice into lunchtime feast.
You will need:
Minute® Ready to Serve Rice
Tomato sauce
Shredded part skim mozzarella cheese
Pepperoni slices
Sun dried tomatoes
Fresh or dried basil
Salt and Pepper to taste
Directions:
1. Heat up the brown rice in the microwave for one minute, following package directions.
2. Place the rice in a bowl and add in some tomato sauce, mozzarella cheese, sun dried tomatoes, cut up pepperoni and basil. I did not put specific amounts on any of these items since it will be based on your liking.
3. Pop in the microwave for 30-45 more seconds until the mozzarella is nicely melted and the sauce has warmed.
4. Serve and enjoy!
One of the great things about Minute® Ready to Serve Rice is that you can make a ton of dishes just by adding different items to the rice. Feel like Mexican? Just add some tomatoes, cilantro, lime and black beans. If Southwest is more to your liking add in some cut up chicken, crumbled tortilla chips and corn. The possibilities are endless and are limited only by your imagination and cravings!
If brown rice isn't your thing, Minute® Ready to Serve Rice is available in many varieties such as Multi-Grain Medley, Jasmine Rice, White Rice, Italian Rice Mix, Chicken Rice Mix, Yellow Rice Mix, Spanish Rice Mix and Pilaf Rice Mix.