I am excited to share this recipe for Mexican Rice as part of a sponsored post for Success® Rice.
As a busy mom of 3, I often don't have a lot of time to prepare dinner. Usually, I have 30 minutes or less to get dinner ready and on the table. I am always looking for ways to make my dinner prep quick and easy. So when I had the chance to try Success® Rice, I was all over it. Success® Rice is the original boil-in-bag rice that cooks up perfectly, in just 10 minutes. There is no mess and no measuring involved, which if you're like me is great because your measuring cups are sitting in a sink under a pile of dishes.
Our 14 oz box of Success® Rice contained 4 boil-in-bags of rice, which can each serve 2 hungry people as a side dish. I love how the white and brown rice varieties can sit up to 30 minutes after being cooked. Am I the only one that has a hard time coordinating all the dishes I am cooking? I decided to use our brown rice to make some Fiesta Mexican Rice. My husband and I always get a rice similar to this when we go to a certain Mexican chain, so I decided to surprise him my making some myself. It did not disappoint!
You will need:
Success® Rice (white or brown)
½ Avocado, chopped
½ Tomato, chopped
Juice from half a lime
¾ tablespoon of chopped cilantro
Salt and pepper to taste
I made one boil-in-bag brown rice for 2 people. If you are making more rice, you will need more of the above ingredients.
I boiled some water and dropped my bag in for 10 minutes. You can also cook the rice in the microwave.
After 10 minutes, I had perfectly cooked brown rice. I also had a chance to chop up my other ingredients. Talk about easy meal prep!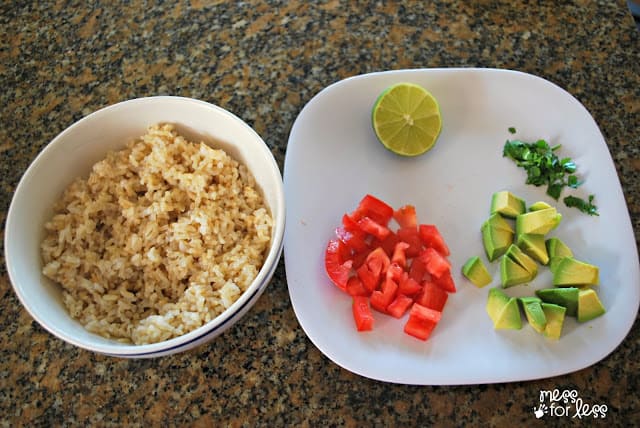 I mixed the chopped tomato, avocado and cilantro into the rice and squeezed the juice from half a lime. I then added some salt and pepper. I just adore lime flavor with some salt mixed in.
So how did it turn out? Well, we ate the entire thing and have plans to make more! My husband and I could not tell the difference between the Success® Rice boil-in-bag and rice cooked the traditional way. The texture and taste were great. Plus you can totally customize the rice with your own add-ins to
change it up every time.
If you are looking for some quick and easy recipes for anytime be sure to visit www.successrice.com.
With 4 varieties available including: Success® Whole Grain Brown Rice and Success® White Rice, and globally-inspired aromatic varieties of Success® Rice, including fragrant Thai Jasmine or Basmati Rice, there's a variety everyone in your family will love. Try your own twist on one of your favorite recipes by swapping an aromatic variety into some of your go-to rice dishes. To accommodate various households, Success® Whole Grain Brown Rice and Success® White Rice comes in two different sizes – 14 oz. or 32 oz.