My kids are so excited for Disney•Pixar's Finding Dory movie. To say this is an eagerly awaited sequel is an understatement. When you combine cutting edge animation, heartfelt storytelling and lovable sea creatures, it is going to be a hit with little ones. To celebrate the movie, we had a Finding Dory themed party and made an adorable Finding Dory Craft. Check out how you can do the same thing with your family. This post has been sponsored by Bounty, but all opinions are my own.
If you are looking forward to Disney•Pixar's Finding Dory, then you will love these Bounty prints featuring Disney•Pixar's Finding Dory characters from the movie. They are now available at stores nationwide just in time for Disney•Pixar's Finding Dory, which hits theaters on June 17th. I don't know about you, but we are reserving our tickets now!
These adorable Finding Dory patterns make my kids want to clean up their messes! They are a must-have when crafting with kids. The Bounty prints featuring Disney•Pixar's Finding Dory are your go‐to paper towel. They give you 2x more absorbency and fun rolled into one.
Finding Dory Craft
This post contains affiliate links.
To make this fun Finding Dory craft you will need:
Before you begin, roll out a length of Bounty paper towels to protect your work surface. This project can get messy!
Cut 12-14 inches of contact paper and roll it out with the side with the writing facing down, onto the Bounty. The contact paper will have the tendency to curl up, so I just placed some paint bottles on the edges to hold it down.
Squirt some of the following colors of paint onto a paper plate: blue, orange, yellow and green. You can also add any other colors you wish depending on how many fish you want to make for your bowl. This will be your palette.
Paint a square of each color onto the contact paper and let dry. When the paint has dried, cut small fish out of the blue, yellow and orange sections. My kids also wanted pink fish. Do whatever makes you happy! I found it easiest to draw fish on the painted contact paper with a pencil and then cut them out.
Make sure the fish are an appropriate size so they won't be too large to stick onto the bowl. You will want to cut some seaweed from the green section of contact paper. Maybe 5 or 6 strips for a bowl.
Don't peel the fish yet, simply set aside and move on to the next step.
It is now time to paint your fishbowl. We used brown paint for the sand and light blue paint for the water. My daughter painted a stripe of brown paint on the bottom of the bowl and painted the remainder of the bowl light blue.
Once the bowl has dried, you can peel the fish "stickers" that you made from the contact paper. You might want to help the kids out with this step as the contact paper backing can be a bit difficult to remove.
Have kids add the seaweed strips around the bowl. Next, have them add the fish. My daughter liked imagining that the blue fish was Dory and that the orange fish was Nemo.
This Finding Dory craft makes a great decoration if you are having a Finding Dory party. It is also a fun craft that kids can make at the party and then take home as a favor.
If you are throwing a Finding Dory or "under the sea" party, then you will want to have these Bounty Quilted Napkins on hand. They feature Dory and Nemo in an underwater scene.
Whether you are cleaning up after your party or making our Finding Dory craft, using these limited edition Bounty prints featuring Disney•Pixar's Finding Dory, makes it all more fun. Since Bounty is more absorbent, the roll can last 50% longer.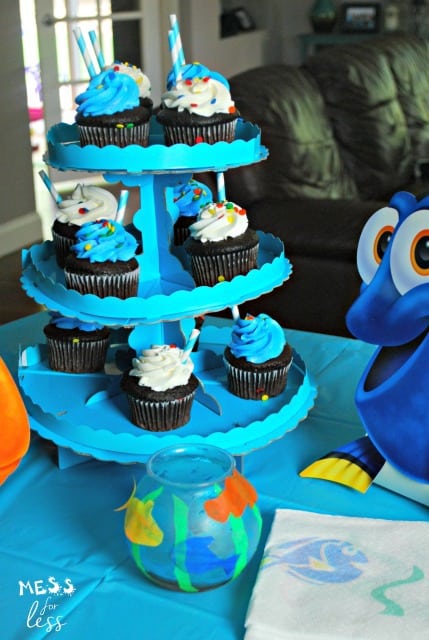 Enjoy crafting with your kids and feel good about the fact that any mess that occurs is easily handled by Bounty.
Want more Mess?