Fine motor skills are so important to a child's development. These skills help kids to strengthen the small muscles in their hands which help them with important life skills such as grasping things, writing, feeding themselves, and more. Did you know that even toddlers can begin to work on their fine motor skills at home? Here are some easy activities you can set up for your toddler that will be both challenging and fun. These 20 Fine Motor Activities for Toddlers use many items you already have at home, so there is no need to spend a lot of money.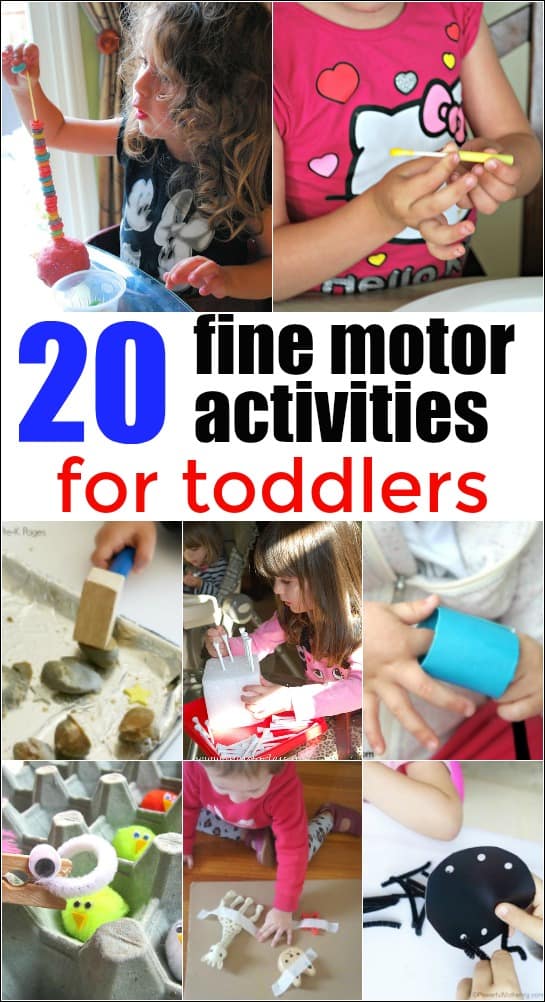 Fine Motor Activities for Toddlers
Fruit Loop Towers from Mess for Less - These fruit loop towers are a simple way to practice fine motor skills with little ones. Plus kids can eat the fruit loops when they are done!
Find the Bug Fine Motor Activity from Views from a Step Stool - Build the muscles in your little one's fingers with this fantastic "look and find" activity with a bug theme.
Fine Motor Skills Letter Activity from Mom Dot - If your toddler is old enough to recognize letters, this activity will be even more beneficial. It would even be a great way to introduce letters to your little one.
Fine Motor Fun with Pipe Cleaners from Mess for Less - This is one of the easiest fine motor activities for toddlers that you will find. Kids will have a ball while pushing and pulling pipe cleaners.
Taped Toys Fine Motor Activity from Laughing Kids Learn - What a unique activity to build fine motor skills and dexterity. So easy and simple to set up!
Moon Rocks Fine Motor Activity from Pre-K Pages - Just watch the excitement as your toddler builds their little muscles as he gently hammers these moon rocks to reveal what is inside.
Fine Motor Skills Color Recognition Game from Mess for Less - Use recyclables to make a fun game that works on many basic skills for toddlers and preschoolers.
Fine Motor Activity with Q-Tips from Fantastic Fun and Learning - If you're looking for an activity that you can set up super quickly for your little one and that will keep her occupied while building her fine motor muscles, then this is for you!
Clothesline Names from Pre-K Pages - Help reinforce letter recognition while building fine motor skills with this fantastic activity!
Fine Motor Work with Golf Tees from Mess for Less - Watch how much fun kids can have while practicing their fine motor skills. Try this easy-to-set-up golf tee activity with your little ones.
Straws and Pipe Cleaner Fine Motor Activity from Living Life and Learning - Anything simple that can be profitable and fun is a winner in most parents' books and this activity fits that description well.
Zoo Animals Fine Motor Activity from Pre-K Pages - Maybe you could coordinate this activity with a trip to the zoo or maybe it would be a consolation for a rained out day at the zoo. No matter what, this activity will be sure to entertain!
Fine Motor Frog Life Cycle Activity from Life Over C's - Does your child enjoy seeing frogs? This activity is a great way to teach them about frogs, make a craft, and use their fine motor skills all at the same time!
Pasta Threading Activity from Laughing Kids Learn - What a brilliant way to practice threading with a toddler and keep it safe for them at the same time!
Q-Tips and Straws from Mess for Less - A great way to help little hands strengthen fine motor skills and work on colors at the same time.
Pincer Fine Motor Skill Practice from Powerful Mothering - Oh my goodness, you must check out how adorable this fine motor activity is! This will take a bit of prep work, but it will be so worth it as your little one has fun feeding the baby birds!
Garden Pretend Play from Views from a Step Stool - Your kids will enjoy participating in the creation of this garden, as well as benefiting from the activity once it is set up. This would be great in the spring or really any time!
Threading with Large Colored Cardboard Beads from Laughing Kids Learn - Wondering what to do with those empty toilet paper and paper towel rolls? If you have a toddler or preschooler, this would be a great way to recycle those rolls!
Fine Motor Knot Tying Activity from Hands On As We Grow - This activity can build fine motor skills in multiple ways - first by making the knots, and then by taking them out.
Spider Fine Motor Activity from Pre-K Pages-Whether or not you or your child like spiders will be irrelevant to their enjoyment of this fine motor activity. Who doesn't love googly eyes?!?! This activity also involves some basic threading skills as well!
Fine Motor Skills Activity with Tongs - from Mess for Less - Tongs are not just for salads. Grab some and let kids work on those small hand muscles.
DO YOU WANT YOUR KIDS TO LEARN ABOUT THE WORLD IN A HANDS-ON WAY?
If your kids love travel or science, then Little Passports the is the perfect subscription box for your child. My kids love to explore, and this subscription box contains so many engaging activities for kids. I think even kids who haven't traveled would enjoy getting the world delivered to their mailbox. Plus, Little Passports also offers science and stem based subscription boxes designed to get kids started on a lifelong journey of learning. Little Passports has boxes for kids as young as 3 to as old as 12. Check out subscription options here.
If you liked these fine motor activities for toddlers, check out:
Fine Motor Skills Activity with Dyed Oatmeal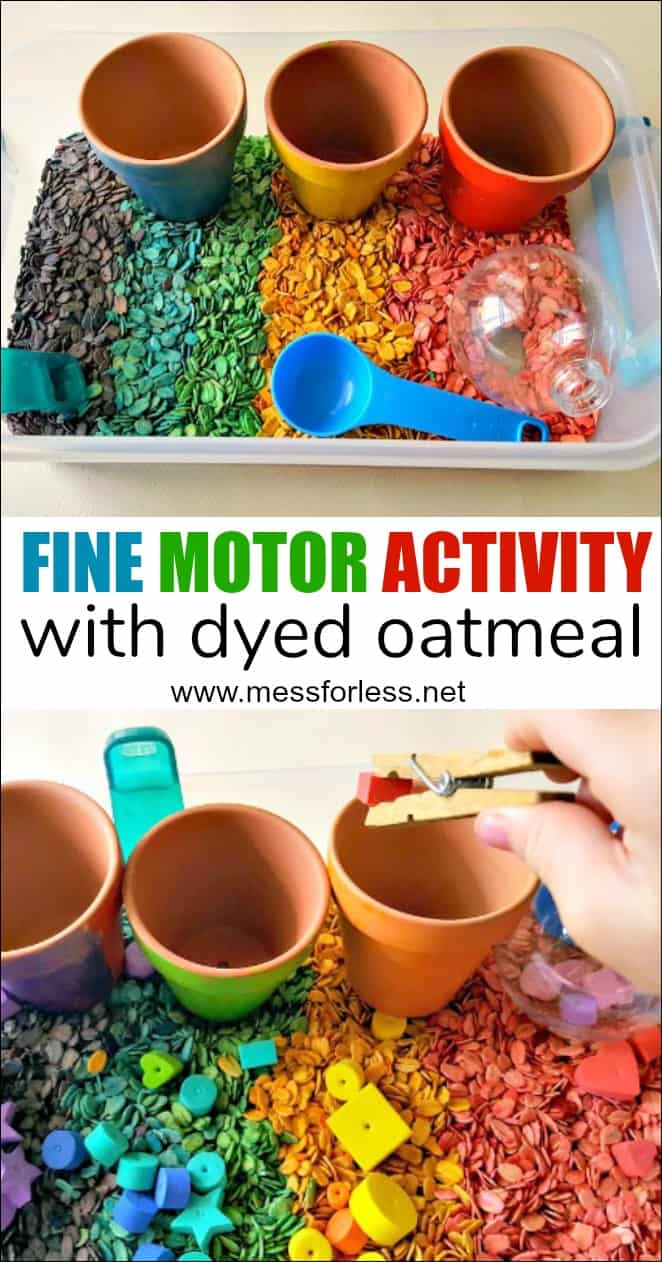 Fine Motor Activities for Preschoolers