I recently purchased a waffle iron and when I unpacked it, I noticed the box was filled with some packing foam. I love repurposing items for play so I got started thinking how I could best use this with the kids. Then I remembered these adorable heart picks that I found at the dollar store a while ago. I am pretty sure they carry them year round since I bought them in the Fall. If you cannot find these picks, any multicolored toothpicks would work. This fine motor activity doubles as a lesson on patterns for older kids. My youngest just had fun placing the picks in the foam and making a design rather than making fine motor patterns.
Fine Motor Patterns
*These picks are sharp, so make sure your child can handle them safely and is properly supervised.
You will need:
My five year old was very interested in the pattern making aspect of this fine motor activity.
She picked out three colors to work with - red, white and blue, and set out to make a pattern.
She worked her way around the foam and ended up making her pattern form a circle.
My youngest decided that she would make a pattern too using yellow, green and white picks. However, once she started she decided to abandon that plan and just place the picks wherever she wanted.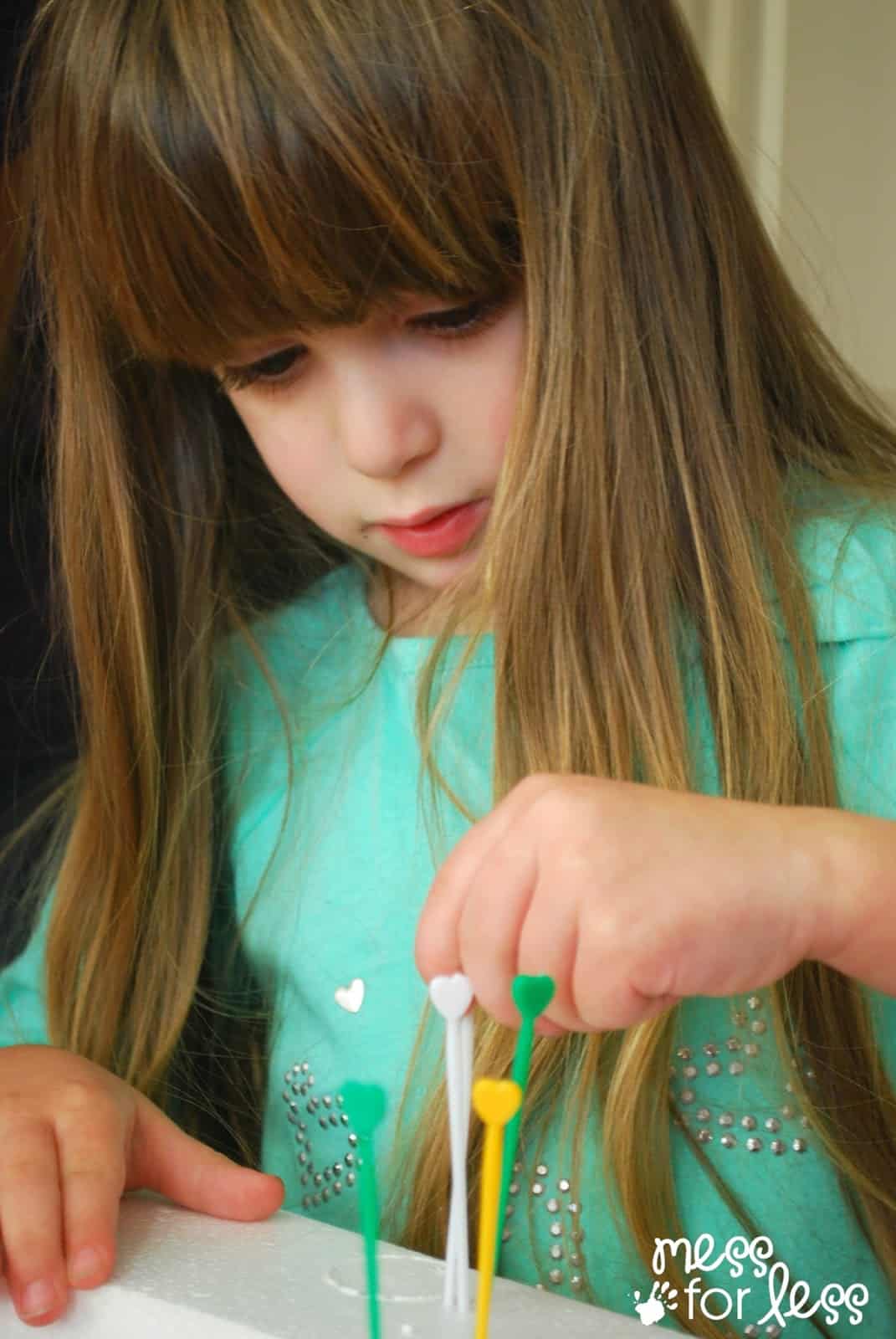 Even if your child is not ready for pattern making, they can still get a lot out of this fine motor activity. There is lots to learn as they push, pull and rearrange the pins.
If you are looking for a fun and engaging way to keep kids passionate about learning, check out Groovy Lab in a Box. These boxes are presented in partnership with Popular Mechanics so you know you'll be getting some great stuff each month. Kids will love Groovy Lab in a Box because it contains everything they need to do experiments focused on science, technology, engineering and math (STEM). Kids will get all the supplies they need to complete the activities in addition to a cool lab book. Subscribe here.
If you liked these fine motor patterns, you'll love:
18 Fine Motor Activities for Preschoolers