I have another dollar store find for you today. These great foam sheets were just $1. I had no idea what I was going to use them for, but bought them and stashed them away. I have a closet full of craft items and recyclable goods that I know will do something with eventually. The closet is near overflowing, but I managed to shove the foam in there and close the door quickly before stuff tumbled out. Little did I know that my newest find would not last long in the closet o'stuff. I found a really cool and easy idea for the foam sheets at You'll Thank Me One Day and could not wait to try it with my girls. These foam window clings provide a fun activity that kids can do while you are busy making dinner.
Foam Window Clings
All you need are some foam sheets that you will pre-cut into shapes. These don't have to be perfect or even actual shapes. Here is an example of my handiwork.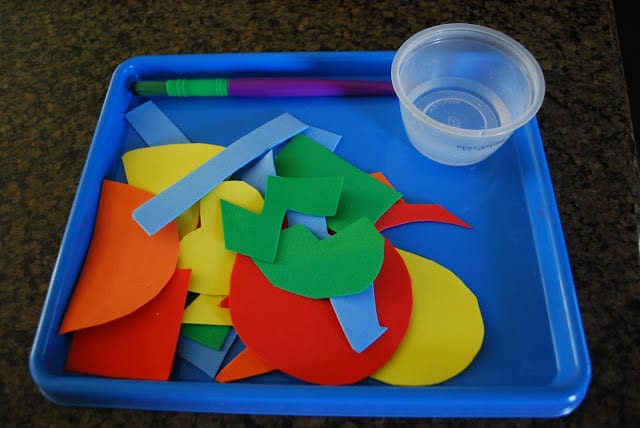 Then just fill a cup with water and supply a paintbrush. You can do this activity outdoors or indoors so it makes for a good rainy day or "too hot out" activity. You will also need a window. If you don't have one at your child's level I imagine this would work just fine on a mirror.
I showed the girls how they could "paint" the back of the shape with water and then "magically" stick the shape to the window. They loved how the pieces stuck up there. I kept this very open ended at first, but was surprised when the girls started combining the shapes to make things. B was the first. She was super excited that she made an ice cream cone using a triangle and a circle. "A" made a house by using a larger square and a triangle. I think next time I may make a few more shapes keeping in mind what they can build with them.
Probably my favorite part of using these foam window clings was the fact that lil' C could participate as well. She puts absolutely everything in her mouth which prevents her from doing a lot of activities with us, but she had fun with this. I think most of her fun was had because she did the same thing her big sisters were doing. C is 20 months old and I think this activity will work for her age or younger.
Nothing like sisters working together.
There is so much you can do with this activity depending on the age of your child. You can use it to review colors, shapes, cut the foam into letters and have your older child spell words, etc…I am sure you will come up with your own creative spin on this. The best part? When you are done, the foam pieces can be put away and used again so your $1 investment is going to last you a good, long time. Oh and you might be able to trick your child into cleaning your windows. I was not.
If you enjoyed this foam window clings activity, you'll love: