Are you looking to make your time in the kitchen easier? I know I am. Maybe you are just looking for those ideas that will help you use ordinary kitchen items in new and helpful ways. This Frozen Banana Ice Cream with Blueberries is easy to make and my kids adore it. It is better for them than traditional ice cream, plus it's a nice way to get some fruit into their diets.
I knew I wanted to add some frozen berries but I wasn't sure which to choose.
In the end I went with blueberries because I just love using them in smoothies as well.
Now if you are as busy (and possibly scatterbrained) as I am, then you have forgotten about bananas and let them get too ripe. That is no longer a problem with this kitchen hack. Next time that happens, just peel those bananas and toss them in the freezer. I have found that the best frozen banana "ice cream" is made with ripe bananas, so those forgotten bananas will be put to good use!
Ingredients for frozen banana ice cream with blueberries:
2 ripe bananas, frozen
⅓ cup frozen blueberries
1 tablespoon of honey
You will need a food processor or strong blender for this recipe. This will make 2-3 servings.
Before I freeze the bananas, I cut them into chunks which makes it easier for the food processor to handle.
Add the frozen bananas, frozen blueberries and honey to a food processor.
Pulse until all the large chunks of fruit have been blended and the mixture achieves a soft serve consistency.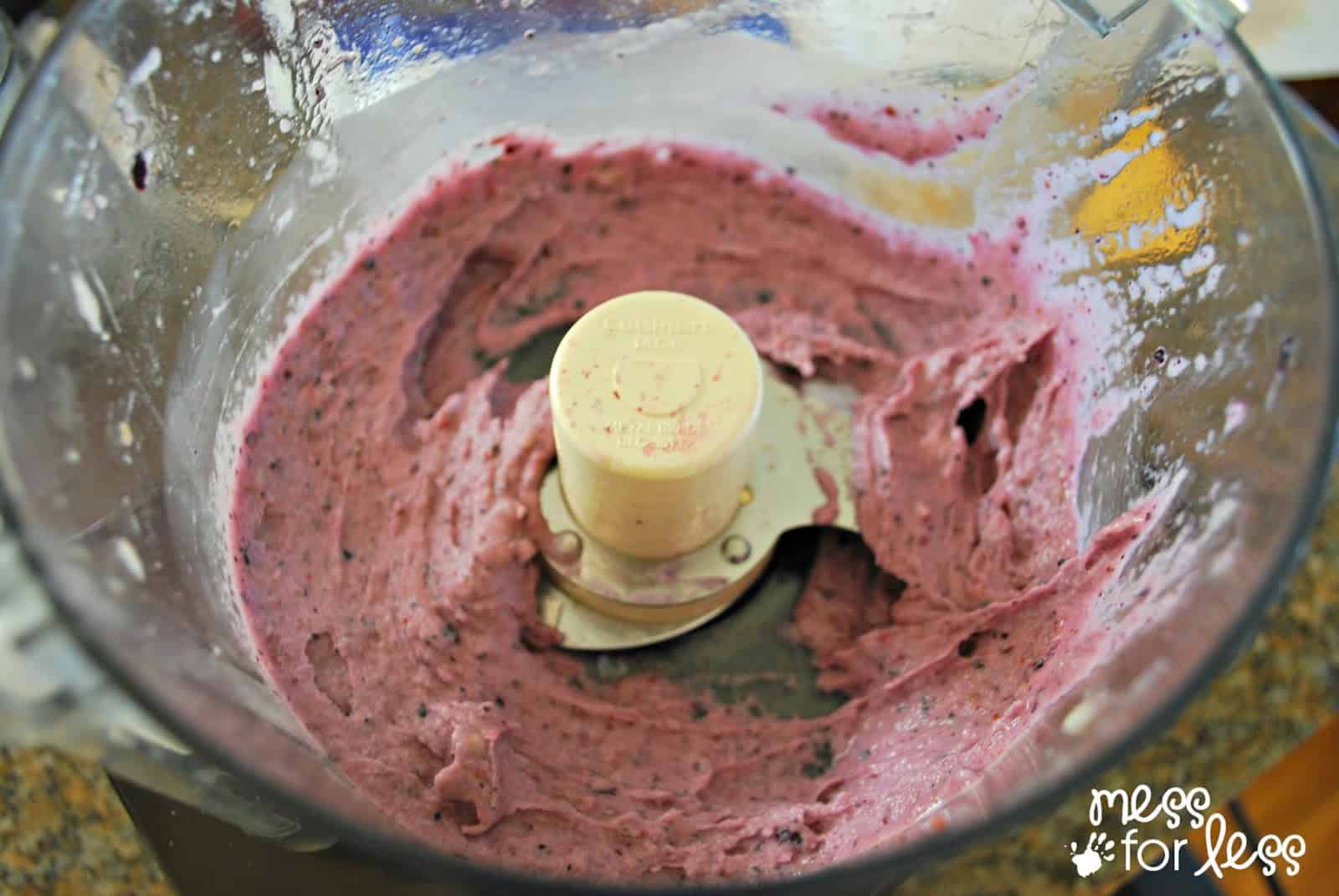 You will want to eat this right away as it melts quickly. Just to show you how yummy this banana ice cream is, one of my daughters loathes bananas and wolfed this down and wanted more. Even when I told her there were bananas in it, she didn't mind.
If you have any left over, you can freeze it, but it does change the consistency a bit. I feel like this is best eaten after it's made. There are tons of ways to change this up as well. You can leave out the honey, add chocolate syrup, or use different types of frozen berries. I am excited to try this with a bit of a canned pumpkin for a fall/Thanksgiving flavor.