It's a raining today in my Northern California town and I have a few easy,
fun food activities
that are great for a rainy day. If your kids are anything like mine, they love to help out in the kitchen. If they are also like my kids, then they like making messes in the kitchen. Today we will be putting the kids to work with minimal mess while we have
fun with fruit
. And they will also be learning some math concepts along the way.
Fun with Fruit
Patterned Fruit Skewers
The first idea was sent to me by my friend Raine. You will need grapes in 2 colors and a wooden skewer.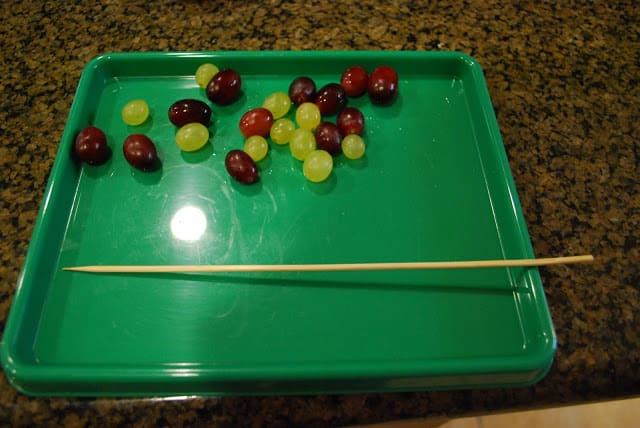 I made the pointed tip of the skewer more blunt by banging it on the table a few times. I showed the kids how they could push the grapes on the skewer and explained to they could make a pattern buy putting one red grape, one green grape etc... If you have older kids, you can do more complicated patterns. Grapes can be a choking hazard for young kids so you might want to cut the grapes before this activity. I left them whole.
Even Little C was able to join in the fun. Before you think she is some sort of patterning prodigy, her sisters were yelling to her which color she should put on the skewer next.
When the skewers were filled, we popped them in the freezer and had them later with our dinner. They were a big hit and a fun way to get in some math practice. When I come up with a yummy way to teach algebra, I'll let you know.
Cinnamon Sugar Shakers
I found this easy idea on I Should Scrap That. She called hers Apple Shake Ups, I call mine Cinnamon Sugar Shakers. You will call them delicious!
You will need:
1 apple
cinnamon
sugar
Ziploc bag
I just eyeballed the amount of sugar and cinnamon I put in, but I don't think it was more than 1 teaspoon of each. I used an apple that I had on hand (we are big fans of Granny Smiths in this house) and cut it up into cubes. Then I dumped the apple into the Ziploc bag and had the girls helped me pour in the cinnamon and sugar.
Then came the really fun part - the SHAKING!
Okay, the shaking was one of the fun parts. The other fun part was the eating!
So there you have it. Get your little ones in the kitchen and mix up some fun.
Eat at Home Meal Plans
Have you heard about Eat At Home Meal Plans? If the cost of eating out or the decision of what to make for dinner each night is stressing you out, then you must try these. When you sign up, you get access to four separate meal plans each month (Traditional, Wholesome Traditional, Slow Cooker, and No Flour/No Sugar). All you do is print the plans, color-coded grocery lists, and recipes you want for that month. Don't worry, there are lots of options, so even picky eaters will find something they like.
Then when it is time for dinner, make that night's recipe (choices include make-ahead, freezer meals, slow-cooker recipes, and other time-saving strategies).
That's it! Dinner is on the table and you can enjoy a home cooked meal with the family – without the stress!
We all have more important things to do than meal planning. Let someone else do it for you with Eat At Home Meal Plans. Monthly, quarterly and annual plans are available.
If you liked this fun with fruit activity, check out:
Cupcake Recipes to Make with Kids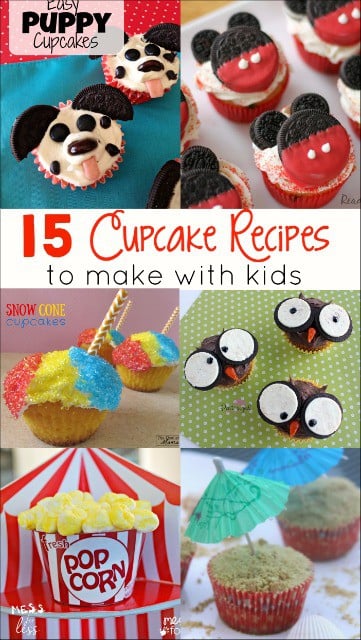 WANT MORE MESS?