This Galaxy Slime Recipe may be my favorite slime recipe yet. It is just so pretty and colorful, and did I mention sparkly? If your kids are obsessed with slime, then this is one slime recipe you must try. You can buy galaxy slime already made, but it is way more fun to make it yourself.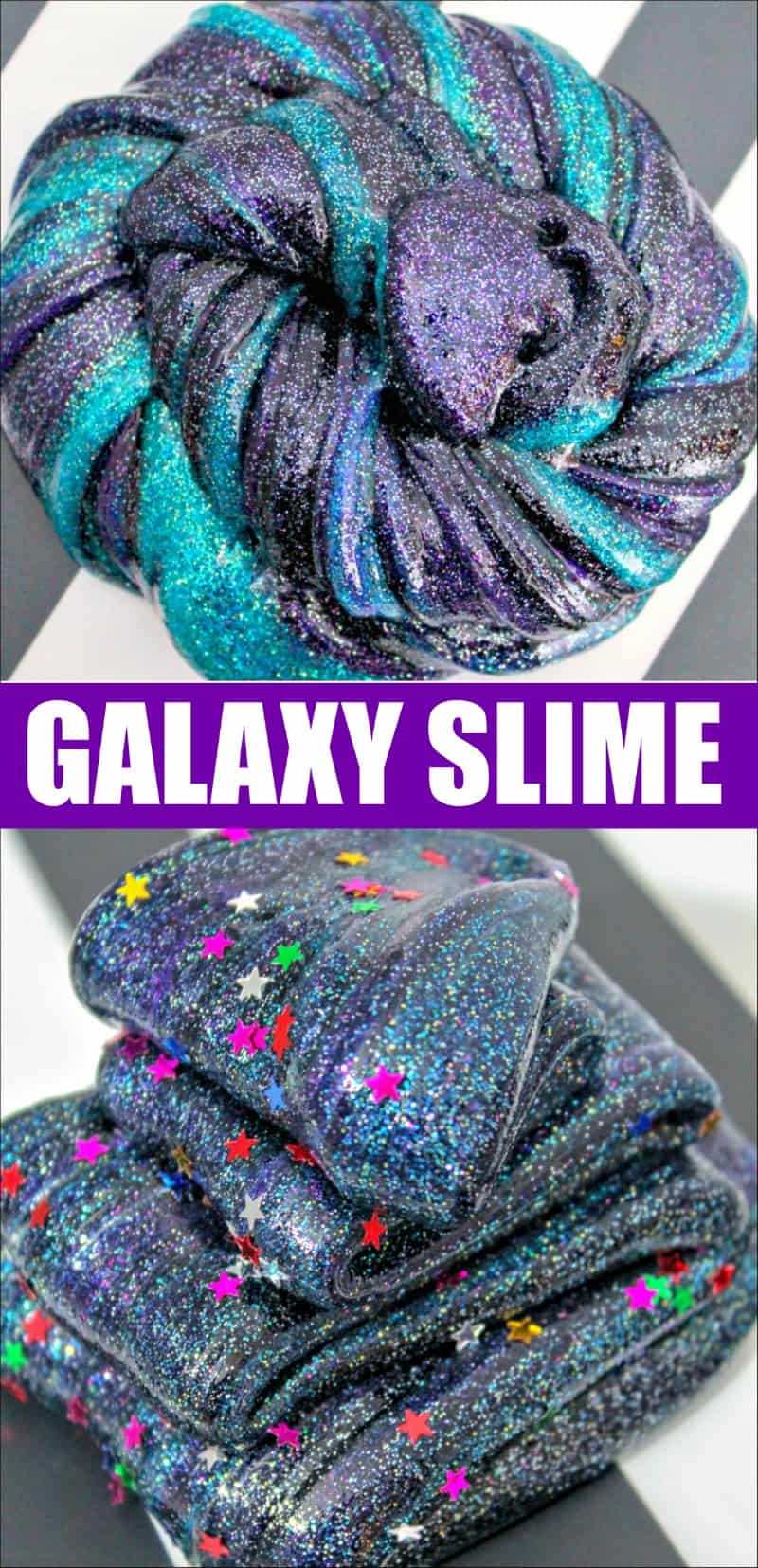 Galaxy Slime Recipe
This slime is not edible. Please supervise your kids when making slime and have them wash their hands when they are done playing.
Ingredients to make galaxy slime:
1 airtight container
2 5 oz bottle of clear glue
1 bottle black glitter glue
For each color slime you will be making you will need:
½ cup water
½ tsp baking soda
1 tbsp contact solution
Pink Glitter
Purple Glitter
Gold Glitter
Teal Glitter
Purple food coloring
Teal food coloring
Metallic stars confetti
Small bowls
Instructions to make Galaxy Slime
To make this galaxy slime recipe, you will pour the entire bottle of black glitter glue into a bowl.
Next, you will add a ½ cup of water to the bowl.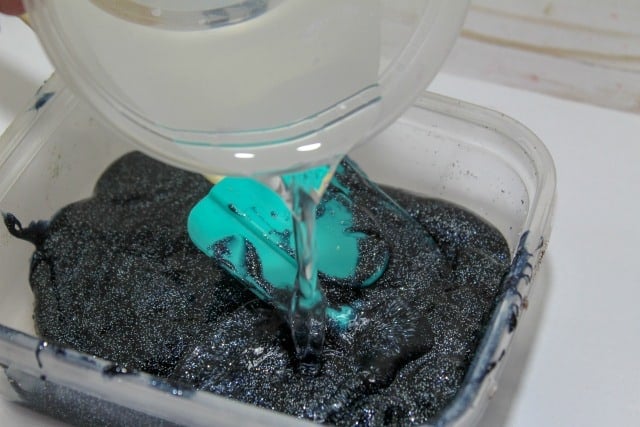 Then add in ½ teaspoon baking soda and stir.

Finally, add 1 tablespoon of contact solution. The slime will instantly begin to form.
The slime mixture will be sticky, but don't worry, you haven't made it wrong. Mix the solution in the bowl until it starts to pull away from the edges of the bowl. Knead the slime until it is no longer sticky. Set it to the side.
In another bowl, pour 5 oz of clear glue.

Then add ½ cup of water and stir. Pour a few drops of purple food coloring.

Now comes the fun part - adding the glitter! Don't be shy! I combined light purple and hot pink glitter.

Mix in the glitter and then add in ½ teaspoon of baking soda and stir. Add 1 tablespoon of contact solution. Knead the slime until it is no longer sticky. Set aside the purple slime.
Follow the same steps you used to make the purple slime to make the teal slime. Only, instead of using the purple food coloring, you will use the teal food coloring. Then use teal and gold glitter instead of the pink and purple.
Now you will have 3 colors of sparkly slime. The real magic happens when you swirl all three colors of slime together.

Doesn't this slime look gorgeous?
It really is almost too pretty to play with. When your kids do play with it, they will be delighted with the changes that occur.
This galaxy slime recipe turns out mostly black with the most amazing sheen and sparkle. When you add this star confetti, it really just takes it over the top!
You can add the star confetti to the top of the slime or mix it throughout. It's up to you.
Whatever you choose, this slime is out of this world (or galaxy)! If you like the look of this galaxy slime, check out this Galaxy Calm Down Bottle from Preschool Inspirations.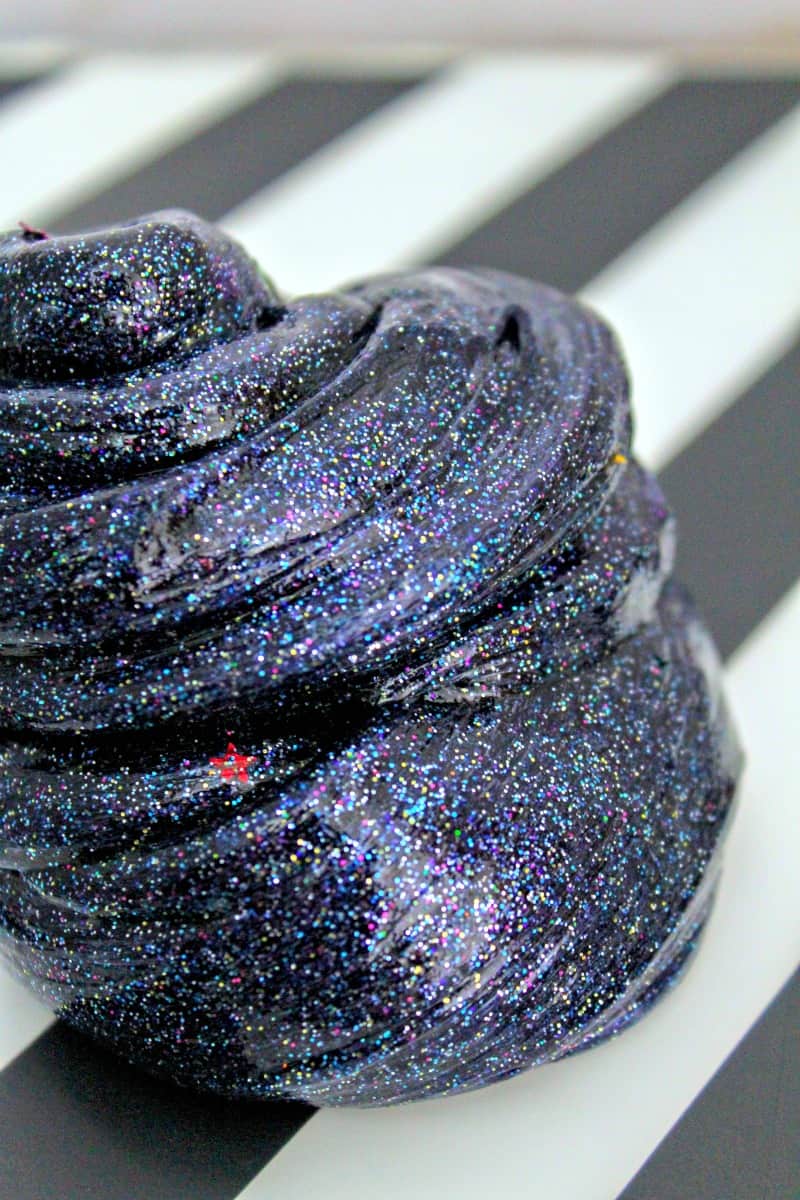 This slime can be stored in an airtight container if your kids don't want to play with it right away. After noticing my kids leaving slime everywhere and finding lots of messes, I purchased these containers and they have been a life saver.
STEVE SPANGLER SCIENCE CLUB
Easy experiments are so much fun for kids and they are not intimidating for parents. If you are looking for some more easy experiments, the Spangler Science Club delivers amazing hands-on science to your door every month. Join Today! These make great gifts for budding scientists. Each month, your child will receive the most amazing science experiments delivered to your door.
If you liked this Galaxy Slime Recipe, you'll love:
How to Make Pom Pom Slime for Kids