The world changes fast and change is inevitable. This is something all adults know. Unfortunately, even though we may know that, many of us don't adapt to change well. If an adult has a difficult time with change, think of how hard it must be for little ones. Toddlers struggle with change, but as a parent, there are some simple things you can do. Helping Toddlers Deal With Change is a valuable skill for any parent to have.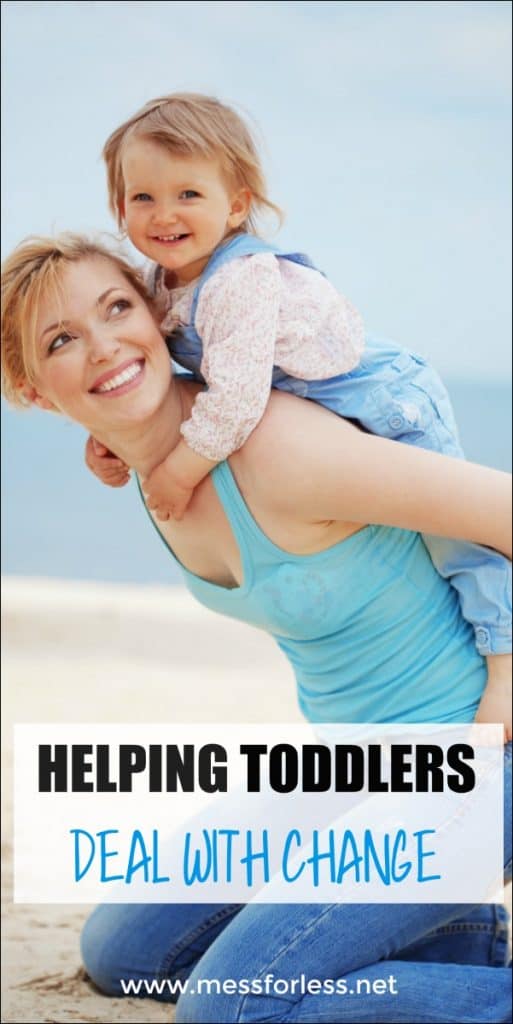 Jump to:
Helping toddlers deal with change
What is change?
Toddlers find safety and security in routine. For a toddler, change is anything that is different from their normal routine. Children, and toddlers especially, like structure. They like to know what to expect and what is coming next. Even if you don't consider yourself to be very structured, you have probably created some structure in your toddler's life without even realizing it. Perhaps you eat at the same time, go to the same places regularly or have a similar bedtime and nap time.
Some changes, like eliminating a nap, can be navigated without too much difficulty. There might be a day or two of growing pains, but soon your toddler adjusts. However, major changes like moving, divorce, daycare, a quarantine or a new sibling can throw your toddler's little world into confusion.
How to help your toddler manage change
Tell them what to expect
For example, if you are planning to eliminate a nap from their daytime routine, let your child know that they are growing up and only have to take one nap a day now. Show them a picture schedule when the nap will occur and make sure to celebrate their new transition.
Prepare them in advance
If you are planning for a bigger change like a move or a new sibling, you'll want to take the time to prepare your toddler well in advance. This way they will have the opportunity to ask questions. You can also do things that will help them to get excited about the change, like visit potential new homes together or involve them in decorating the new baby's nursery.
Of course, you can't always prepare you toddler for change in advance. Sometimes change happens with little warning. Maybe you planned to play outside and it started raining. Some children feel tremendous disappointment even with the smallest changes. Explain that you understand their disappointment and help them find something else to do that's fun until the weather passes and they can play outside again.
Model positive reactions
One big way you can help your toddler navigate and manage change is by modeling calm behavior yourself. Your feelings related to change are noticeable to your toddler. They can sense if you are stressed or upset, even if you don't express those emotions.
Rather than just trying to "act calm" take some time each day to relax, breathe, and deal with your feelings about the change. Focus on the positive that can come out of the change. Your child will pick up on your positive mindset and have a better attitude about the change.
Talk it out
One of the best ways to help your toddler navigate change is to encourage them to discuss their feelings about what is going on. Toddlers can express basic emotions such as happy, sad, scared... You might ask how they're feeling to get them talking. Then really listen. Sometimes being heard goes a long way to helping a child feel more comfortable with change.
Change is a part of life. By helping your child learn to manage it at a young age, they'll have a much happier and successful adulthood. Who knows, you may also learn to manage change better, and that is a good thing.
Tired of toy clutter?
If you're looking for quality educational toys for your kids without spending big and cluttering your space, then ToyLibrary is worth checking out! You can rent toys from major brands like LEGOS, Disney, American Dolls, and a lot more! As my special gift to you, use promo code "happykids" to get a 10% discount!
ToyLibrary has been providing toy rental service in the U.S since 2013. They have a library of new and curated toys that has more than 500+ educational & STEM toys (such as LEGO, Disney, Marvel, Vtech etc.) to enrich and delight children.
Related posts