Do you have a cat? A lot of people will tell you that cats are clean animals and this is true when you are talking about their physical hygiene. They take great care to groom and keep themselves clean. But when it comes to eating and using the litter box, I find their habits can be a little more messy. My cat can make huge messes but that doesn't stop us from spoiling her. She has a cozy bed on each level of house and numerous cat toys. But being a cat, her favorite thing to do is eat. She recently got treated to some homemade cat treats and boy was she pleased! I made them using a few ingredients that you probably already have at home. Be sure to check out these Catnip Cat Treats recipe as well. Thanks to Bounty for sponsoring this post.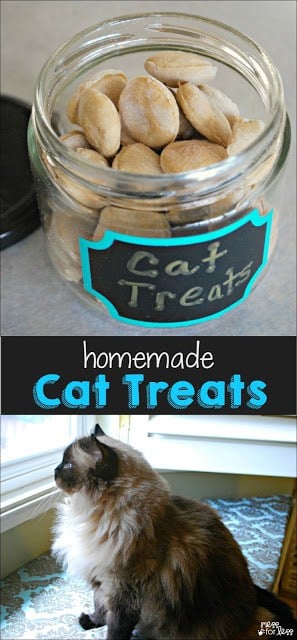 Please check with your vet before giving your pet these or any treats. We are not responsible for any issues that may incur from making these.
You can make this homemade cat treat dough in a bowl, but it whips up quickly in a food processor. If the dough appears to be too sticky, simply add more flour a tablespoon at a time.
This dough gets very sticky when you are rolling it out, so be sure to have extra flour on hand for dusting.
I'm going to let you in on a little secret to making these homemade cat treats. Use a bottle cap as a cookie cutter! The size is just right for making small treats for kitty.
My cat can eat these this size but they are also easy to break up if your cat prefers a smaller treat.
They will puff up a little while baking.
I have a confession to make. I tried one. Yes, I ate a cat treat. When I looked at the ingredients there was nothing that I don't normally eat anyway, so I figured it was safe. They were pretty good. Nothing I would eat for a snack on a regular basis, but I can see what my cat digs them.
This is my cat Charlotte. My husband and I adopted her before we had kids, so her life has changed quite a bit in the last 7 years. Today she spends her days getting petted roughly by little hands, being carried where she doesn't want to go, and woken up from naps. So if any cat deserves some treats, it's Charlotte.
These homemade cat treats hit the spot! I try not to give her more than a few a day because she is getting older and obesity is a concern.
They keep in a sealed container, like a mason jar for a few weeks. The next time I make these, I am going to try adding a little dried catnip.
Homemade Cat Treats
Ingredients:
1 can tuna in oil, drained
1 egg
1 ¼ cups of flour, plus extra for dusting
½ cup water
dash of parsley
bottle cap for cutting out treats
Directions:
1. Preheat oven to 350.
2. In a food processor mix tuna, egg, flour, water and parsley until a dough forms. If the dough looks too sticky, add a bit more flour.
3. Dust a surface with flour and roll out dough to ½ inch thick.
4. Use a bottle cap to cut out treats from the dough.
5. Bake for 20 minutes on a cookie sheet lined with parchment paper.
6. Let cool and serve to your cat.
Love cats? You need this calendar!
You get a 12 page cat calendar to keep track of important dates and appointments.
Each page features a different cute kitty design and a blank space for you to personalize with the month and day numbers.

There are also spaces for a "to do" list on each page. Since the month and days are blank, you can fill them in and choose which design you'd like for each month.

Once you purchase this instant download, you can print it out as many times as you want. Each printable measures 8.5" x 11".
If you have a cat and liked this homemade cat treats recipe, check out:
How to Keep Your Older Cat Active