Christmas is fast approaching and one of the ways you can reduce the stress of Christmas shopping is to let the children get involved in homemade gift giving. The idea of homemade gift giving can take the stress out of shopping for gifts from the kids and also give the kids projects that are fun and keep them occupied for a little while. But what I love most about these Homemade Christmas Gifts Kids Can Make is the fact that it really teaches kids that the best gifts don't have to cost a lot, they just have to be given in love. Also be sure to check out our Easy Christmas Crafts for Tweens.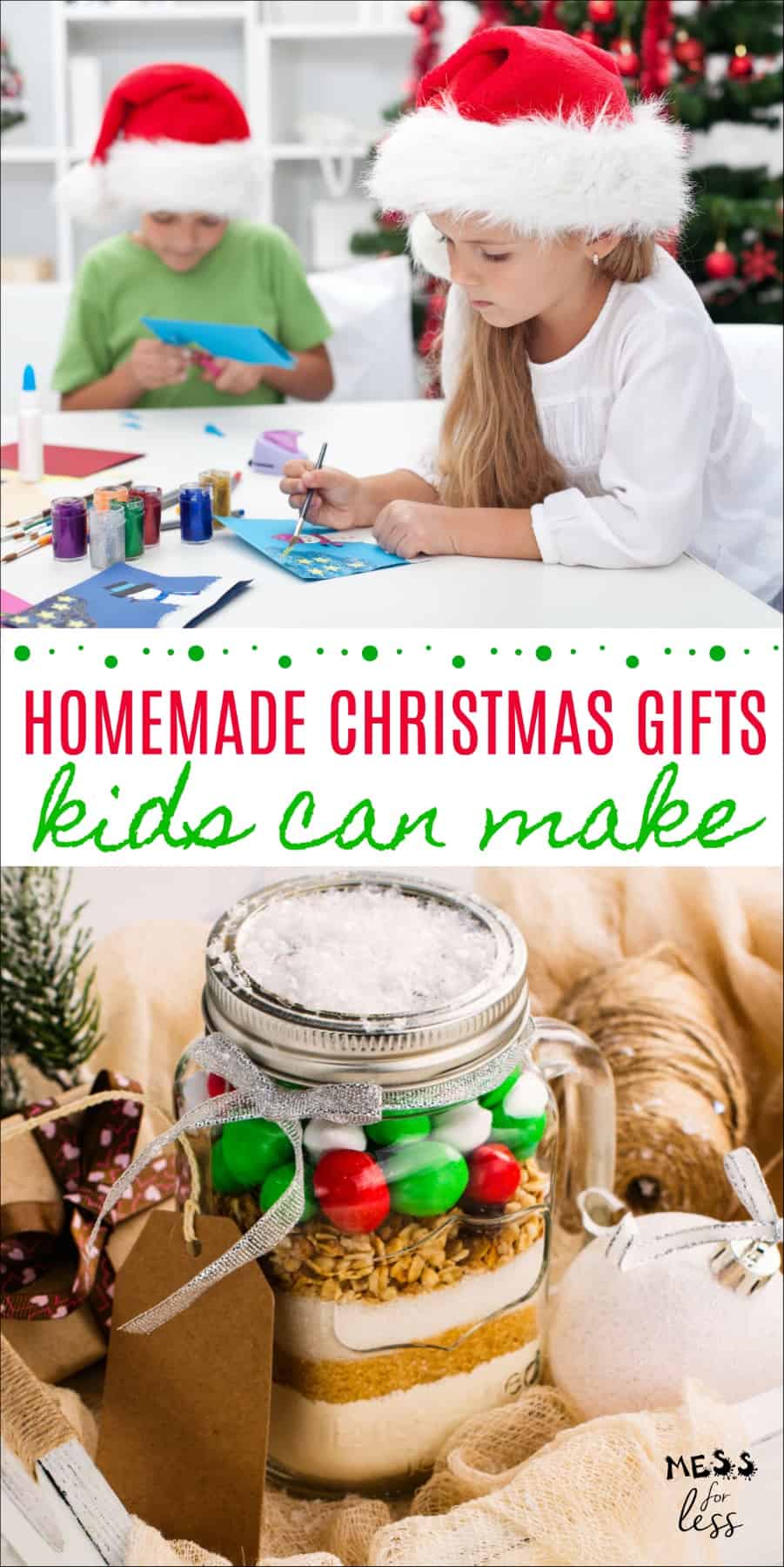 Jump to:
Why Christmas gifts kids can make are awesome
Kids feel a sense of pride when making their own gifts
Keeps kids engaged and busy
Homemade gifts are more heartfelt
Popsicle Stick Picture Frames
One idea that the children can help construct are picture frames made from Popsicle sticks. The only supplies needed for this are the Popsicle sticks and glue. Colored Popsicle sticks can be used for a festive touch. You may want to have some markers or paint on hand for kids to use to decorate their frame. After the paint has dried, they can insert a picture of themselves and the gift is complete.
Wooden Painted Pieces
Another idea is to go to your local hobby store and purchase several unpainted wooden pieces. For example, you could purchase a small stool and let your child paint it. When the paint is dry, your child can use stencils to put the name of whoever is going to receive the gift on the bench, or give it a personal look.
Unpainted Wooden letters can also be used. Purchase the letters that are the initials of the receiver or you can purchase the whole name. Have your child paint the letters and decorate them. They may choose to paint the letters all one color or they may choose to have each letter a different color. After your child finishes the painting, take a wide piece of ribbon that is long enough to glue each letter on with a one inch space in between each letter. After all the letters are glued on, your child can add embellishments like small silk flowers or small bows in coordinating colors to the letters or to the ribbon.
Painted Pots
The lucky person who receives this gift is sure to love it. If the person your child is making a gift for is a gardener or plant lover, purchase clay pots in the size of your choice and let your child paint and decorate the pot. Embellishment such as pretty colored gems or even colored buttons glued to the outside of the pot will add an extra flare.
After the decorating is complete, your child can plant a small plant in the pot. Be careful of the plant that you choose as a child will be handling it. Make sure that your child washes his hands well after the planting is complete.
Hot Cocoa Mug
For the hot chocolate lover, your child can take a Christmas themed coffee mug and tie a cute Christmas ribbon on the handle. Then they can take a spoon and tie a matching Christmas ribbon on the handle of it. Add a package of hot chocolate to the mug, a few marshmallows in a zip lock baggie and a peppermint stick. You can also execute this same idea with a mason jar.
Once it is all nicely arranged in the mug, place the mug in a clear party favor bag and tie a pretty Christmas ribbon around the top. Now their gift is complete and ready to give. This same idea can be used with a tea bag or a single serve coffee bag as well.
Let's say your child's gift is for a Grandma or an aunt who loves baking. Your child can take an oven mitt and fill the oven mitt with a package of brownie mix or cookie mix. They can add a wooden spoon or a plastic spatula with a ribbon tied around the handle to the mitt. Or, they can add both. They may even choose to put in a package of blank recipe cards. Let them tie a ribbon around the hanger on the oven mitt and it's good to go. I love to put cookie ingredients in a mason jar and gift those along with a recipe. Kids will have a great time measuring out the ingredients. These make adorable gifts for a teacher.
Make a Christmas Cooler
If the gift is going to be for Grandpa or an uncle, purchase a small white Styrofoam cooler and let your child decorate the outside with colored markers. When the decorating is finished, you can turn the cooler on its side and add some basket filler paper to the cooler. Then, they can place things that they think the receiver will enjoy like a six pack of soda, a can of nuts, a bag of chips, some beef jerky or any type of snack food.
After they've put the items in the cooler, they can cover the front with plastic wrap in the color of their choice and put a bow on top. It's ready to give.
If you're trying to watch your budget for the holidays, shop at your local dollar store. They have a wide variety of items that you can use to create any of the projects listed above. There's no reason to spend outside your budget when allowing children to create Christmas gifts with these homemade christmas gifts kids can make.
Got a crafty kid?
The folks at Annie's know crafting, so you know they have put together some amazing kits for your kids.
For girls:
The Creative Girls Club subscription box will get your girl's creative juices flowing. Girls get two kits each month full of crafting fun. Best of all, the crafting can be done with minimal adult supervision. While she is creating, she will be learning valuable skills such as painting, beading, stitching, paper crafting, and much more!
For boys and girls:
These Young Woodworkers Kits have everything your little builder needs to create crafts and toys they can enjoy, while learning important woodworking skills along the way. Your child's first three kits will include 5 kid-sized, high-quality tools they'll use again and again. A new woodworking project is delivered every four weeks, with a new and exciting skill to master. Each project teaches a new, real world skill that kids will use for years to come.
Related posts