Do you have a goal to get organized in the new year? Getting organized so I can be more productive is a goal I set for myself each new year's. I want to be productive in all areas of my life. Work, family, home, relationships. Maybe you are hoping to do the same thing. Unfortunately, come February, I have usually given up on all my plans because I have become too "busy" with life.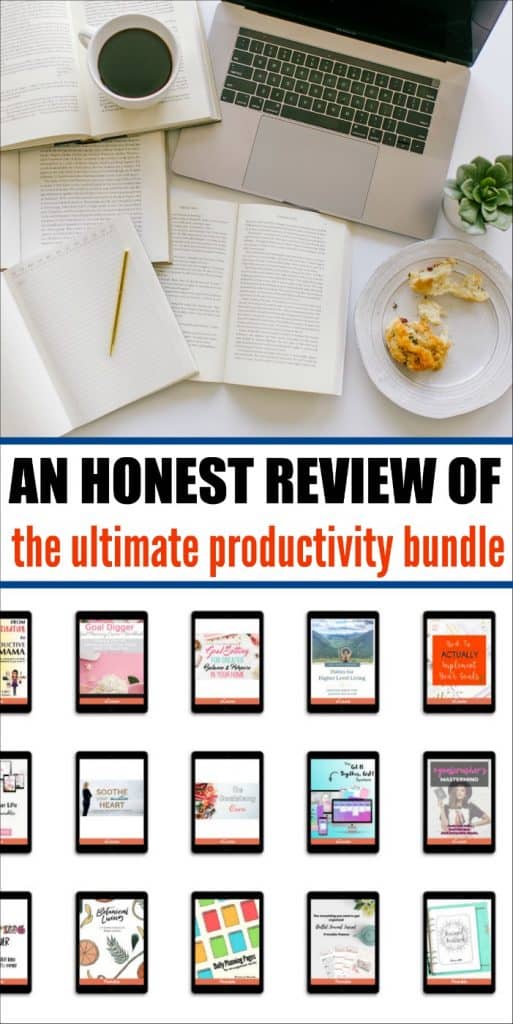 This year I knew that I needed to do better so rather than just set a goal to be more productive, I decided to put my money where my mouth is and invest in myself. This post contains affiliate links. If you make a purchase using my links, I make a small commission.
I purchased the Ultimate Productivity Bundle which is a collection of digital products (eBooks, eCourses, etc.) on topics related to productivity. I wanted to be able to preview the contents, put them into action and tell you honestly what I thought of the bundle.
WHAT IS INCLUDED IN THE ULTIMATE PRODUCTIVITY BUNDLE
2 eBooks
29 Printables & Workbooks
30 eCourses & Videos
2 Membership Sites
A $2,452.06 value…for just $47…an incredible 97% off.
CHEAT SHEETS
We know how busy you are, which is why the people at Ultimate Bundles have gone through every product in the bundle, pulled out the key insights, and used them to create time-saving cheat sheets.
If reading an entire eBook or watching an eCourse is too much for you, which I totally get, the cheat sheets can help you get started right away.
And even if you do have some free time, the cheat sheets are a great way to learn faster and identify the products where you want to dive deeper. The bundle is $47 and the cheat sheets are an additional $10. Well worth it!
WHY YOU SHOULD BUY THE ULTIMATE PRODUCTIVITY BUNDLE
Inside this bundle, you will find tons of resources to help you set goals, save time, work more efficiently, manage your home, and so much more. It's basically one big, productivity pack -all for $47.
MY FAVORITE ITEMS FROM THE ULTIMATE PRODUCTIVITY BUNDLE
Your Best Life Planner by Katie Harp
I am all about a great planner to get me organized and the Ultimate Productivity Bundle certainly has you covered on that front. I am currently using the Your Best Life Planner. I simply printed it out, punched some holes in it and placed it all in a binder. I love this planner because it really helps me keep track of my goals and progress in addition to having reminders for what I need to do each day.
A Simple Cleaning Routine: Have a Clean and Tidy Home in Less Than 30 Minutes a Day by Erin Tannehill
I am a busy work from home mom and cleaning is often the last thing on my list. This includes actionable steps to help you take control of your cleaning routine so that you have more time to do the things you enjoy. Since using the tips in this workbook, I have felt less overwhelmed when it comes to housework which is worth the price I paid for the entire bundle.
How To Get Anything You Want: Step Into Intentional Action by Megan Seamans
This masterclass is only 30 minutes, but I have learned so much about taking intentional action to achieve my goals and dreams. If you don't have a lot of time but want big results, this is the class for you.
Refine Your Life Purpose + Wellness by Samantha (Lovely Refinement)
If you have a little more time to spend and really want to dig deep, this course takes you through 15 modules that will allow you to break through negative thinking patterns. This has helped me to find confidence and stop procrastinating.
Mindset Makeover: Makeover Your Mindset and Take Your Life to the Next Level by Faith Hawks
I have discovered that what often holds me back in life is my mindset. That is why I was so thrilled with these mindset workshops. They have taught me how to shift limiting beliefs, overcome fear, step into gratitude and kick my life up a notch.
DRAWBACKS OF THE ULTIMATE PRODUCTIVITY BUNDLE
The biggest drawback I see to the bundle is that is can be overwhelming. There is so much here and if you are anything like me, you want to get all the knowledge and do it all.
I think if you go into the bundle with this attitude you will feel overwhelmed and give up before even using just a few resources. I speak from experience because I have done that in the past. Using the contents of a bundle became another thing to do on my already full to-do list. Then when I didn't take advantage of the resources, I end up feeling guilty for wasting my money.
The best way to avoid that is to just pick a few resources in the bundle that really speak to you or an area where you need help. Focus on those things. Realize that if they help you and you make some new habits that the cost will have been worth it.You can always go back later and revisit the other resources in your bundle.
Another drawback is that some of the things in the bundle won't interest you or they won't apply to you. I have no desire to start a bullet journal so I just ignored the two products that applied to that. There were more than enough things I was interested in to make up for it. Even if you only use a few of the resources, it is well worth the price.
WHAT IF I DON'T LIKE THE ULTIMATE BUNDLE?
The people at Ultimate Bundles want you to be happy. If for any reason the Ultimate Productivity Bundle doesn't help you master your time and supercharge your productivity, simply email their customer service team within 30 days for a full refund. You have nothing to lose and everything to gain!
The Ultimate Productivity Bundle is only available for a limited time. Don't wait! Get your copy today!