Every day I pack a lunch and snack for each of my three kids. I am usually able to get the lunches together pretty quickly because my kids are fairly picky and lunch is typically the same thing every day. Snack however requires more thought. I want to give my kids a snack that is good for them and will survived being squished in a backpack for hours. I was so happy to discover the new Musselman's Squeezables Sours Apple Sauce. They are the perfect snack at home, at school or on-the-go. When you are done with them, don't toss them out - I'll be showing you how to make some foil pouch art using the wrappers in a kids art activity. This post is sponsored by Musselman's, but all opinions are my own.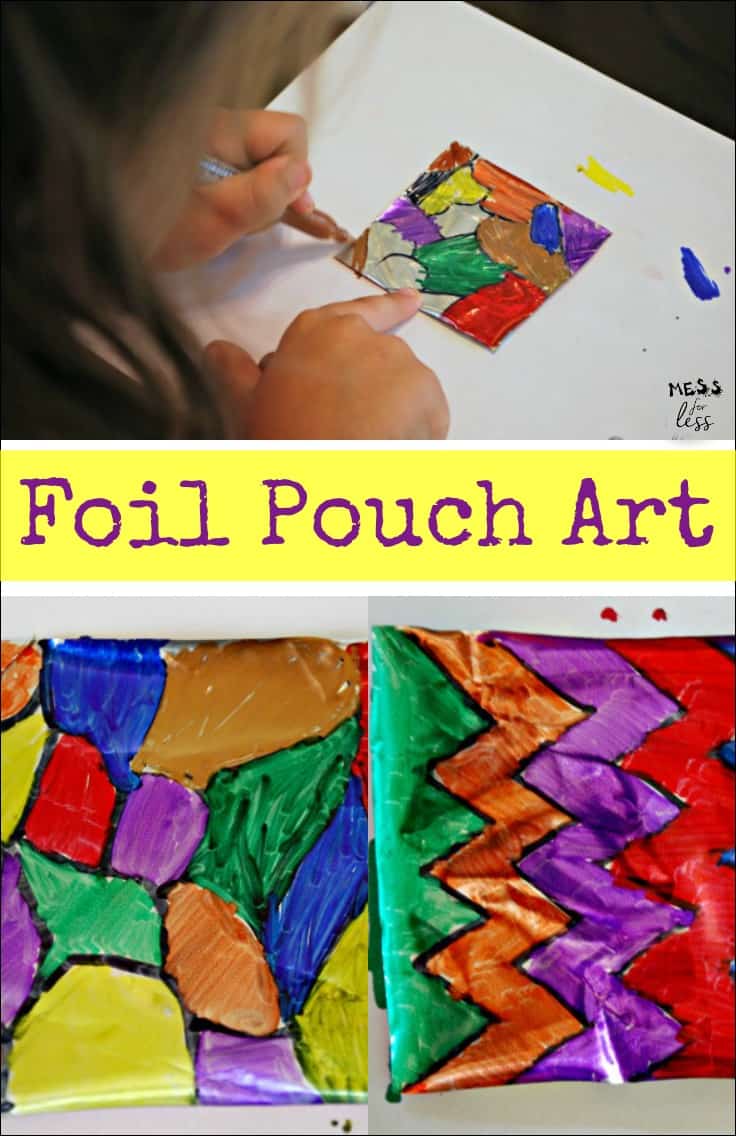 These new, great-tasting sour apple sauces are only available from Musselman's. My kids loved the unique flavors. Musselman's Squeezables Sours Apple Sauce comes in Sour Lemon, Sour Raspberry, and Sour Cherry. I feel good giving them to my kids since they are made with 100% American grown-apples. I know I can trust Musselman's since they are a grower-owned cooperative and they have been making apple sauce for over 100 years. You can also find Musselman's Squeezables in Strawberry, Honey Cinnamon, and Unsweetened varieties.
I sometimes have a hard time getting my kids to eat healthy snacks, but they beg for Musselman's Squeezables Sours Apple Sauce. My kids love the sour taste and I enjoy giving them snacks they enjoy, but equally important for me is that these are GMO free and contain no high fructose corn syrup.
Since my kids love sour candy, I knew Musselman's Squeezables would be a big hit. I love how the sour flavors my kids adore can now be found outside the candy aisle.
The flavors got them puckering up and making their best sour faces! You can really taste the lemon flavor in Sour Lemon variety. My kids are huge fans of lemonade so this flavor really hit the spot.
You can't beat the convienece of the pouches. As a busy mom, I am often shuttling my kids to different activies and it's nice to know I don't have to spend time fixing up a healthy snack for them. I just grab some Musselman's Squeezables Sours Apple Sauce pouches and head out the door.
Musselman's Squeezables Sours Apple Sauce comes in these fun pouches that you can use to do some pretty cool things. We did a kids art activity using cleaned pouches and some permanent markers.
How to make foil pouch art
First you'll need to prepare the pouches. You will not be needing the cap for this kids art activity so you can put that aside. The next step is for adults - cut the sides and top off the pouch and rinse off the remaining applesauce with water. At this point you can just pull apart the bottom to get two separate pieces of pouch. You can also just cut off the bottom part where it connects.
You'll be able to get two foil pouch canvases from each Musselman's Squeezables pouch.
Since the pouch will want to curve up, tape the back of it to a piece of white paper. Then get to work making some foil pouch art with some bold permanent markers.
We decided to use a black permanent marker to draw a design onto the pouch. Then we colored in the design with the rest of the brightly colored permanent markers.
Check out our eye catching results of foil pouch art!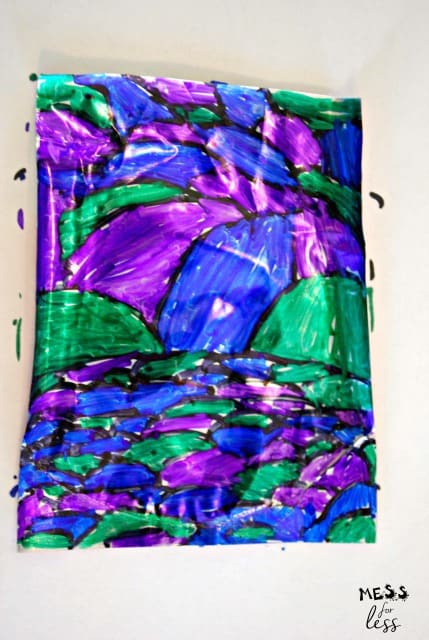 Don't you love how the colors just seem to jump off the foil background?
Related posts