When you have kids that you are helping to get ready for school, the morning can be a stressful time. We used to have mornings with lots of rushing, nagging and frustration, and I can tell you, that is no way to start a day. I didn't like the way I felt when I dropped my kids off at school and I didn't like sending the kids off in the morning with bad attitudes. I have done my part to make my mornings less stressful by preparing lunches the night before and having the kids' backpacks by the door so we can leave quickly in the morning. But I also wanted to take some stuff off my plate, so I came up with this Kids Happy Morning Chart. Using it is a great way to establish a morning routine. Find out how you can get a free printable chart at the end of this post. One easy way to have a happy morning is no more tangles. Get Rid of Hair Tangles Plus a Recipe for Hair Detangler.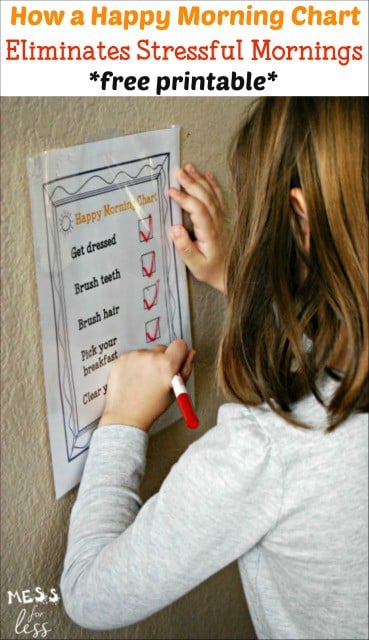 The great thing about the Kids Happy Morning Chart is that it has really eliminated the morning nagging in our house. My kids each have their own happy morning chart which can be laminated or put in a plastic sleeve and used with a dry erase marker. The chart tells them each thing they are expected to do in the morning before school and when they have checked off all the boxes, they are ready to go!
Tasks that are included in the Happy Morning Chart
Get dressed
Brush teeth
Brush hair
Pick your breakfast
Clear your spot
Obviously, very young children will not be able to do all of these things themselves. My twins are 7 and my youngest daughter is 6 and at those ages, all of the tasks are very do-able. As long as they have the supplies they need - toothbrushes and toothpaste, hair brushes, breakfast choices in an easily accessible spot, they can be independent.
When the girls were younger, I would pick their breakfast and have it waiting for them when they came downstairs. While this was quick, it often resulted in complaining when they got something they didn't want or weren't in the mood for. Now that the girls are a little older, they can pick their own breakfast. On the weekends we will cook more elaborate breakfasts together, but during the week, delicious and easy is how we do it.
Once my kids are done eating breakfast, they clear their spot at the table and check off the last thing on their Happy Morning Chart. I have included a free printable happy morning chart so you can have better mornings in your house too.
You can get your kids happy morning chart by clicking here.
After you print it out, the kids can decorate the chart before it is laminated or inserted into a plastic sleeve.
How do you make mornings easier in your house? I'd love to hear what works for you.