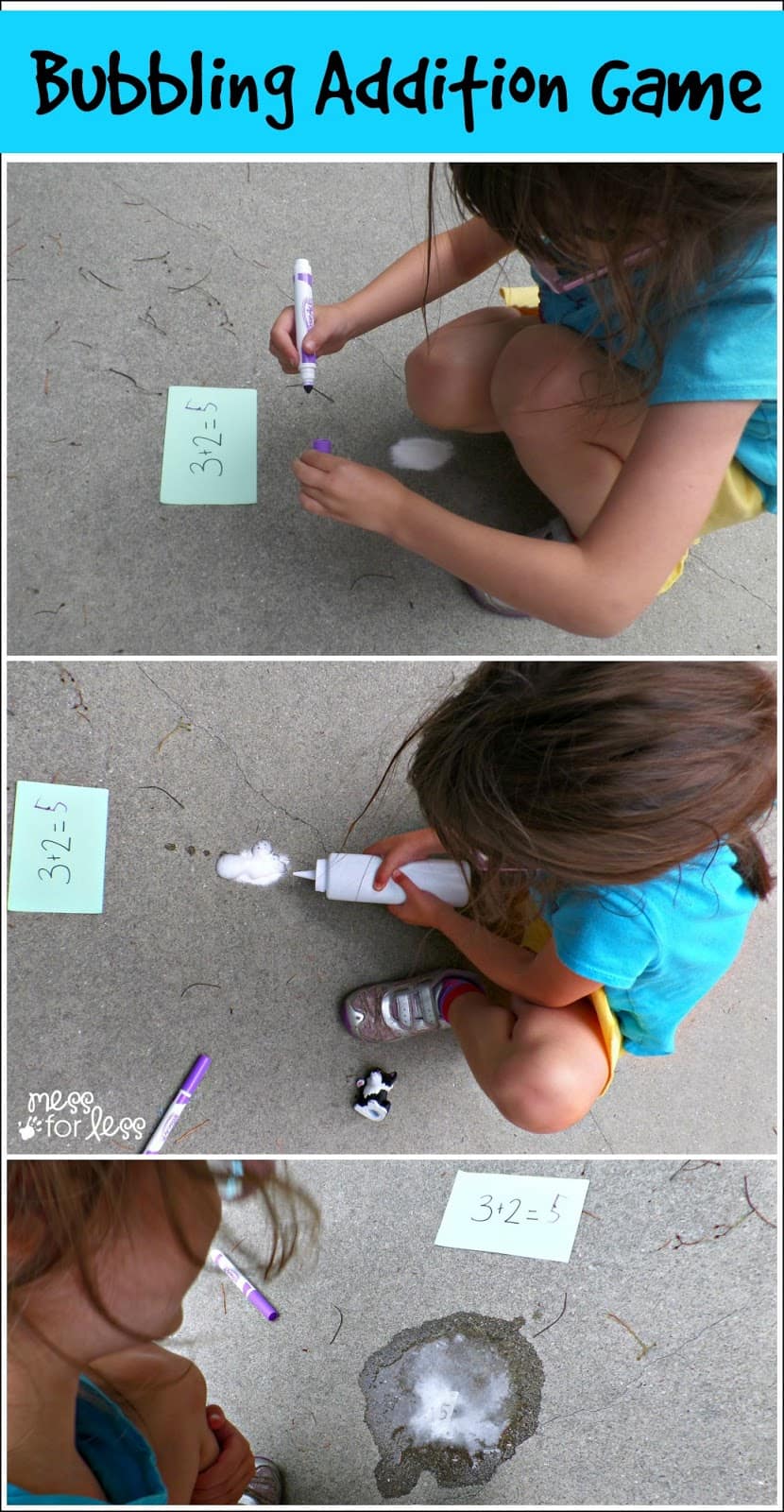 It is week 3 of
Get Ready for K Through Play,
a series
that will help you prepare your child to start Kindergarten. I am working on this series with some of my favorite kid bloggers. Last week I shared
Transitions to Independence for Kids
, and this week we are all sharing ways to practice math skills. Last year for the math part of the series my kids had a great time learning with
Post It Math Games
. Today, we take the learning outdoors with this
Bubbling Addition Kindergarten Math Game
.
You will need:
Baking soda
Vinegar
Permanent marker
Paper
When my twins started Kindergarten last fall, I was surprised that the math they were doing was pretty complex. When I taught Kindergarten, we were reviewing numbers and patterns, but now it seems like addition and subtraction are the norm. This Kindergarten math game is so much fun because it gets kids actively involved in solving problems.
To set it up, write some math equations without the answer on scraps of paper.
Take these outside and tape them to the pavement. Write the answer on a piece of masking tape and tape it to the ground under the equation. Make sure you leave enough room for the bubbling that will be occurring later.
Pour some baking soda over the answer on masking tape so you can no longer see the number.
Fill up a squirt bottle (we love using condiment bottles) with vinegar. Provide it to your child along with a marker. Let them figure out the answer to the equation and write it on the paper.
Next, have them squirt vinegar on to the baking soda to reveal the answer.
My daughter was thrilled to discover that she was correct!
There was so much excitement as my daughter waited for the number to be revealed. She would bounce up and down and say "I think it's right, lets see!"
Bubbling Addition is a great game to prepare kids for the math they will encounter in Kindergarten. It took only a few minutes to set up and the kids were so engaged! You can use this same method to review subtraction facts as well.
Be sure to visit the following bloggers and check out their Independence Skills posts:
5 LEGO Math Activities from The Pleasantest Thing
Outdoor Math Activities for Kids from Mama Smiles
Math War: 6 Math Card Games for Kids from Mom to 2 Posh Lil Divas
Kindergarten Active Math Games from Coffee Cups and Crayons
Preparing for School Number Run from Rainy Day Mum
Join me here at Mess For Less on Wednesdays for Get Ready for K Through Play. Then, please check out my fellow bloggers in the series: Coffee Cups and Crayons, Mama Smiles, Mom to 2 Posh Lil Divas, Rainy Day Mum, The Pleasantest Thing , Toddler Approved, and Here Come the Girls who will be bringing you some more great resources on each week's topic.
The topics are:
June 25 - Social and Emotional Skills
July 2 - Independence Skills
July 9 - Math Concepts
July 16 - Books, Reading and Literacy
July 23 - Fine Motor and Writing Skills
July 30 - Ready to Learn Skills
For even more ideas to prepare your child for Kindergarten, follow the Get Ready for K Through Play
Pinterest Board
.