This post about Kitchen Chores for Kids was sponsored by Bounty, but all opinions are my own.
The kitchen is the messiest room in our house. It seems like we just get it clean, and then our family eats another meal and the whole thing is a mess again. How is this happening and how can we quickly clean up the mess so we can get on to more fun things? I realized that I needed to get the entire family involved in the effort. I started operation clean kitchen by coming up with a list of Kitchen Chores for Kids. These are things kids can do to pick up after themselves and help keep the kitchen clean. Normally, I would have my kids do simple things in the kitchen like setting the table. They couldn't do much of the cleaning because I didn't want them using spray bottles filled with harsh chemicals. When I heard about Bounty with Dawn, it sounded like the perfect cleaning solution. It is something the whole family can use to help keep the kitchen clean.
Bounty with Dawn is the marriage of two trusted products, Bounty and Dawn, that will change the way you clean. What makes it different and why do you have to have it? Bounty has been the #1 paper towel in the US for a long time and they are changing the game with this innovative paper towel. These towels will clean messes in your pots and pans, counter tops, stove tops, granite, glass, stainless steel and mirrors. The towels do all this with no additional cleaning product since the Dawn is infused in the ultra-durable Bounty paper towel.
The thing that surprised me most about Bounty with Dawn was what it did to my stainless steel. I love the look of stainless steel – when it's clean. Most of the time at our house, it is full of finger prints, streaks and all sorts of grime. I have tried special stainless steel wipes, sprays and everything in between and NOTHING has been easier or more effective than Bounty with Dawn.
Look at these results! Simply wet the towel to activate the Dawn and leave the towel under the water for about 5 seconds. Then wring out and use! There is plenty of Dawn left over to clean your shiny surface without leaving streaks.
After the refrigerator was cleaned, I used the *same* towel to clean the kitchen table. Don't ever buy a glass kitchen table if you have kids. It looks pretty in the showroom, but most of the time it ends up looking like this.
I wiped both the top and bottom of the glass with Bounty with Dawn and let the table dry.
It dried streak free! The table looks great. The floor on the other hand needs to be swept. Where are those helpers of mine?
I next moved on to my counter top. We have a dark granite counter top which hide lots of messes, but quickly gets sticky and grimy. The Bounty with Dawn just cuts through messes including grease and food residue, plus it leaves surfaces 4x cleaner than that dishcloth I'd previously been using.
Finally, I got to the dreaded stove. Oh dear. How did this happen over the course of a weekend? I took the same Bounty with Dawn towel that I had used to clean the refrigerator, table, and counter and set to work. Look at that! As clean as it has ever been. You may see some rings around the burner. Those have been there since we bought the house and are not coming out.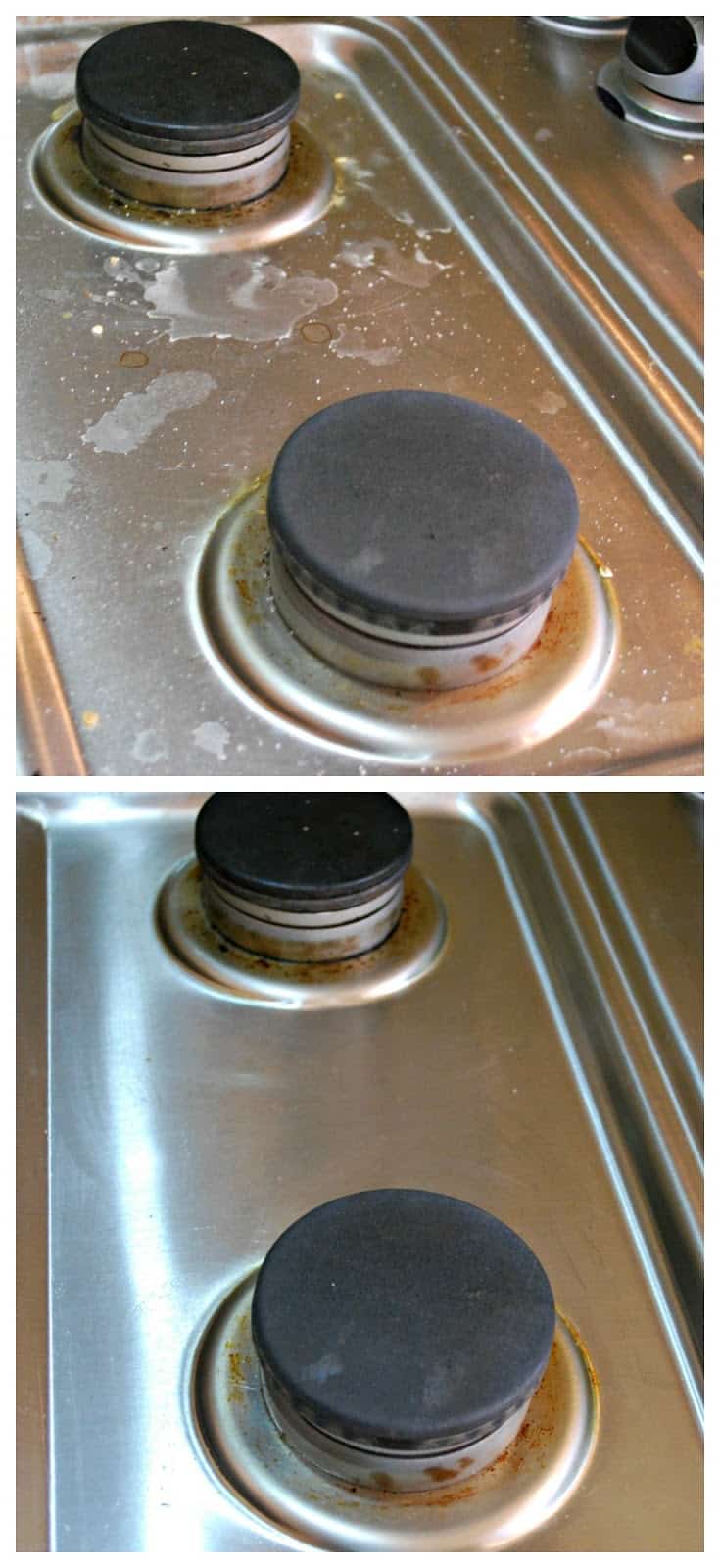 So for those of you keeping score, I have managed to clean almost every surface in my kitchen with one sheet of Bounty with Dawn and no other cleaning product.
I grabbed another sheet and tackled a greasy, grimy pan. To clean pots or pans, you just wet the towel and clean. Bounty with Dawn captures the grease and allows it to rinse out. It was easy peasy and I was even able to clean a whole sink load of dishes when I was done.
Since Bounty with Dawn was so easy to use, I decided to show my kids how to use the towels so they can be a bigger help in the kitchen. If you want your kids to help clean up the kitchen, check out these tips.
Kitchen Chores for Kids
1- Clearing spot after meals and emptying cups in sink and food in trash or compost bin.
2- Loading the dishwasher. You will need to show your kids how to do this. Very young children should not be handling glass or sharp utensils.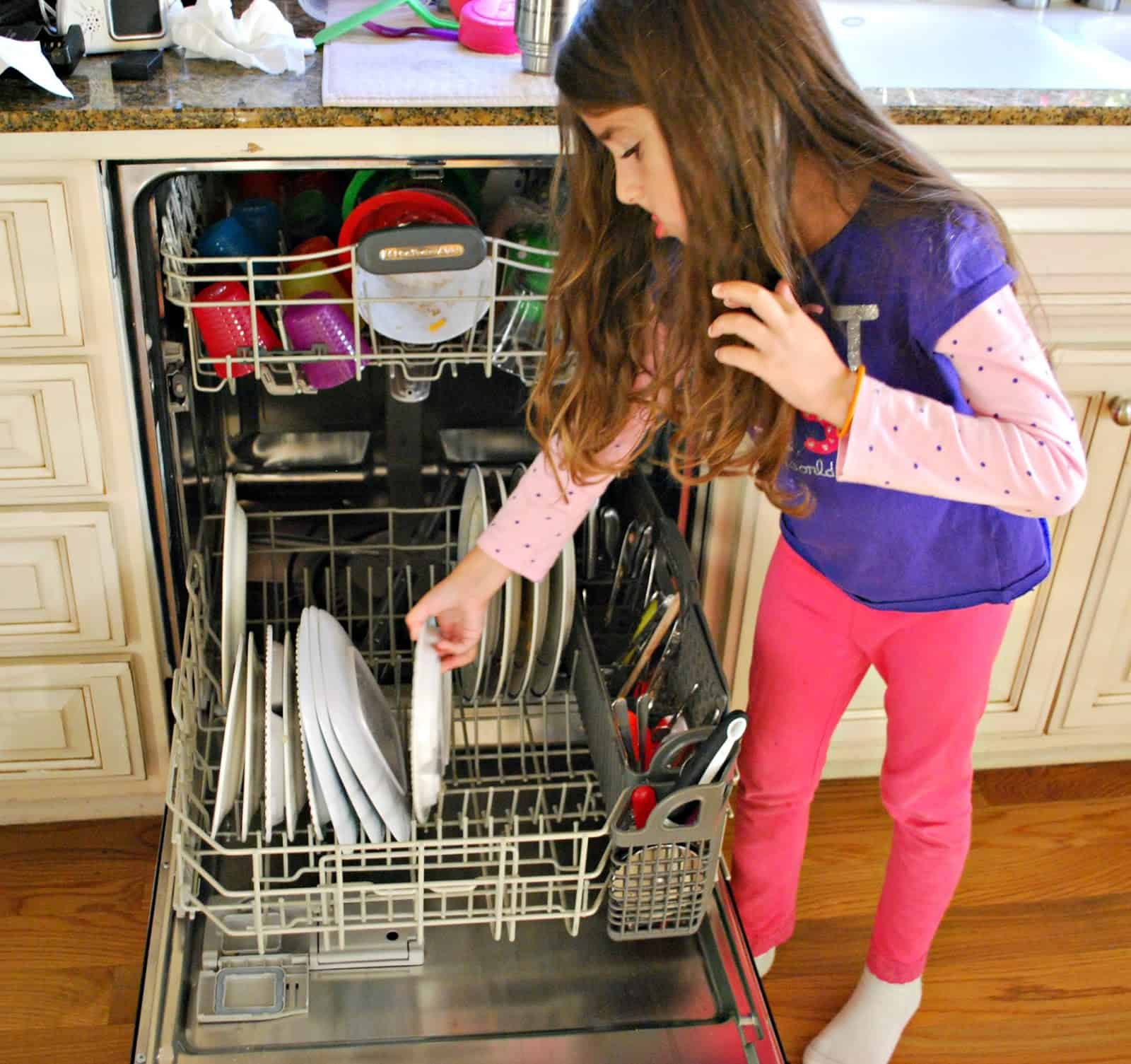 3- Unloading the dishwasher and returning cleaned items to the cabinet. Having a designated place for everything really helps with this step.
4-Sorting and putting away silverware.
5- Cleaning the table and other surfaces that they can reach. Bounty with Dawn works great for this step since it is easy for kids to use and does not fall apart when you clean. It functions more like a dish cloth.
6- Sweeping the floor or using handheld vacuum, particularly around the table where crumbs are likely to be found.
What kitchen chores would you add to this list? It takes a little while for new habits to form, so stick with it and hopefully your kids will become helpers in keeping your kitchen clean.
Bounty with Dawn is available starting in March 2015 in grocery, food and mass merchandisers.
Want more Mess?