I like to stick to a shopping list when grocery shopping. It helps me stay on budget and get in and out of the store quickly. But the other day while shopping, I noticed some colorful straws beckoning me. There are so many fun things you can do with colored straws that I always make sure to have some on hand. You can get in some Fine Motor Practice with Straws or make your own Color Recognition Game. A simple way toddler activity that requires next to no set up is by Making Straw Jewelry. Here are some moreActivities with Drinking Straws for Kids.
Making Straw Jewelry
You will need:
But I am a pretty frugal mama and really didn't need these straws, especially when I had some perfectly good white straws at home. But they were so much more colorful and fun and I only have seen white straws at the dollar store. I figured that if I could get at least 3 projects/activities out of the straws then I would have gotten my money's worth.
So here is the first of a few activities that feature my "splurge" straws. The first thing I did was cut them into various lengths.
Next, I provided the kids with some trays with the cut straws and pipe cleaners. You can't see it here, but I did twist two pipe cleaners together to make a long one for a necklace. I showed the kids how they could string the straws on the pipe cleaners.
This is a great fine motor activity for kids. B struggles a bit with fine more skills but she was able to string the straws with minimal frustration. She did one necklace and a bracelet and then lost interest. I have noticed that she loses interest quicker when something is more challenging for her.
Little C loves to be a part of things. She gets so angry when she cannot do an activity, so I thought I would give her some straws and pipe cleaners to keep her busy and she would get bored or frustrated and move on to something else. Boy was I wrong! I should learn to never underestimate C. At 20 months old, she was able to do this activity. I dare say she had an easier time than her 3 year old sister B. Don't you just love how different kids are?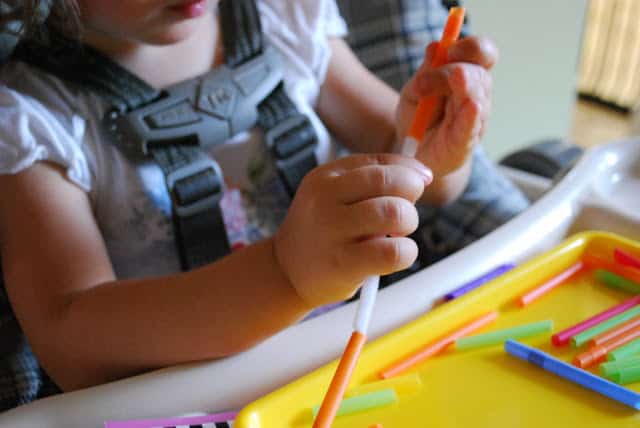 C was just so determined and intent on performing this task. She was so focused that nothing could distract her.
Look at C rocking her fine motor skills!
When A finished her necklace she decided it would make a better headband. What do you think?
C made a necklace and worked on a bracelet too.
I feel bad for A's future fiancé. She has pretty big expectations when it comes to rings.
If you are looking for something fun and inexpensive to do with your toddler or preschooler, get some colorful straws and get to making straw jewelry. With older kids you can use this to teach patterns as well. You can also make different designs out of the straw covered pipe cleaners. Next week I will share our second straw project. If I can't think of anything it will just be drinking juice with really shorts straws.
If you liked making straw jewelry, check out: