This is a sponsored conversation written by me on behalf of HTH Pool Care via Burst Media. The opinions and text are all mine. Confession time. My husband never wanted a pool. His philosophy has always been that it is better to have friends with a pool than to have to deal with the cost and maintenance of having a pool yourself. So of course we fell in love with a house that happened to have a pool. But his opinion is changing thanks in part to HTH® Pool Care. We recently received some pool care products and a craft kit from HTH®. These products have made our pool cleaning routine so easy that my husband and I can actually spend time in the pool rather than cleaning it. Plus, we have so much more time to spend with the family, that we are doing more fun activities like making Tie Dye Towels. When you are done making the towels play these fun Pool Games for Kids.
This post contains affiliate links. We received Green to Blue Shock System, Super Select Shock Treatment and HTH® Party Potion which I'll tell you about in a bit!
The Green to Blue Shock Treatment will transform your pool into a clear, sparkling sea of blue. It is easy to use, taking me less than a minute to do. Results are visible in 24 hours. Party Potion water enhancer will make your pool the perfect shade of blue. It adds temporary, non-staining color that lasts a few hours to a few days. It is simple to add to a pool and ideal for when you are entertaining.
Within a minute of adding the Party Potion it started to disperse into the pool. Our pool started out the color you see in the first photo below, which is fine, but not quite the tropical blue we wanted. But, when we added the Party Potion it turned the pool into a beautiful turquoise blue. You can add more party potion if you want a deeper blue, but we wanted the pool to look natural. I can't wait to use this for my daughter's upcoming birthday pool party!
Since HTH® makes pool care so simple, we were able to spend more time in the pool with the kids.
Tie Dye Towels
So what to do now that I wasn't spending all that time cleaning the pool? Have some summer fun with the kids of course! When I was teaching summer school, we used to do a fun activity with the kids where we made tie dye shirts. HTH® Pool Care sent me over a Tie Dye Kit along with some towels for the family. I have never made tie dye towels before and I was excited to share the experience with my kids.
A kit makes it super easy to tie dye. First, I soaked the towels in the soda ash mix for 20 minutes.
When that was done and I wrung out the towels, I used some rubber bands and twisted the towels into different patterns. I gave my daughter a smock, some gloves, dye bottles and the wrapped up towels. She went to work. If you are going to tie dye, a large box is great for containing the mess.
She loved watching what happened as the colors combined. Who knew making tie dye towels would be such a lesson in color mixing?
When she was done (she used practically every drop!) this is what the towels looked like. I put them in a bag and let them sit for a few hours. Then I rinsed out the excess dye with cold water and washed the towels in the washing machine.
I then hung the towels out to dry. Check out how colorful they look and the pretty patterns my daughter made. You may notice our pool in the background. In California, where we live, there are drought conditions, so we keep our pool covered whenever we can. This prevents water evaporation and keeps the pool warm.
The tie dyed towels are the perfect size for a kid. My kids love them! We had a great time making memories with this fun family craft.
If you want to know more about HTH® Pool Care, you can find them on Facebook, Pinterest, Twitter, YouTube and Instagram.
For more summer activities check out:
Summer Art Activities for Kids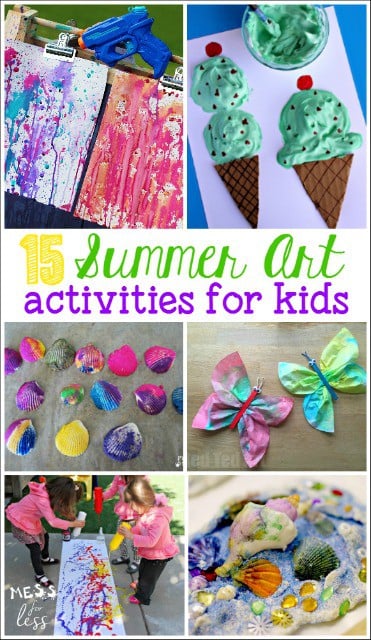 Comments submitted may be displayed on other websites owned by the sponsoring brand.
This is a sponsored conversation written by me on behalf of HTH Pool Care via Burst Media. The opinions and text are all mine.