One of our favorite kids activities that we have done time and time again is making Marshmallow Sculptures. The idea is simple enough - give kids some mini marshmallows and toothpicks and watch as they attach them to make sculptures. So let's get this straight...I will be cleaning out my pantry, the kids will be occupied (while practicing fine motor skills) and there is no mess to clean up afterward? This sounds like a win all the way around. For more low prep activities check out Fruit Loop Towers and Invitation to Create with Googly Eyes.
Marshmallow Sculptures
Supplies you will need:
Imagination (not pictured)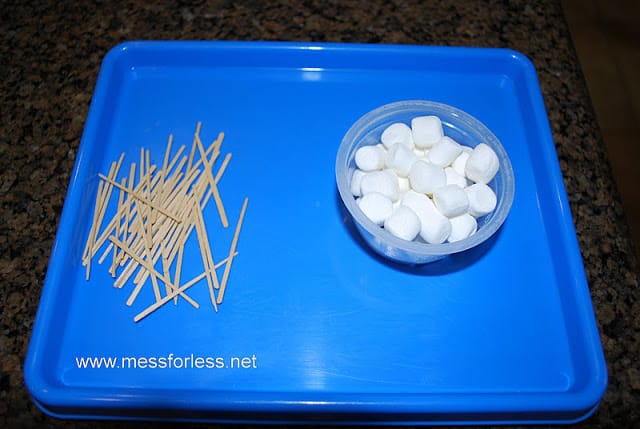 I first did this activity with my kids when they were 3 ½. This does require parental supervision. I demonstrated for the kids how they could push the marshmallows on the toothpicks and they were anxious to get started. Well, first they asked if they could eat the marshmallows. I told them they could have a few and surprisingly, they were okay with that. I am pretty sure I consumed more marshmallows that they did. Hey, someone had to make sure they weren't poison.
My daughter thought her sculpture looked like train tracks.
She had fun making lines of marshmallows and barbells and then connecting them.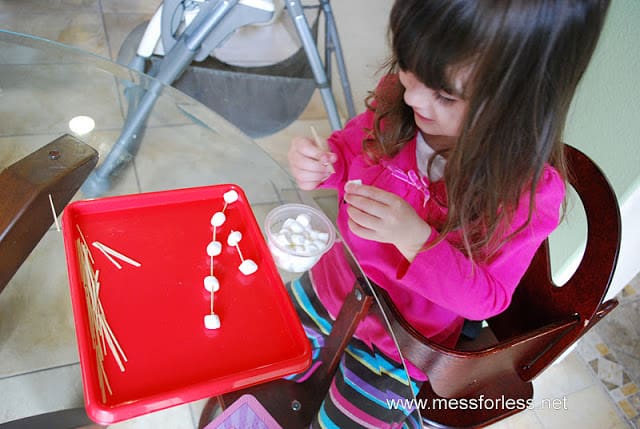 Now that my kids are older, they make some really impressive sculptures using marshmallows and toothpicks. You can try different sized marshmallows for variety. For younger kids, this activity provides a great fine motor exercise. Grasping the small marshmallows and pushing them on the toothpicks helps to strengthen fine motor strength.
The girls wanted to leave their marshmallow sculptures out so Daddy could see them when he came home. They were surprised to find that the marshmallows had hardened and we talked about why that happened when they were left out. I was excited to sneak some science into this children's activity. This idea would work well for kids of all ages. Just be sure to you don't eat more than you build.
ENVIORNMENTALLY FRIENDLY KIDS CRAFTS?
If you are looking for more fun activities for kids, check out Green Kid Crafts, an earth friendly monthly craft subscription box for kids that sparks creativity while teaching kids a respect and love for the environment. These boxes are themed and each month will be filled with fun projects and creative activities that can be enjoyed by kids from ages 3-10.
Since Green Kid Crafts is an earth friendly company, they use sustainable, safe materials in all of their products. They also give a portion from each sale to environmental non-profits. Learn more about a monthly subscription of fun!
If you liked these marshmallow sculptures, you'll love: