My mom gifted my kids with a giant bag of felt. As a blogger, I see a bag of felt as filled with endless possibilities for play and learning. I started cutting shapes from the felt for my kids to use for play. There are many wonderful things about felt. It is it quiet, it travels well and it can be used again and again. You can use it for creative activities like storytelling on a felt board, or activities that actively engage kids in learning like this math game. Pattern Making with Felt can be an adult led activity or one in which the child creates their own patterns. There are lots of ways to learn with this math game. We love to explore patterns and have had fun in the past with Paper Patterned Snake and Popsicle Stick Patterns. Be sure to check them out when you are done here!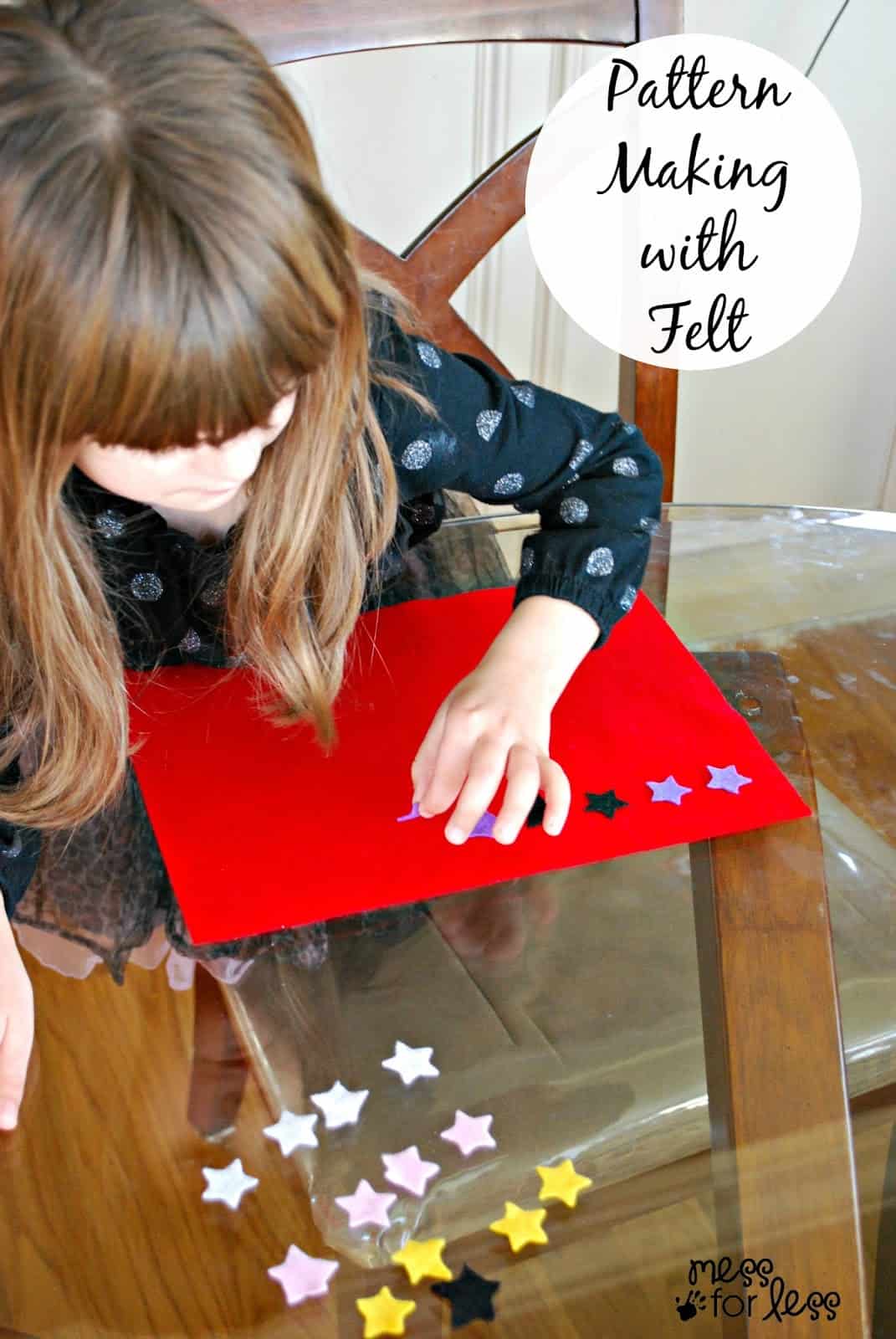 Math Game: Pattern Making with Felt
You will need:
I started out by cutting out stars from felt of different colors. I cut four stars from each color I used. You will want to cut at least that many if not more, because it enables more types of patterns to be created. I used five different colors of felt. If you don't want to cut out stars, use whatever shape is easiest for you to cut.
I provided my daughter with a large piece of craft felt that was a different color that the stars. I would begin a pattern by placing a few stars on the felt myself. She would them have to complete the pattern.
When she finished a pattern, she would say it out loud to make sure she had it correct. "White, white, purple. White, white, purple."
I then asked her to make her own pattern. I figured she would just make a simple AB pattern, like purple, black... But kids are nothing if not surprising and my daughter is no exception. The pattern she decided to make was purple, purple, black, white, yellow, yellow and have that repeat. When she first started I was thinking she was confused about how to make a pattern but she clearly had something in mind!
When my daughter was finished creating patterns, she took the stars and used them to play and make a starry night scene. I think I just might pop this math game in a zip top bag and take it with me next time we have a doctor's appointment.
If you are looking for a fun and engaging way to keep kids passionate about learning, check out Groovy Lab in a Box. These boxes are presented in partnership with Popular Mechanics so you know you'll be getting some great stuff each month. Kids will love Groovy Lab in a Box because it contains everything they need to do experiments focused on science, technology, engineering and math (STEM). Kids will get all the supplies they need to complete the activities in addition to a cool lab book. Subscribe here.
If you liked this math game, check out: