This is a sponsored post in collaboration with the Home Depot and She Saavy. All opinions are my own. Some links in this post are affiliate links. If you click on one of those links and make a purchase, I receive a small commission at no additional cost to you.
I share a lot of recipes here at Mess for Less and I enjoy coming up with new takes and spins on recipes. As I cook for my family, there are certain kitchen items that I reach for again and again. You know, those kitchenware essentials that make life easier. It took me many years of trial and error to come up with items that I would consider to be essential when setting up a kitchen. These Must Have Kitchen Items for Home Cooks will simplify your time in the kitchen and give you the best results.
If you are looking to stock up your kitchen with the best items that you will use again and again, then look no further than The Home Depot. That's right, The Home Depot, the Nation's #1 and most trusted Home Improvement retailer, is expanding their assortment into the interior home décor business online. They have got you covered when it comes to the kitchen. They carry all of your favorite national brands such as KitchenAid, Calphalon, Delonghi, Lenox, Fiesta, Correlle, and many more.
I love shopping for kitchen essentials at The Home Depot because of their convenient online shopping tools. The "My List" function makes it easy to save and favorite products you love. There are product recommendations that help you pick out the best products. The site offers easy "shop the room" and "shop the look" curated collections by style which makes it easy to navigate.
The Home Depot helps you finish any room (not just the kitchen) with confidence. And, with a convenient online shopping experience, FREE delivery*, easy returns and every day low prices, your home décor projects just got simpler. So check out my favorite
kitchenware items
and
cooking and food prep items
online at The Home Depot.
Essential Items for Home Cooks
Cookware Set
Most of the meals that you cook for your family involve some sort of cookware, so having a quality set that you can depend on is vital. Sure, you can go with a cheaper set, but trust me on this, you will be replacing pieces so often that it just pays to make more of an investment in these much used items. This Cuisinart MultiClad Pro 12-Piece Stainless Cookware Set with Lids contains all of your essential pieces and I love the stay cool handles.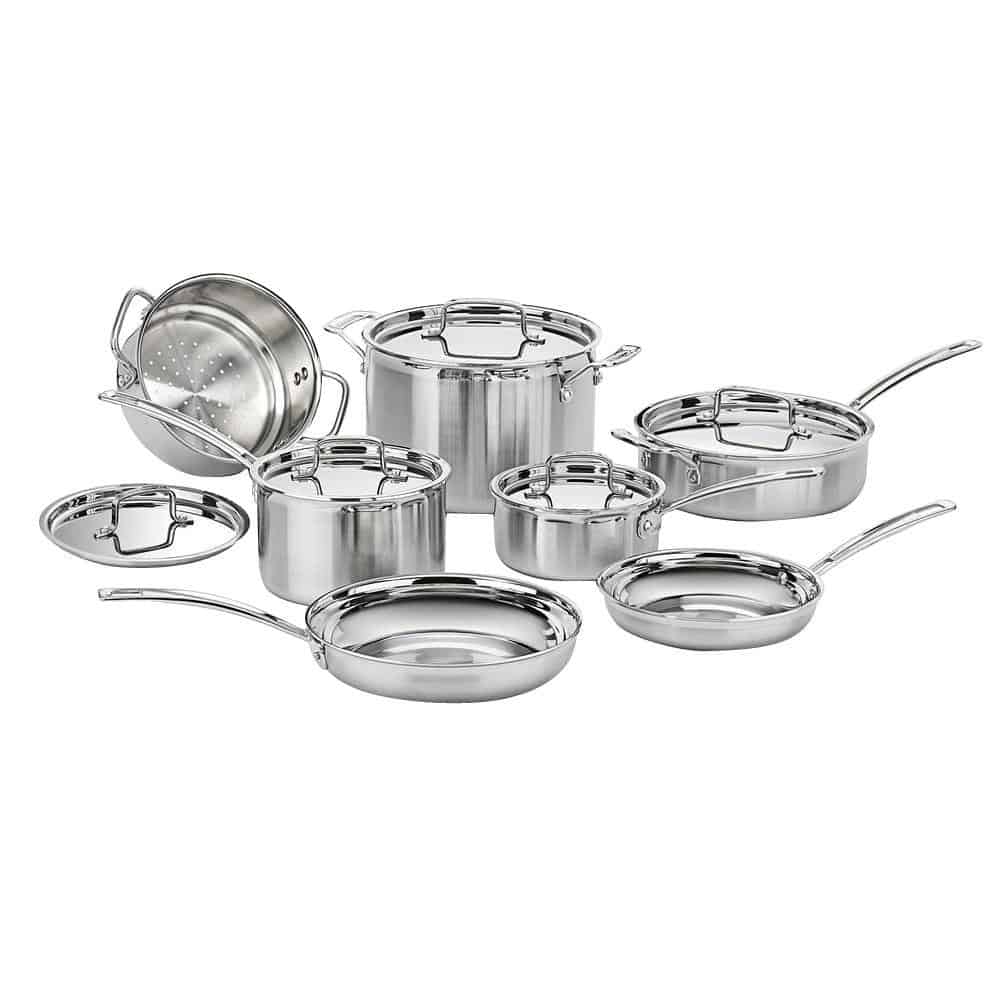 Knife Set
Ask any professional chef and they will tell you that you cannot compromise on a good set of knives. If you are a home cook, listen to the pros and invest in some quality knives. When I think quality knives, the first name that pops into my head is J.A. Henckels.
This J.A. HENCKELS INTERNATIONAL Forged Synergy 16-Piece East Meets West Knife Block Set includes 16 pieces: 3-inch paring knife, 3-inch vegetable knife, 6-inch utility knife, 8-inch bread knife, 8-inch carving knife, 7-inch hollow-edge santoku knife, 8-inch chef's knife, six 4.5-inch Steak Knives (stamped blades), 9-inch sharpening steel, kitchen shears and a hardwood knife block. You will be all set to make kitchen magic for years to come!
Baking Dish
When it comes to cooking, I am a casserole queen. I make a casserole at least once a week because they are so quick and easy. If you love casseroles as well, then you need a baking dish with a lid such as this Pyrex Basics 4.5 Qt. Glass Baker with Red Lid. The lid really helps with keeping leftovers fresh or transporting casseroles.
Roasting Pan
If you plan to do any entertaining, then a roasting pan is a must. I use mine for every major holiday, whether I am preparing a roast, turkey or ham. This Cooks Standard 10 Qt. Stainless Steel Roasting Pan is made of heavy gauge stainless steel that has even heat conduction. I love how the v-shaped rack allows for collecting liquid while food is roasting.
Ceramic Bakeware
Every kitchen needs a set of Corningware, and this French White 12-Piece Ceramic Bakeware Set is one that I received as a wedding present. I use it constantly, as I love that I can cook and serve in it. The set has a classic look that makes it great for any occasion.
Bakeware
I am all for making life easier, and getting all these bakeware essentials in one place, makes life easier. CuisinartChef's Classic 6-Piece Black Bakeware Set includes two 9 inch round cake pans, 9 inch square cake pan, 9 inch loaf pan, 6-cup muffin pan, and a 17 inch baking sheet. This is a great starter kit that will give you a lot of versatility in your baking.
Slicer and Dicer
There are some tasks in the kitchen that are time consuming and not very fun. Chopping and dicing are two such tasks. That is why I always have a slicer and dicer like this MegaChef 8-in-1 Multi-Use Slicer, Dicer and Chopper on hand. This multi tasking kitchen tool will eliminate countless hours of meal prep and save you time in the kitchen. It slices, dices, grates and chops perfectly uniform vegetables in no time at all.
Kitchen Scale
Whether you are trying to eat healthier or just want to make sure your recipes are precise, a kitchen scale is an invaluable tool to have on hand. This Ozeri Ultra Thin Professional Digital Kitchen Food Scale is one of the lightest kitchen scales on the market. It is sleek and provides super accurate measurements.
As you can see, shopping for your home at The Home Depot could not be more convenient. You get free shipping on orders over $45 with flexible delivery options of free in-store pick up or 2-day shipping to home. If you receive an item and decide it's not right for you, The Home Depot offers free returns at 2,200+ stores. They back every purchase with a 100% satisfaction guarantee.
Now you can make your house a home, all the way down to the finishing touches with The Home Depot. Your favorite home improvement retailer will now be your favorite home décor destination. This is what home improvement looks like now.