This post about Organization Tips for Kids' Art Supplies is a product-provided, sponsored conversation that contains affiliate links. All opinions, text and experiences are my own.
If you have kids and they love art then you know that art supplies can take over your house if they are not organized. Getting art supplies organized before kids need them helps to create a harmonious and creative experience for kids. They can see where everything is and they know where things go and need to be returned to. This has the added bonus of creating less stress for mom. I like to clean first for the best finish and want to share with you my best organization tips for kids' art supplies.
We store our supplies in a bookcase. We picked up our bookcase when we moved into our first house years ago. We used it in our living room. Our new house didn't have a great place for the bookcase in the living or family room, so I brought it into the kitchen and it works really well there. You can place your art shelf wherever works best in your house and lifestyle. For us the kitchen just makes sense. The kids do all of their art projects at the kitchen table. That is also where they do their homework so having pencils nearby is a must. I am going to take you shelf by shelf through our art supplies bookcase and give you some organization tips for keeping things in order. It's important to mention that we have our bookcase bolted to the wall. This is an important safety precaution we take with all of our large bookcases and shelves.
The top shelf of the bookcase I reserve for me. I have a couple of cookbooks, parenting books and activity books for kids. These are things that the kids don't need access to.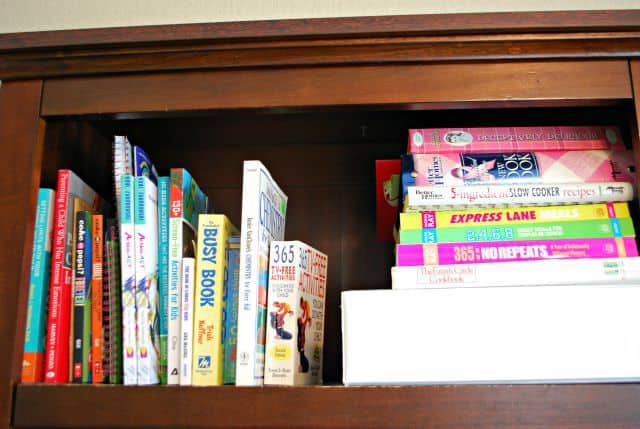 The next shelf down contains notebooks big and small that the kids use. I have the small notebooks contained in a basket so they don't spill out everywhere. I also store some art kits here, along with pencils and our sharpener. I keep a jar on this shelf for "warm fuzzies" which are pom poms the kids get when they have gone above and beyond to be kind. When they fill up the jar, we do something fun as a family.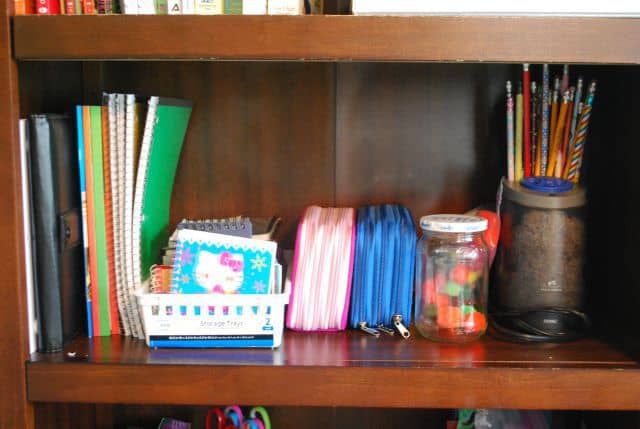 On the next shelf down I have boxes of crayons. I have three kids and each of them has their own box. If you have more than one child than you know giving each of them their own crayon box is essential. We also have our kids' scissors, tablets in a basket and another basket filled with pens, glue sticks, colored pencils and erasers.
The big brown basket you see below contains all our markers. We have a lot of markers. Thick, thin, scented, you name it. I also have our coloring books and puzzle books on this shelf.

The last shelf holds our workbooks, sketch books and some family friendly magazines that the kids like to look at and cut pictures from.
If you're wondering where we keep our paper, it is next to the art bookcase in this plastic filing system. It has three pockets and I use one for stickers, one for white paper and one for colored construction paper.
Your art/activity bookcase will look different than ours. Customize it to best work for your family. However it looks, cleaning first for the best finish is the way to go!
Speaking of cleaning first, we use Puracyn® Plus Duo-Care™ Wound & Skin Cleanser as the first step in first aid. It is great to have on hand especially if you have kids. Puracyn® Plus is available in a 4oz. plastic, spray bottle at Rite Aid and Walgreens for $14.99. My little ones are constantly running around and falling causing minor scrapes and cuts. The first step in first aid should be cleaning the wound bed and Puracyn® Plus is what we use to set the stage for optimal healing.
The easy, hands-free spray application of Puracyn Plus thoroughly cleans minor wounds, eliminating the need for running water in the critical first step of cleaning a wound. Providing an advanced alternative to saline solution, Puracyn Plus is a safe, effective, and easily applied first step to clean minor, painful cuts and abrasions, burns and rashes, and insect bites. If you ever have foot issues, check out Puracyn® Plus Foot Wash & Skin Cleanser which is the safe, effective, FIRST step in first aid for foot sores and irritations, blisters, dry and cracked feet, and rashes. Save $3 on your next purchase of Puracyn® Plus Duo-Care Wound & Skin Cleanser and Puracyn® Plus Foot Wash & Skin Cleanser! Available in the first aid section at your local Rite Aid and Walgreens.
Be sure to enter the Puracyn Plus Clean Start Giveaway on the Puracyn® Plus Facebook page for the chance to be one of four randomly selected winners to receive a $250 retailer gift card (choice of Home Depot, California Closets, Pier 1 Imports, or Staples) and Puracyn® Plus product, so you can get a clean start on a project for the best finish. #PuracynPlusCleanFirst
For more clean start tips for the best finish, visit Puracyn Plus on the web at www.puracynplus.com and LIKE the brand on Facebook.
Puracyn® Plus Duo-Care Wound and Skin Cleanser…so she can get back into the game! Watch the new Puracyn Plus 2015 National TV Commercial here.
This is a product-provided, sponsored conversation that contains affiliate links. All opinions, text and experiences are my own.