Here is a quick and easy
patriotic snack
idea that you can bring to any party. Our red, white and blue patriotic pops come together in minutes and are so simple even a child can make them. If you are looking for more ways to enjoy Memorial Day or the 4th of July check out our
Patriotic Cupcakes
.
Patriotic Snack
You will need:
Star shaped marshmallows – I found these at my local grocery store
Sliced fruit (you can use strawberries, bananas and blueberries)
We found these cool Kraft Jet Puffed star shaped marshmallows in red white and blue which are perfect for any patriotic holiday. I only had strawberries and bananas on hand for the red and white fruit, but blueberries would be a great addition.
I gave my kids a plate with some cut up fruit and marshmallows and let them create their own kabob.
I did cut off the tip of the stick before we started so it would not be sharp. Please keep in mind it is still a stick and children need to be carefully supervised when making this fun snack.
The kids loved these! I mean what's not to love? It's marshmallows and fruit on a stick. Does it get any easier than that?
If you are hosting a party or BBQ, your kids can help you make this fun patriotic snack for your guests. They are quick and simple to prepare.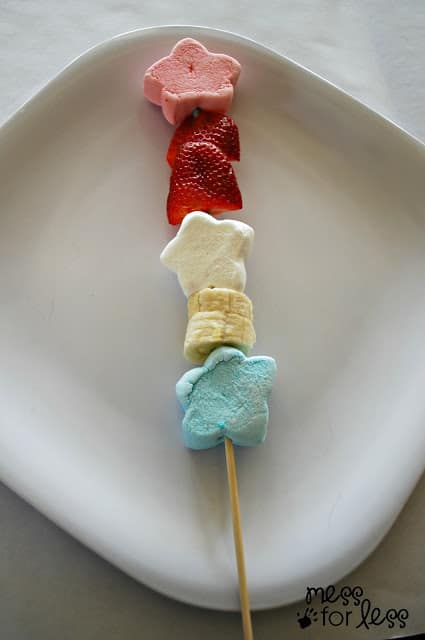 You can even add some patriotic sprinkles (which mainly stuck to the banana) to make the whole thing extra festive!
DO YOUR KIDS LOVE COOKING?
I have long been a proponent of cooking with kids. There are so many things kids learn helping out in the kitchen. Math, reading, chemistry and cooperation and more are used while following a recipe.
​Raddish is a monthly subscription box for kids that is a cooking club, culinary lesson, and mealtime solution all-in-one. Young children get to work with an adult, while older kids and teens independently indulge their culinary curiosity! And it's perfect for picky eaters — kids who cook, eat!
​A new kit is delivered to your doorstep every month​!
Each kit features a new culinary theme! You'll also get a shopping list emailed to you prior to delivery so you will be ready to cook. These kits are a great way for kids to develop new cooking skills and confidence in the kitchen while the entire family builds memories together. Find out more here.
Want more Mess?