When I taught Kindergarten, one of my favorite teaching tools were pattern blocks. Kids can explore mathematical concepts such as shapes, symmetry, fractions and much more. You can also create some really great art using these blocks. This pattern block math game is easy to create and will keep kids busy for hours! For more math activities, check out The Best Math Games for Kids.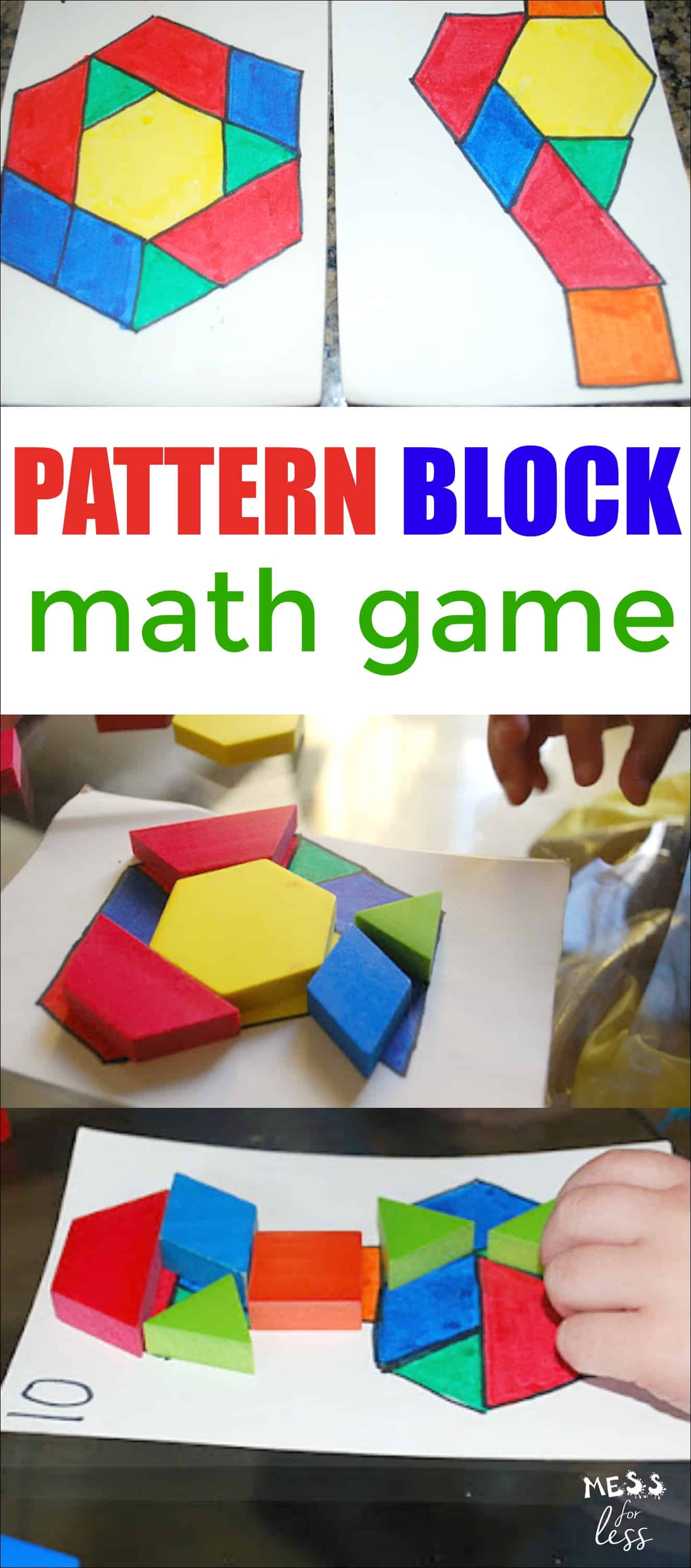 Pattern Block Math Game
In my teaching days, I created these pattern block template cards for my students to use. They are very easy to make. I just laid some pattern blocks in a design on a large index card then traced them, colored them in, and covered the cards with clear contact paper. The numbers in the corner were just so I could keep track of the cards. I recently found the cards and the pattern blocks in a closet and brought them out for my kids to explore.
The kids had a great time playing this fun game. They were able to match up the pieces and complete the designs. The girls were very proud when they were able to complete a card!
When the girls finished their pattern block math game, they started using the blocks in other ways such as building a block tower.
I was so happy to see how the girls expanded on this activity. The blocks kept them busy and playing for some time.
If you love to travel then Little Passportsthe is the perfect kit for your child. My kids love to explore the country and world and this subscription box contains so many engaging activities for kids. I think even kids who haven't traveled would enjoy getting the world delivered to their mailbox.
You can pick between 4 different subscriptions:
Early Explorers is for kids 3-5 and explores a new world theme every month such as dinosaurs or oceans. Starts at $16.95 per month.
World Edition is for ages 6-10 and focuses on a different country each month with souvenirs and activities. Starts at $12.95 per month.
USA Edition is for kids 7-12 and teaches about two different states each month. Starts at $12.95 per month.
Science Expeditions is for kids 9+ and contains science experiments and experiences starts at $18.95 per month.
If you liked this Pattern Block Math Game, check out:
Want more Mess?