Ever feel like your morning is so rushed that you don't have time for a proper breakfast? We've all heard about how important it is to have breakfast, but so many of us still skip it because of a lack of time. Well, you don't have to skip it anymore because I have an amazingly delicious breakfast idea for peanut butter waffles that take only 5 minutes to make. Just 5 minutes! There is no excuse not to have breakfast when making a meal is this easy! I was recently asked by The J.M. Smucker Company to create some unique tips for using a product and I wanted to share them with you. For another decadent meal, try our Monte Cristo Sandwich.
I was inspired to make these peanut butter waffles during a recent trip to Walmart where I found these Jif Flavored Spreads and Jif Bars. Since my kids love Jif Peanut Butter, I knew they would really enjoy both the Jif Flavored Spreads and Jif Bars. You can use Ibotta to save money on Jif Flavored Spreads by clicking here. Coupons has been used.
We got the Jif Hazelnut Chocolate Nut Butter Bars and the flavor of the chocolate mixed with peanut butter makes this granola bar a standout. They are individually packaged so they are great to have when you are on-the-go with kids.
My kids get hungry as we run errands or go to a park or go swimming, and these bars are perfect for them to have in the car. They are easy to just toss in my bag as I head out the door and they save me time since I don't have make a stop to pick up a snack for the kids.
We love using Jif Flavored Spreads in the mornings to help make some quick breakfasts. They are great for breakfast and anytime you'd like a snack throughout the day.
You can simply spread some Jif Maple Peanut Butter on toast and you are good to go. We have also had Jif Maple Peanut Butter sandwiched between two banana slices and dipped some sliced apples into it. It makes us peanut butter happy!
My favorite easy breakfast to make with Jif Maple Peanut Butter, is peanut butter waffles. When you see the finished product, it might look intimidating and like something that would involve a lot of prep time, but that is not the case. These peanut butter waffles take just five minutes from start to finish and that includes the toasting time.
To make them, toast 4 waffles and when they are done spread Jif Maple Peanut Butter on each one. How much you use depends on your preferences, but I like to make sure my waffles are liberally covered.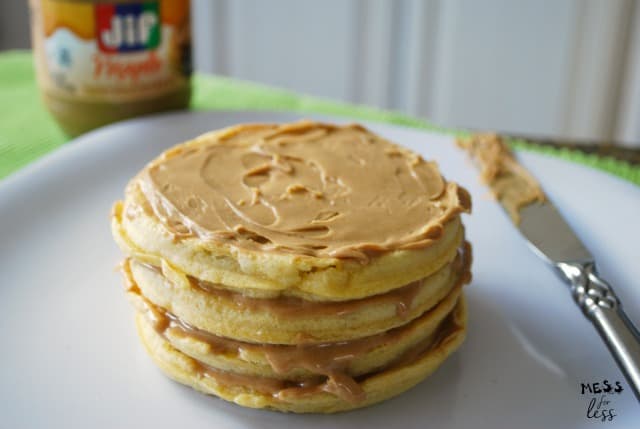 Stack the waffles and drizzle on some maple syrup and chocolate syrup. Top with berries or whatever seasonal fruit you happen to have on hand.
That's it! So easy, yet if you served these peanut butter waffles to someone, they would think you spent forever making them. Isn't this an impressive and delicious way to start a morning? This is a great dish to split between two adults or a few kids.
Next time you think you don't have time for breakfast, think again and get #PeanutButterHappy with Jif Flavored Spreads.
Try Jif Flavored Spreads on waffles, fruit, toast or pancakes for a tasty breakfast or snack.
This is a sponsored conversation written by me on behalf of The J.M. Smucker Company. The opinions and text are all mine.
Want more Mess?