"This post is sponsored by Mattel, but all opinions are my own."
​​​​​​If you played with toys in the '90s, then surely you remember Polly Pocket. She was like a tiny best friend that you could take anywhere. Each compact container held within it endless hours of play and fun. Well, there is good news for Polly Pocket lovers – Polly Pocket is back for today's kids (and moms) to enjoy!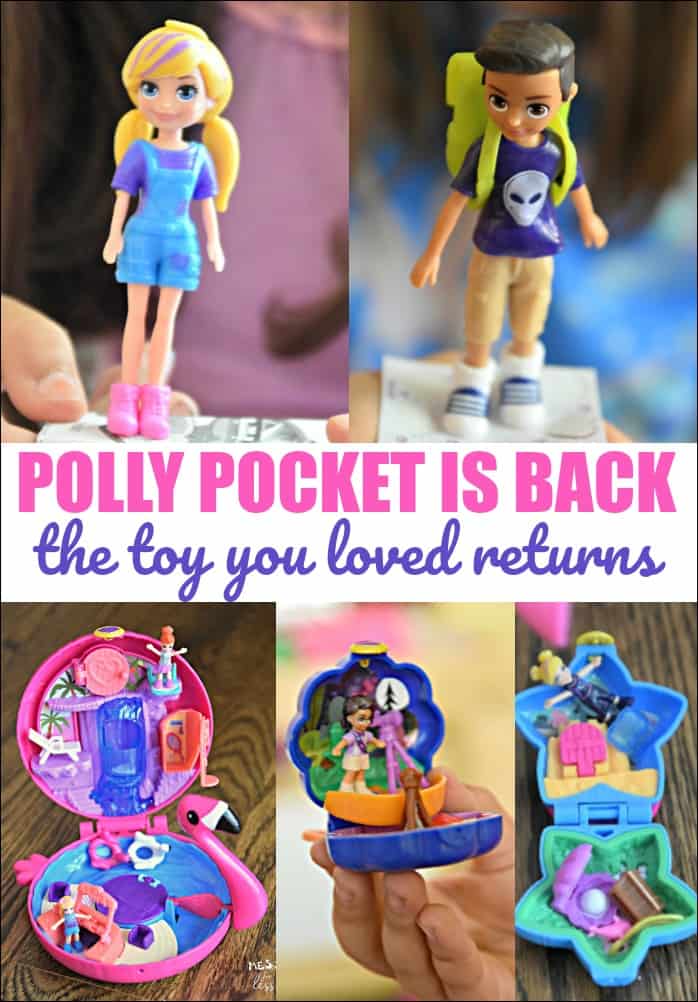 My kids had never experienced all of the fun that is Polly Pocket, so I was very excited to share these new Polly Pocket toys with them. You can find the new line of Mattel Polly Pockets at Walmart- both online and in-store in the toys/collectible aisle. Click here to add to cart. When you see them, all the love you had for these toys will come flooding back. The original micro-sized toys debuted in 1989 and were loved by kids everywhere. I used to love all the themes of the inch-tall dolls. They conveniently came in their own case or compact making them perfect for travel and taking them to a friend's house. Some of my favorite sets included a water park and a castle. Polly had a very exciting life! My girls were so excited with all the new Polly Pocket toys, they did not know which to open first!
The Polly Pocket dolls come with an exciting new stick technology. Simply place a small sticker where you want Polly to be, and she sticks and stays upright, even while dancing!
This Polly Pocket Hidden Places Dance Par-taay Case is like a party in a caboodle shaped container. The container will give you feelings of 90's nostalgia!
Open it up to reveal a dance inspired world for Polly and her friend Lila. It has all you need to create the ultimate dance adventure.

My daughter enjoyed the upstairs DJ booth and dressing area. Polly and Lila can have fun on the dance floor while it spins. There are many hidden areas and features to discover. Like any true rock stars, Polly and Lila can hop in their limo to arrive at the party in style. Play with it at home or take it on the go!
While one of my daughters was entranced with the party case, my youngest daughter loved the Snowball Surprise and Flamingo Floatie.
She got a kick out of the fact that the Snowball Surprise set is shaped like a snow globe and contains a hidden ski resort inside. Polly and her friend Shani can ride on a gondola and turning a snowman friend can cause the dolls to skate on a frozen pond. The look on my daughter's face when she discovered this was priceless. The dolls can ski, snowboard, or just have some snowy fun! Thanks to the stick technology, Polly will stick when you place her on the snow.
The Flamingo Floatie Compact brings to mind a visit to a water park. It is shaped like a Pink Flamingo pool float which is just so much fun!
A lot is packed into this small space: a water area, hot tub, waterfall, diving board, and floaties. It comes with Polly and her friend Lila who can enjoy a day in the water.
My oldest daughter really took to the larger Polly Pocket figures like Zip N' Blast Polly and Selfie Stick Nicholas.
Zip 'n Blast Polly is a bit bigger than the traditional Polly Pocket dolls. She is 3-inches tall and has a stylish outfit and sneakers that can be removed and put back on. My daughter had a blast dressing Polly! Adding to the fun is the zip line blaster accessory!
The Polly Pocket Selfie Stick Nicholas doll comes with his own cool outfit. He also has some fun accessories like a backpack and a selfie stick.
My daughter liked taking him out and about and best of all, at 3 inches high, he fit right in the palm of her hand.
These larger figures also use the stick technology. Just place a sticker anywhere you want them to be.
You can also combine your larger Polly Pocket dolls with smaller ones. They all get along!
For me, the tiny Polly Pocket compacts elicit the most nostalgia. If you grew up during a certain time, then you remember that these compacts were all-the-rage. There was much fun to be had just discovering all the hidden treats in a compact. Now my kids get to enjoy that same excitement and wonder.
The Polly Pocket Tiny Pocket Places Camping Compact includes a micro Shani doll, who is all set for camping in the great outdoors. My daughter was thrilled to discover a secret tent and a campfire.
These tiny compacts have an attached ring that allows them to be hung off of backpacks, this makes them perfect for on-the-go play.
This Polly Pocket Tiny Pocket Places Aquarium Compact features lots of fun in a small package. It includes Polly and a dolphin who enjoy a sand castle and a treasure chest. This compact really inspired imaginative play as my daughter created many scenarios involving opening up the clam shell to reveal a pearl inside.
My girls are looking forward to collecting all the Polly Pockets figures and sets. If this post has stirred up feelings for the good ol' days, just hop in the limo with Polly Pocket and head to Walmart to pick these up for your kids. You can also get them online when you click to add-to-cart here. I bet they will love them as much as mine do, and you will love all the childhood memories they bring back!