Who doesn't love getting roses on Valentine's day? I just love getting flowers, but am sad that they never seem to last very long. Some of my roses had started to wilt and fall off the petals. I came up with an easy way for Preserving Valentine's Flowers. For more ways to preserve flowers check out Pressing Flowers with Kids.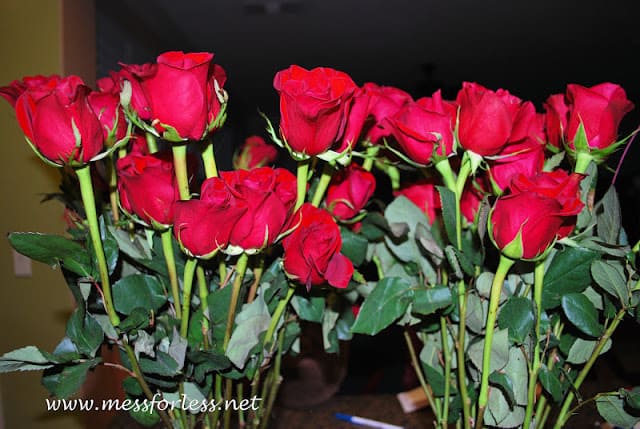 Hubby challenged me to come up with a kids activity using the rose petals. Like I need him giving me more work! But a challenge is a challenge, so I pulled the rose petals off the stem and came up with a petal sun catcher type of thing.
Supplies you will need:
Cut off a piece of wax paper and give it to your child along with some rose petals. Older kids can make a design or their initials, but my little ones just arranged the rose petals on the wax paper.
This is how A's looked when she was done arranging the petals. The next part was a little tricky. I had to move this over to a towel where I would be doing the ironing. Just keep it steady and you'll be fine.
Lay your petal covered wax paper on a thin towel and place another piece of wax paper over it, creating a wax paper sandwich.
Before you iron, place another thin towel OVER the wax paper sandwich. The photo I took of this step had a big shadow, but please remember to place another towel before ironing. Now you will use the hot iron to seal the wax paper. I found that I needed to hold the iron over various places for 10 seconds or so for the paper to seal. This time might vary depending on your iron. Lift your towel to check your progress. When the paper is sealed you will notice that you are able to see the roses more clearly. If you do not yet, return the towel and just keeping iron until you can see the flowers better. Here is how ours looked after ironing.
Then hang in the window and enjoy! I think this would work well with any kind of flower petals. I can't wait to experiment some more. I am sure they won't last forever but we will enjoy our roses for a little while longer thanks to this preserving Valentine's flowers technique.
If you are looking for more fun activities for kids, check out Green Kid Crafts, an earth friendly monthly craft subscription box for kids that sparks creativity while teaching kids a respect and love for the environment. These boxes are themed and each month will be filled with fun projects and creative activities than can be enjoyed by kids from ages 3-10.
Since Green Kid Crafts is an earth friendly company, they use sustainable, safe materials in all of their products. They also give a portion from each sale to environmental non-profits. Learn more about a monthly subscription of fun!
If you liked preserving Valentine's Day Flowers, here are some more flower activities you'll like: