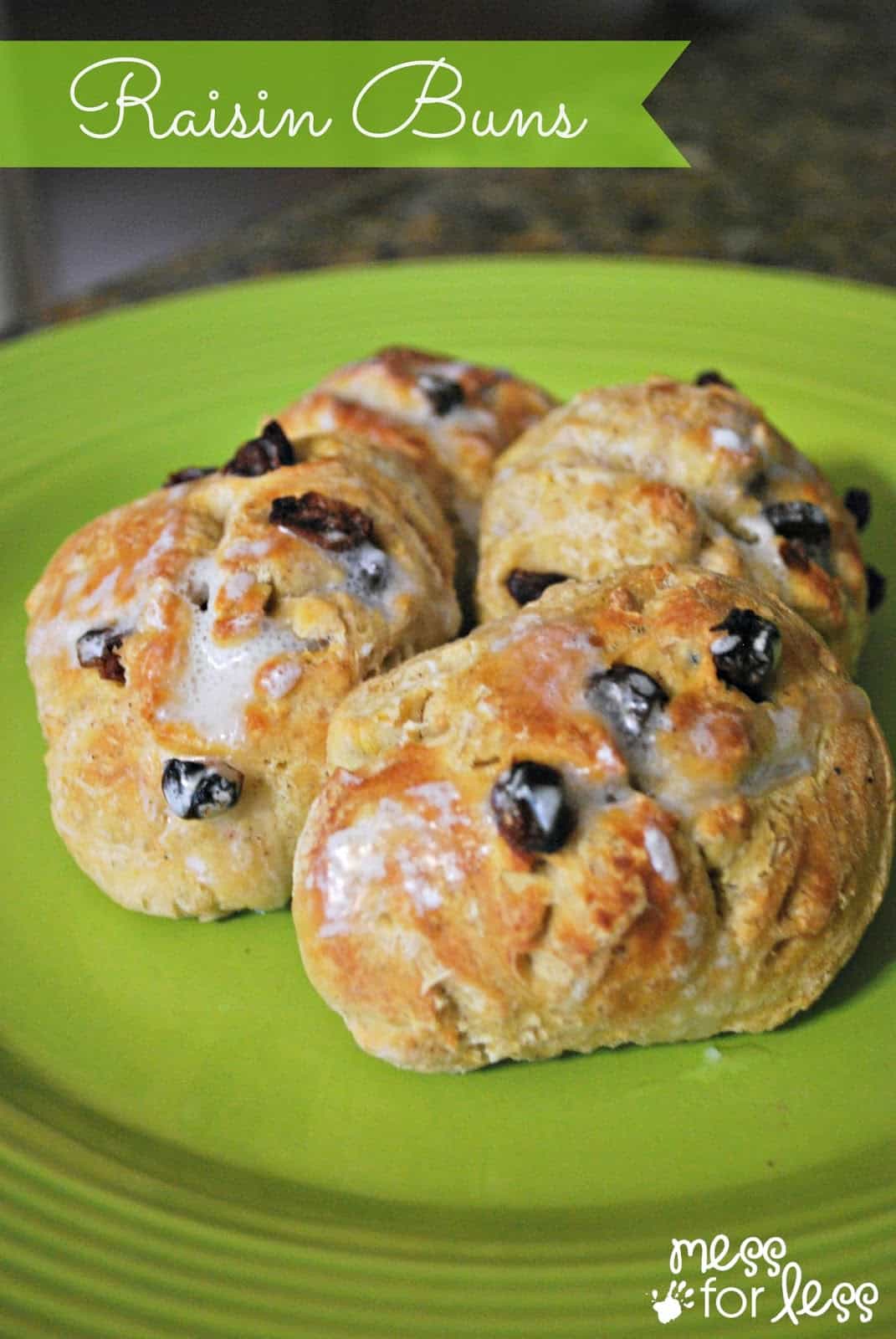 These
Raisin Buns
take a little effort (as does anything with yeast) but the results are so worth it! These would be great to serve at an Easter meal, straight from the oven. My daughter helped me with some of the steps. If you have little kids, they will love helping with the part that involves punching the dough. If you do make these raisin buns, try
making butter
with your kids as well!
Ingredients:
2 packages of yeast
3/4 cup of warm milk
3 1/2 cups of flour
2 teaspoons of salt
3 tablespoons of brown sugar
1 teaspoon of cinnamon
1/4 teaspoon of ground cloves
1/4 teaspoon of allspice
3/4 teaspoon of nutmeg
2 eggs
2 tablespoons of softened butter
1/2 cup of raisins
For glaze – 1/2 cup powdered sugar and 2 teaspoons of milk
Pour the packets of yeast in a cup and pour lukewarm milk over the yeast. In a separate
bowl
, combine flour, salt, sugar, cinnamon, nutmeg, allspice, and cloves. Create a well in the center of the flour and pour in the milk and yeast mix. Stir. Add eggs, stirring after each egg. Beat in the softened butter to make a dough.
Sprinkle some flour on a work surface and spread out the dough. Pour the raisins on the dough and knead to distribute the raisins.
Place the dough in a clean bowl and cover with plastic wrap and place in a warm spot until the dough doubles. For me this took roughly 2.5 hours.
When the dough has risen, punch it down and place on a floured surface. Kids love to help with this step! Knead for 1 minute. Roll out into a log and evenly cut 20 pieces from the log.
To make this process easy, I first cut the log in half and then scored the dough so I would know where to make my cuts.
Form the pieces of dough into a roll and place on a greased baking sheet around 2 inches apart. Cover the buns and let them rest in a warm place for 30 minutes.
Bake these at 450 degrees for 10-15 minutes. When the raisin buns are cool you can add a glaze. Mix 1/2 cup of powdered sugar with 2 teaspoons of milk until smooth and then brush on the raisin buns.
Even with the glaze, these buns are not overly sweet. They are great fresh out of the oven, but I heated some up the next day for breakfast and they were just as yummy.
For more bread and bun recipes check out: